Trading View is a platform for traders and investors to analyse charts and screen stocks, indices, and other financial assets. 
Trading View is a powerful tool for technical analysis used by traders and investors. Surprisingly, it is suitable for both novice and experienced traders. It is reliable and free from errors, which is essential during trading. 
Trading view platform was founded by Stan Bokov in 2011, and now it has 30 million+ users on platform. In 2019, the founders acquired TradeIT to enhance the security and protection of their platform.  
It is a charting platform for active day-traders who trades using chart analysis and technical indicators. Trading View offers strategies, oscillators, ideas and moving averages to trade in the future markets as a professional trader. 
Here's a basic snapshot of what a trading view platform looks like: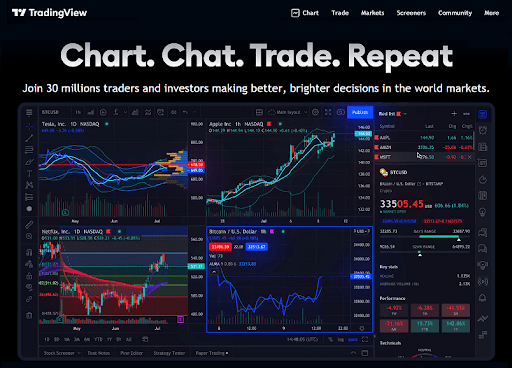 The tutorial on Trading View is crucial because technical analysis introduces the charts and candlestick patterns which is essential to practice every day. 
If you're a novice trader, you already know the importance of chart practice. 
And what can be better than a trading platform that includes a wide variety of strategies for you to use during trading?
Trading View offers super charts consisting of 50+ drawing tools, 100+ popular indicators, 100,00+ community-built indicators, recognition of candlestick patterns, and multi-timeframe analysis. 
It is assumed that you do not need more functions as a new trader, and it is more than sufficient for you. Trading View is a fully verified and secure platform for traders to analyse   
Understanding Features and how to use trading view 
I will be straight with you…
It will be overwhelming for you when you open the trading view platform and find your chart screen for the first time…
Honestly, we don't expect you to understand all at once. 
Practice makes you perfect. 
So, when you launch the trading view platform, make sure you understand the features by heart. 
Traders use Trading View for chart analysis and even to chat and trade. The main features that traders require for their daily trading are:

1.1 Chart
Select 'Chart' to launch the screen with technical charts. As per the figure, you can observe that it is a Nifty 50 index on a 15-minute chart. You can also learn about what are trading indices in trading view. Observe the image to find the features on the top of the toolbar– change the symbol, chart timeframe, chart type, alerts, indicators, the layout of the chart, replay tool and save the chart.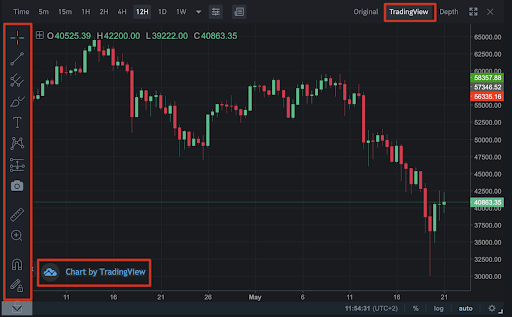 Source: Binance
At the bottom, you can observe the different kinds of time frames for the chart – 1D, 5D, 6M, 1Y etc. You can select the preferable time frame chart according to the security. 
You can find a vertical toolbar on the left-hand side, here, you can get tools to draw lines, patterns and Fibonacci in your chart. 
PRO TIP
Steps to launch Infosys chart 
Step:1 Go to the portal tradingview.com and its homepage will open. 
Step: 2 'Click on Products > Chart+ to launch the chart page 
Step :3 In the top left corner you will find 'SYMBOL SEARCH'. Enter the stock name 'Infosys'
1.2 Markets
In the 'market' tab of Trading View – indices, futures, crypto and bonds. You can also learn about what is currency market in India. The platform provides you with several choices for your preferable markets.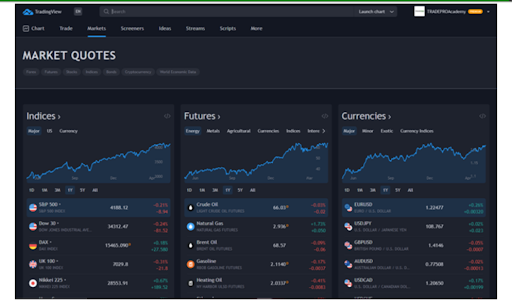 For example,
- the Indices tab showcases the Nifty 50 index, Bank Nifty Index, Sensex Index etc.
- the futures tab showcases the future price of crude oil, index, stocks
- the currencies tab shows the correlation of USDJPY, USDINR, USDGBP etc. 
1.2.1 Trade 
Under the "Trade" option on the Trading View platform, you can place your trades directly through the available brokers. 
The layout might be confusing at first, but as you go through every tab, you'll understand it is simple and understandable. 
1.2.2 Screeners
A trading view screener tab helps you customize your requirements according to the stock's ability to perform in the market. 
The Trading View screener consists of 4 essential tabs for traders: 
All – filters all the other 3 tabs at once

Descriptive – filter index, stocks prices as per volume and market cap

Fundamental- filter your company analysis regarding the P/E ratio

Technical – filter your indicators and chart patterns 
           Using the Screeners you can customize your requirements during trading. 
Trading View's screener feature is crucial for the charting aspect. 
1.3 Ideas
Ideas depict the contribution of several traders that are joining in to share their opinion through technical analysis. 
In simple words, under the Ideas feature you can share your views and opinions with other traders where a voting system is also activated with solid ideas. 
You can find educational trading ideas and tutorials to use for Trading View. 
1.4 Scripts
Strategy scripts can be found under the Trading View screen, at the bottom where Pine Script Editor is mentioned. Pine script is a scripting language designed for Trading view for creating custom indicators. In this toolbar, you can put script-based testing for any specific indicators. 
Technical Specialists and IT traders use the scripts feature to write codes for new and custom indicators to publish them to the public. You can find new strategies through pine script's customer indicators. 
The above six features are the main segments for using the Trading View platform. Although, there are premium services available in trading view as – basic plans, premium plans and pro-versions which contain more number charts, indicators and intervals. 
Free is good for novice traders and one chart at a time. 

Pro option is good for budding traders with few add-on indicators and features

Pro Plus is great for experienced traders for all plans and features of the trading view platform. Basically, the use is unlimited. 

Premium gets you the add-on services such as – SMS alerts for change in price, stop loss-hit etc.  
As a novice trader, the free plan is sufficient for chart analysis of stocks, indices and basic trading capabilities.
| | |
| --- | --- |
| Pros | Cons: |
| Trading view is one of the most versatile and easy-to-analyse platforms.  | |
| A wide collection of trading tools is present on the platform. Trading View consists of useful drawing tools to analyse the charts.  | It is a technical analysis platform, so you'll need a separate platform to trade your stocks.  |
| Access to sufficient indicators and chart types with the free trading view.  | Minimum customer support services by the platform |
| Premium and Pro versions are available at affordable pricing and Huge support from the trader's community  | It is a technical analysis software free for basic indicators. Further, the trader should opt for a subscription. |

We think that the Trading View platform is self-sufficient for traders entering the market for the first time. 
It has basic to advance properties that help traders to take trading seriously with technical analysis. 
Not only trading view offers a wide range of indicators, but also a social platform that includes ideas from different traders. 
Trading View has become a widely accepted platform to analyse charts for its reliability and transparency. 
Frequently Asked Questions 
Is Trading View for you?
Trading view is a charting platform which is used by both experienced and novice traders for day-to-day stock analysis. The platform is for you if you require a reliable and comprehensive platform to draw your technical analysis prediction.
Can I download Trading View on my computer?
Yes, you can download Trading View on your desktop as a 'desktop application' for extra speed, extra power, and extra flexibility.  
Is Trading View a broker?
Trading view is a platform for analysing technical analysis charts by drawing candlestick patterns, marking support & resistance levels etc. It is not a broker's platform. You can launch charts for several securities, indices, and currencies to analyse them while you trade. 
Is Trading View a good investment for premium plans?
Trading view is a trader's best friend when it comes to making money. A trader needs resilience, patience and efforts to trade accurately in the stock markets. Trading view eases the process by offering heavy features in its premium plans. 
It is recommended to novice traders that the best way to utilize and learn the features of the trading view is through the free plan. Upgrade when you are experienced and will require a bunch of new indicators during trading.