Home >> Blog >> 5 Tips to Secure Your Demat Account from Hackers
5 Tips to Secure Your Demat Account from Hackers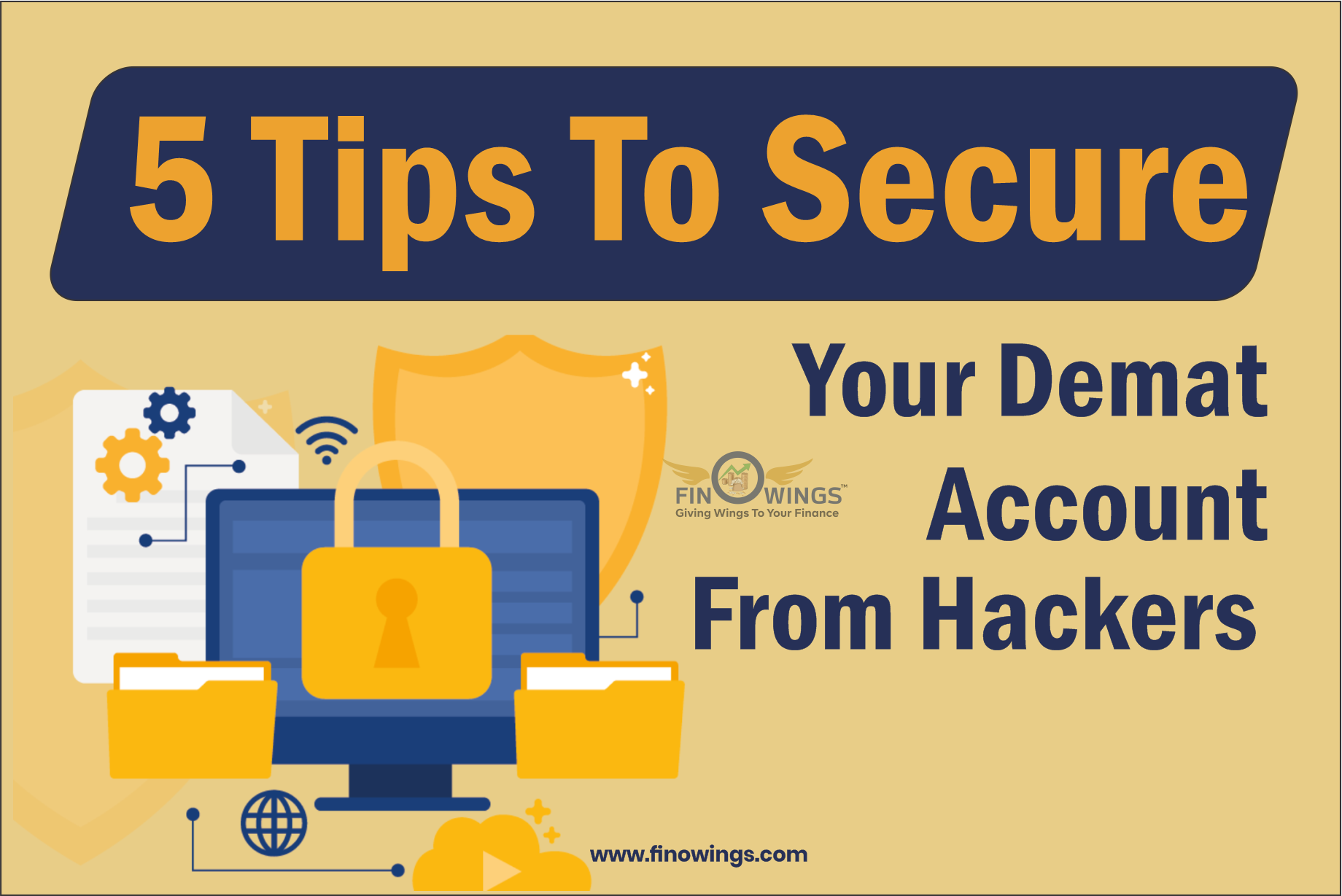 Table of Contents
One day while sitting comfortably in your chair, you checked your Demat account to see how your investment was doing. But when you opened your trading account, you were taken aback. Suddenly your entire investment has been reduced to zero.
You checked your transactions quickly; the money has been transferred to an unauthorized account. You just realized that you'd fallen victim to some internet fraud, and your heart skipped a beat.
Can you imagine how much worse this situation could get for a person? I know it's a nightmare for anyone; fortunately, this is not a real situation. But there's no guarantee it won't happen to you or anyone else.
As more people are shifting online, more scams are being reported nowadays. Hackers not only become smarter but also more advanced in their methods of deception. As a result, maintaining the security of your account depends on your being technologically sophisticated.
How can you protect your account and avoid online fraud?
This must be the question that has been dancing around in your head. But don't worry; we have got your back. Continue reading to learn how to secure your Demat account.
You can now buy anything online, from soap to stock in a company. Thanks to mobile phones and the internet, everything is now at your fingertips. On the one hand, it feels so comfortable and too good to be true; on the other hand, it has made us extremely reliant.
With so much information at our fingertips, we have become very forgetful, so we save everything digitally, which we can easily access via our mobile and laptop. But unfortunately, this is where online fraud lurks, ready to perform the malicious activity and defraud you.
They use various methods to steal your information and money and then misuse it. For example, you might get an email, a message on your social media account, or a text message with a link. The message may appear genuine, and you may be persuaded to click on the link.
This link contains viruses that can infect your device and send all your information to the hacker, including access to your Demat account. In addition, some people have been victimized by phone fraud, in which the other person represents himself or herself as an official of their trading platform and requests their personal information and OTP to steal their money.

2.2 How to Spot Unusual Activity in Your Demat Account
To avoid becoming a victim of online fraud and losing your money and information to a fraudster, you must be alert to any suspicious activity in your Demat account. That means you must closely monitor your account and monitor its daily activities.
Aside from that, numerous other ways to detect suspicious activity in your Demat account exist. Some of the most common ways to detect online fraud are as follows:
• Keep an eye on your account's transactions to see if there are any unauthorized transactions.
• Check your funds or investments daily to see if they are still in place.
• Check your account information at least once a week to ensure that your phone number, email address, name, and address have not been changed.
• Check notification of unauthorized trading activity from the online app or your broker.
• Ensure that your account statements are not misplaced.
• Verify your trading account to see if any additional accounts have been added.
Any changes in your Demat account cannot take place without your permission. The owner must authorize every modification before the trading platform can approve it. As a result, if you notice any changes in your account that you did not authorize, contact your broker immediately and change the password for your Demat account and other apps.
Online fraud and data breaches have become quite common in recent years. Hackers are becoming more sophisticated and inventing new ways to deceive people. As a result, online fraud cases will only rise in the coming years.
Even though engineers do their best to make every platform safe and secure, we must also be smart and cautious to avoid becoming an easy target for hackers.
The 5 tips listed below can help you secure your Demat account:
3.1.1 Use a Secure Password
Remembering a difficult password is challenging for most of us, so we find the safest way to associate the password with something so that we can easily remember it. Most passwords include:
The birth date of your loved ones.

The names of your friends or family.

Any less complicated personal detail.
But did you know that these passwords are not secure and are easily decoded by hackers?
Yes, passwords, including personal information, are easily cracked; therefore, keep your password as opaque as possible and unrelated to you. To make it difficult to decode, use special characters, upper or lower case letters, and numbers. If you think it will be difficult to remember this, write it down in a notebook or use a random name of something with a symbol and a number that is easy to remember.
Aside from that, it is always a good idea to change your password after a certain period. It helps to keep your account secure from hackers and becoming an easy target.
3.1.2 Prevent Using Public Computers
Even though you often carry your laptops and mobile devices with you, there may be moments when you must use a public computer. For example, as a marketer, you may feel compelled to open a Demat account to monitor the status of your investments. That, however, may be harmful and unintentionally invite trouble. In addition, because anyone can use a public computer, it may contain malicious viruses that can transfer your information to a hacker. Therefore, it is advised that you refrain from accessing your Demat account or any other sensitive data on a public computer.
3.1.3 Turn on the Two-Step Verification
A great defence against hackers for your trading account is two-step verification. Turn on this option in your trading platform. This option essentially means the platform confirms your identity twice, using two different methods. First, it may send a unique OTP via text or email after you enter the correct password to confirm your identity. You can only access your trading account after entering the one-time password. Hence this two-step verification makes the login to your Demat account more secure.
3.1.4 Turn on Account Alert
It is critical to keep your account alert to ensure its safety. People frequently disable app notifications to be less active on their devices. However, in this situation, you may also unintentionally disable your trading account's alert. This may result in important unnoticed notifications about suspicious activity in your account. As a result, activating your Demat account's alert is tough to receive timely updates on any suspicious activity in your trading account.
3.1.5 Maintain Device Security by Updating It
To protect your device from unauthorized activity, companies send security updates regularly to keep your device's security in check. The security updates on your device must be kept current as a result. In addition, the online platform continues to work to make its platform safe and secure for its customers. To be secure, you should also update these platforms regularly. It is also necessary to update your device's operating system and browser history to block stored cookies from a third party.

Follow the advice to protect your Demat account and personal information from hackers by taking cyber security seriously and seriously. Sometimes, this may appear daunting, but if it can save you from large losses, it is worthwhile. Aside from the tips listed above, you should exercise caution when using public wifi, charging stations, and USB cables. Set a limit on your auto bill payments as well, as it may be difficult to keep track of every transaction.
Small steps can save you from large losses in the future, both financially and emotionally, because hackers may steal your information and use it for illegal purposes. Unfortunately, this can also harm you emotionally; hence, you must take preventive measures.
Do you have any suggestions for this list, or would you like to share your experience related to online fraud? Do not forget to leave a comment.
Frequently Asked Questions
+
Keep changing your passwords, avoid accessing your Demat account on public computers and wifi, avoid clicking on any suspicious links, and always research a stockbroker's credibility before dealing with them to keep your Demat account secure.
+
If your Demat account was hacked, you should first reset the passwords for your bank and Demat accounts, file a complaint with the cyber cell and notify your stockbroker as well.
+
Yes, opening a Demat account on a trusted online platform is completely safe, however, it is best to be aware of your account activity since fraudsters are increasing every day.
+
No, it is not hazardous to have several Demat accounts. A trader is allowed to have multiple Demat accounts, but caution must be exercised. Never disclose your password to anybody, keep it unique for each account, and keep a watch on your investments and portfolio. In case of any suspicion take immediate steps to protect your account.
Liked What You Just Read? Share this Post:
Any Question or Suggestion
Post your Thoughts