Home >> Blog >> What Is The Gig Economy? Pros & Cons Of Gig Economy and Why Gig Economy Is Important?
What Is The Gig Economy? Pros & Cons Of Gig Economy and Why Gig Economy Is Important?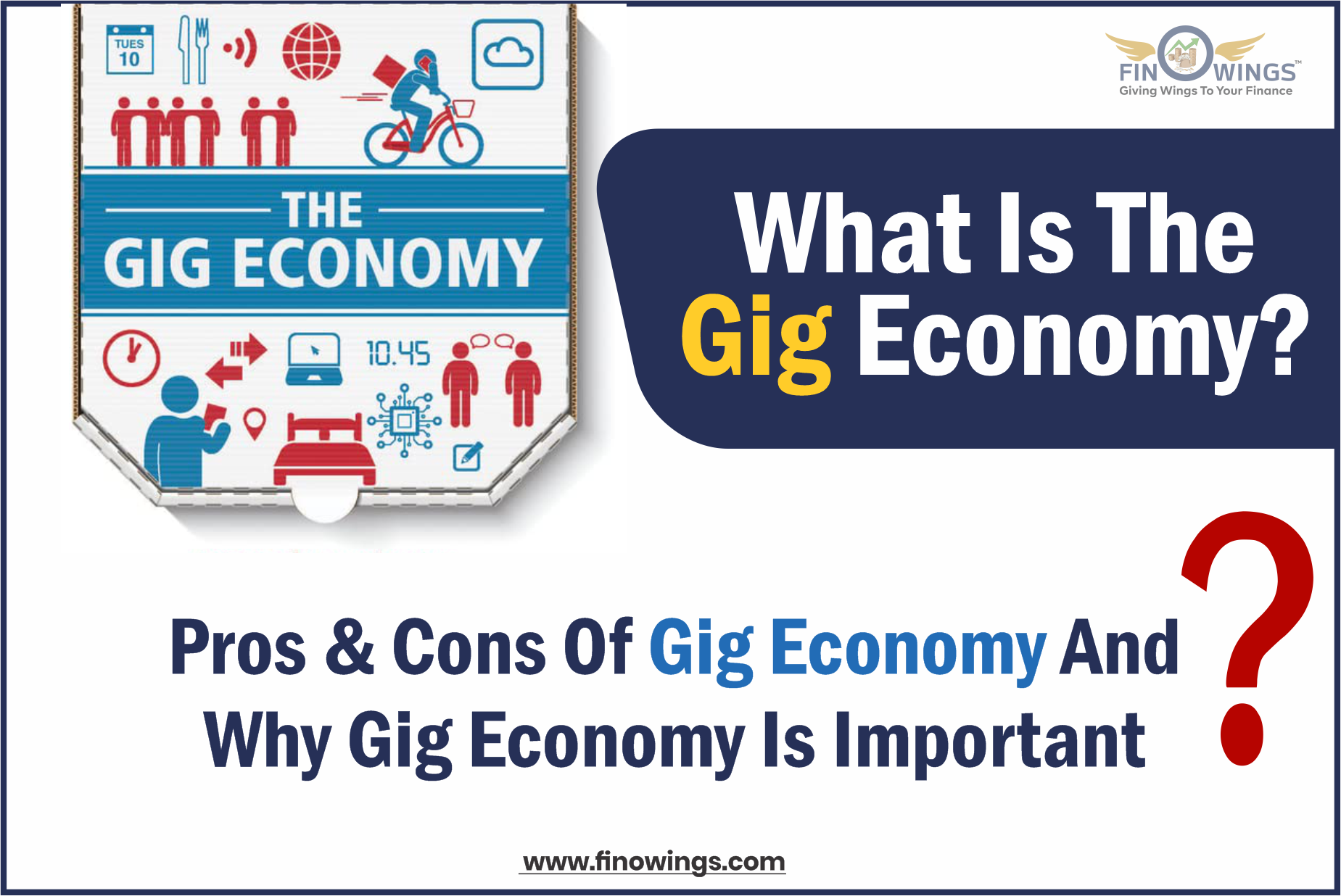 Table of Contents
The phrase "gig economy" refers to a broad labour market definition encompassing temporary employment, freelance work, and independent contractors. It is also known as the "independent labour," "agile workers," "freelancer business," or "sharing economy."
General Workforce Environment (Gig) a gig economy is one in which independent workers and freelancers, as opposed to full-time, permanent workers, predominantly occupy temporary and part-time jobs.
While gaining flexibility and independence, gig labourers need more job stability. As a result, many firms choose not to pay for advantages like health insurance and paid time off to save money. Others provide some advantages to labourers but contract out the management of the benefit plans and other administrative duties to outside organizations.
The phrase is taken from the music industry, where performers schedule "gigs," one-time or temporary performances at different places.
Although the gig economy spans many sectors, the basic idea is that gig labourers will take on tiny, ad hoc tasks for payment. These tasks can involve creating a webpage, making food deliveries, walking dogs, or picking up a family and taking them to the airport. The gig worker moves on to the following task after finishing the job.
Individuals interested in engaging in the gig economy must often register by applying to their preferred platform(s). When approved, individuals can select which projects or work shifts to finish. For example, to keep her nights and weekends open, a woman who works for DoorDash can choose to work for two to three hours when her kids are in school. On the other hand, a digital assistant might decide to work a standard 9 to 5 job for a business to finish a particular assignment. They will finish their eight-hour shift when the job is finished.
There are many kinds of gig economy growth employment available from businesses whose main objective is to deliver a valuable service to their clientele. Below are a few instances of the many gig work categories and the businesses involved:
Digital assistants. Project leaders, administrative assistants, and receptionists can find easy jobs through Belay Solutions, VirtualAssistants.com, and Upwork.

Ridesharing. Services like Lyft and Uber give users the comfort of booking a ride using an application. Typically, all you need to drive for these businesses is an automobile and a smartphone.

Freelancing artists. If you've ever required a graphic designer or content writer, internet marketplaces like Creative Market, Fiverr, Upwork, and Guru offer you the chance to post your job and request proposals from freelancers.

Delivery services. Customers who desire the comfort of staying home and having goods or hot meals delivered to their door can take advantage of services from businesses like Uber, DoorDash, Grubhub, Amazon, and Flipkart.

Labour support. Customers can hire cleaning staff, handypersons, and errand runners on-demand through platforms like Task Rabbit and Handy.
5.1 Pros:
Flexibility

Independence

Variety of job

Affordability for Enterprises
The Benefits of the Gig Economy
Flexibility - With gig employment, you are your boss and have complete control over your schedule, location, length of workdays, and occasionally your clientele and pay.

Independence - Gig labourers can do things independently, how they want, and on their schedules, because they don't require direct supervision or to operate from an office.

Variety of work - The gig economy offers the chance to take on a range of activities and projects that can keep you on your toes and exercise your innovation and problem-solving abilities in the process, as opposed to working in one 9 to 5 job for one boss.

Affordability for Enterprises - Freelancers allow business owners to locate new talent and offer different charges based on their expertise, and they can be a less expensive option for recruiting full-time staff.
5.2 Cons:
Inconsistent income

Lack of advantages

Stress and burnout

Taxes and expenses
The Drawbacks of the Gig Economy
Inconsistent income - The variable pay that includes having a flexible working schedule is a disadvantage. The labour available determines your income from gigs, and you only get paid whenever you perform gigs.

Lack of advantages - In general, gig employees aren't entitled to health insurance, retirement programs, workers' compensation, or disability insurance if they are injured on the job.

Stress and burnout - Variety in one's profession might be advantageous financially, but it can also cause stress and burnout. For a delivery driver, for instance, working numerous jobs might drain your energy, change your way of life, and even damage your car.

Taxes and expenses - Gig employees must pay self-employment taxes. If you operate as an independent contractor and make money from gigs, you may also be required to pay quarterly approximated taxes. By making timely and adequate tax payments, you can prevent a fine. Additionally, gig employees are in charge of getting and keeping their work-related gear and supplies, such as smartphones, mobile services, computers, and automobiles.
The gig economy has significant drawbacks despite its advantages. Even though only some firms favour hiring contract workers, the gig economy trend can make it more difficult for full-time employees to advance in their careers. Because temporary workers are frequently less expensive to recruit and have greater availability flexibility. In some businesses, there is a need for more employees who want a traditional career route and its safety and stability.
The flexibility of gig employment might also cause some employees' job satisfaction, sleeping habits, and everyday routines to become disrupted. In a gig economy, flexibility frequently implies that employees must be accessible whenever gigs arise, irrespective of their other demands and that they should constantly be looking for new opportunities.
Additionally, the competition for gigs has grown. Further, except for the CARES Act of 2020, unemployed gig workers are only sometimes covered by unemployment insurance.
In practice, gig economy employees behave more like business people than regular employees. As a result, the stability of consistent employment with a regular salary, advantages of a retirement account—and a daily schedule that has defined work for generations are quickly disappearing, which may provide the individual worker more flexibility.
Last but not least, long-term connections between employees, bosses, customers, and vendors may deteriorate due to the fluidity of gig economy operations and interactions. As a result, the advantages that emerge from long-term loyalty connections, established routines, and familiarity with customers and employers may be eliminated.
Since no side has the motivation to spend substantially in a connection that will only continue until the next contract comes around, it could also deter investment in relationship-specific assets that would normally be beneficial to pursue.
Occupations people find and access online job-listing sites are instances of gig economy employment. These positions are frequently temp or contract ones. These jobs involve operating a vehicle for a ride-sharing company, painting a person's home, working as a freelancer, coaching, exercising, and tutoring. There are no additional perks, including health insurance, and the job is exchanged for money.
You have likely engaged in this economy sector if you have used an application to order food, book a vacation rental, hire a freelance taxi driver, or purchase a handmade item.
The UK government defines the gig economy as "the short-term and task-based exchange of labour for money among individuals or businesses using online networks that actively promote matching among suppliers and clients."
It's in the news not only because it's expanding, boosting efficiency and employment, but also because it calls into question the effectiveness of labour market rules and protections for workers and consumers.
Frequently Asked Questions
+
Occupations that people find and obtain through online job-listing sites are instances of gig economy jobs. These positions are frequently temp or contract ones. These jobs involve operating a vehicle for a ride-sharing company, painting a person's home, working as a freelancer, coaching, exercising, and tutoring.
+
Less Responsibility and More Flexibility
Many foreign corporate activities heavily rely on the gig economy. Businesses know the advantages of working with independent contractors or project-based workers. Relative to recruiting full-time staff, these professions provide more flexibility, reduced liability, and lower costs.
+
The gig economy gives both firms and employees more flexibility. Employers can hire people on a contract or freelancing basis, enabling them to complete the task without entering into a long-term arrangement. Businesses with cyclical high or low demand for labour can benefit from it.
Liked What You Just Read? Share this Post:
Any Question or Suggestion
Post your Thoughts