Home >> Blog >> How can rising Inflation harm your children's future?
How can rising Inflation harm your children's future?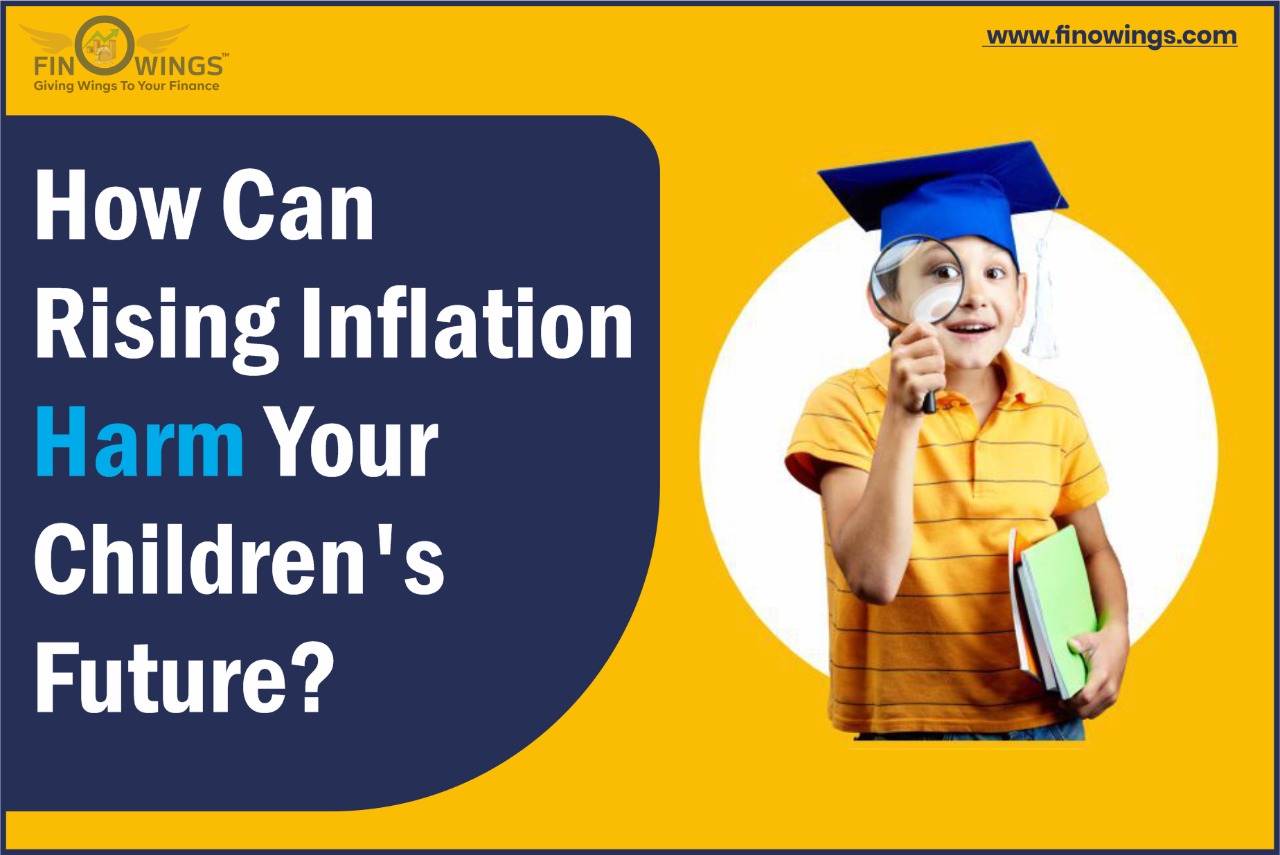 Table of Contents
When Inflation rises, what is the first thought that springs to mind?? How much do fruits and veggies cost? Perhaps including fuel expenditures. While it's popular to talk about how much lemons, tomatoes, and potatoes cost, there are other sectors where Inflation has persistently harmed over time. The education cost in India is one such area that continuing price increases have impacted. Unfortunately, nobody discusses the cost of higher education, unlike the price of lemons and other essential items.
Each parent and student face a covert risk from educational Inflation. Why? Treating yourself lightly can quickly ruin a child's hopes for a successful future as they prepare to enter college. This is how: Considering the devastating epidemic, all Indian Institute of Technology (IIT) campuses nationwide increased tuition fees for all undergraduate programs by Rs 90,000 to Rs 2 lakh in 2021. This would be very expensive for a parent who is not financially ready.
The idea of Inflation states that as prices rise over time, your money loses value. A "99 flake" is among the finest illustrations of this in our instance. When this ice cream first became available, it cost 99p. Nowadays, the cost of one for your child (or yourself, if you're feeling frivolous) is likely to be at least £2.99.
Inflation was estimated at 3.2% in August, according to the CPI index (consumer price index). This "basket of products" calculates the costs of thousands of commodities. This "basket" is changed over time as our spending patterns change. For instance, the ONS (Office for National Statistics) included hand sanitiser in the assortment this year.
The term "education inflation" describes an increase in the cost of child education in India over a period. For example, you may have noticed that the most prestigious government college in India, the Indian Institute of Technology (IIT), increased its tuition costs.
The institutions raised the tuition for all academic programs from Rs. 90,000 to Rs. 2 lakhs. Any unprepared Indian family might have borrowed money from the banks in response to this surge. This is the unnoticed but irreparable effect of education inflation on your child's future.
To maintain the proper operation of their colleges, universities worldwide raise their tuition prices in response to Inflation. Unfortunately, this cost rise has been steadily rising, leading to significant college loans, a rise in dropout rates, and dashed hopes for higher education and a successful j over time.
Tuition fees are only one aspect of education inflation's effects. This tendency significantly raises registration fees, university fees, travel and lodging expenses, book costs, and meal prices (mess prices).
Due to the pandemic, many Indian families switched their kids from private to public schools in 2020–2021. Despite the continued standardization of online classes, the reason was a rise in tuition costs at private schools.
This massive shift from private to public schools was caused by the consequences of education inflation, employment losses, and stagnating salaries. In addition, whereas many students changed schools, some were compelled to drop out owing to a shortage of funding and technological facilities, such as laptops or phones for studying, to continue their education.
Likewise, over 39% of students between the ages of 20 and 24 are compelled to leave college to support their families and find employment, based on the Unified District Information System for Education. This is due to both the blatant insufficient educational preparation and the excessive rise in the cost of attending college and high school.
Whereas many Indian families struggle to give their children a primary education in India, some have children who aspire to attend elite colleges, including Yale, Harvard, or Oxford. These parents must be ready to pay high tuition costs and bear the expense of living in a foreign country such as the UK, USA, or Canada while using a different currency.
Families and students in India frequently mention the United States and the United Kingdom. After China, India is the second-largest provider of overseas students, and these colleges raise their tuition costs each year to keep up with Inflation and the rising need.
The average cost of a bachelor's degree in the US has increased by 497 per cent over time (from 1985-86 and 2017-18). This is twice the yearly inflation rate for the same period.
Most foreign colleges increased their tuition costs for 2022–2023. For example, while Arizona State University stated that tuition costs would rise by 5 per cent for foreign students, the University of Pennsylvania declared a 2.9 per cent hike. Likewise, tuition at the University of Illinois will probably increase by 1.5 to 2.5 per cent.
The most well-known central institution in India, Delhi University, has raised the cost of all undergraduate programs, including service fees, facilities fees, college facility funds, and student support funds. As a result, the average rise in college-wide university fees will be 10%.
The increased price of schooling is something that most families do not recognize until it is too late. They are essentially left with little choice but to sacrifice the standard of their education or take out long-term student loans. Both options have a massive effect on your child's future and may jeopardize their career.
Earlier investment and saving are the best ways to safeguard your child's college education. Therefore, it is preferable to begin investing as early as possible. Your time horizon will help you decide when, how much, and how to accomplish your objective. These are crucial questions to ask when thinking about funding your child's education.
What asset class must be favoured depends on the country where you send your child. Choose US shares and US ETFs if you transfer your child to a foreign nation. By geographically diversifying your investments, you can later compensate for the purchasing power parity whenever your child starts spending in dollars or pounds.
Saving money for the future is necessary if you have a small child in school who will be attending college in 8 to 10 years. Start investing in mutual funds, stocks, and US marketplaces. Consult a professional aware of your requirements, risk tolerance, and objectives if you are new to investing.
The Inflation we typically refer to as "inflation" is quite distinct from education inflation. The easiest way to understand the increased inflation prices is to speak with any parent whose children are in school. The cost of college education, particularly for professional programs, is rising. For example, consider the effects of a 10% education inflation rate in India on a four-year engineering program that currently costs Rs 8 lakh and will cost Rs 17 lakh after eight years. It is crucial to save money and make investments to cover the costs of children's future educational demands because the cost of schooling doubles quicker than what the majority of fixed-return instruments offer.
Impact: Parents are investing from a young age due to the rising cost of education in India. However, given the current economic climate, taking out an education loan to pay for education is still preferable to relying entirely on building a corpus for junior. Hopefully, you can understand the effects of inflation on students.
Frequently Asked Questions
+
When prices increase, your buying power decreases due to Inflation. Additionally, pensions, savings, and Treasury notes lose value due to Inflation. Real estate and collectables are assets that typically stay on pace with Inflation. While in an inflationary period, variable interest rates on loans rise.
+
Options for suggested investments
Registered Education Savings Plans (RESPs)Registered Education Savings Plans. Among the most acceptable methods to put money aside for a child's education is through registered education savings plans.
Tax-Free Savings Accounts (TFSAs)
+
For several families, saving money for their child's higher education requirements is a big task.
There are three methods for building the corpus.
1. Set aside a lump quantity of money to ensure that it accumulates to the necessary corpus.
2. Regularly invest a set sum to create the corpus.
3. Begin with a smaller lump payment and make frequent investments.
+
Our approach proposes setting a savings goal of roughly $2,000 multiplied by your child's age, considering enrollment in a four-year public institution (at the cost of $22,180 per year), and considering that your parent intends to finance roughly 50% of college expenses from savings.
Liked What You Just Read? Share this Post:
Any Question or Suggestion
Post your Thoughts