Home >> Blog >> Important Things to Think About Before Purchasing Car Insurance
Important Things to Think About Before Purchasing Car Insurance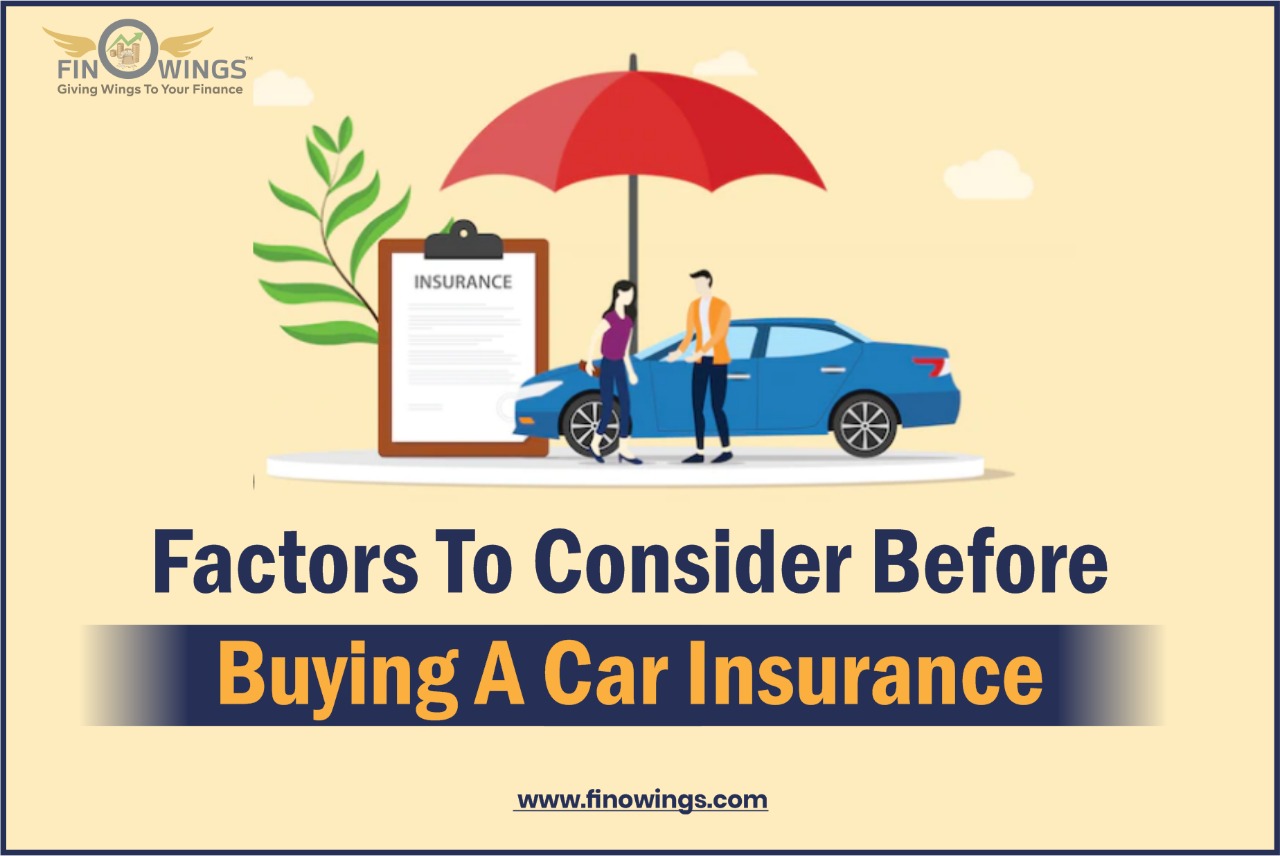 Table of Contents
hold on a second! Do you currently have car insurance? Car insurance is a requirement, whether it must be exciting to make your way through the finance procedure to purchase your dream car. But your vehicle is new or used, and shouldn't be purchased in a rush or on the spur of the moment. So here are such things to know about car insurance.
Do you purchase car insurance merely because it is required? Or do you purchase the least amount of coverage for your car to spend less on premiums? Any of these questions that get a "yes" response indicate that you are making a serious error.
Although automobile insurance is required to operate a vehicle on public roads, its primary function is to shield your vehicle from the financial repercussions of an accident, theft, loss due to a natural disaster, etcetera.
Do you know what to search for when purchasing or renewing car insurance? Here is a thorough list of 11 points to take care of before buying car insurance:
2.1 Third-party insurance is required.
All car owners must have third-party insurance per the Indian Motor Vehicles Act and the Indian Road Safety Act. Traveling without current insurance is illegal and could result in a steep penalty. Therefore, be certain that your vehicle is always covered by insurance.
Typically, when buying a new car, the car dealer will only offer third-party insurance coverage. Among the most important points to understand about third-party car insurance is that it is fundamental insurance and covers only damage claims to a third party's automobile or property involving potential physical injury, disability, and death. Therefore, no matter who is driving—you, a member of your family, or someone you hired—a third-party insurance coverage will only pay claims for harm done to the third party. However, you are not permitted to claim reimbursement for the harm done to your car under the terms of the third-party insurance policy.
2.2 Look for a comprehensive cover.
When evaluating the best car insurance in India online, the most important thing to look for is if the policy offers comprehensive coverage. A comprehensive motor policy provides more protection than third-party insurance because it covers both third-party liability and personal injuries. Another significant advantage is that comprehensive insurance coverage protects you from natural and man-made disasters like fire, theft, riots, rain, storms, etc.
Compared to third-party insurance, comprehensive vehicle insurance may have a higher price, but when you consider its benefits, the higher premium is well worth it.
2.3 Insured Declared Value
The insurance provider's price will pay if your car is stolen or severely destroyed beyond repair is known as the insured stated value or IDV. The IDV is just the most that the insurer will give you if an accident results in the total loss of your car; it should not be confused with the market value of your car.
Different insurance companies could provide you with different IDVs. Before examining the IDV, it is crucial to determine the car's current market value. When researching vehicle insurance policies online, be careful to look for an insurer that offers an IDV that is as close to the car's market value as possible.
2.4 Services offered
Although most people choose the car insurance company with the lowest price, you shouldn't make this mistake. Instead, the insurers' image and the services' caliber should be considered when choosing the finest car insurance plan.
A reliable insurance company ensures ongoing assistance and prompt responses to your inquiries and service demands. Examining customer reviews is among the finest methods for determining the caliber of services being provided. Additionally, you should consider the company's complaint resolution ratio; purchasing insurance with a high complaint resolution percentage is recommended.
2.5 No Claim Bonus
No Claim Bonus, commonly known as NCB, is the compensation insurance providers give for a year of no claims. Whenever you renew your car insurance, the bonus is typically given to you through a discount on the rate. If the insurance provider has an NCB program, you should confirm it whenever comparing car insurance. Additionally, you need to confirm that the insurance provider includes the NCB in their price.
The NCB discount offered to all insurance companies is the same because it is under IRDAI supervision. The NCB grows yearly until you stop registering claims. For example, if you go 5 years without filing a claim, the NCB will lower your premium by up to 50%.
2.6 Additional covers
The additional coverage supplied by the insurance policy and basic coverage is known as add-on covers or riders. To meet the population's diverse demands, most insurance firms in India provide a range of supplemental coverages. You can customize your policy and add any additional coverage based on your unique needs.
The most common additional protection options include roadside assistance, return to invoice coverage and zero-depreciation coverage. When comparing care insurance policies, look for a company that offers the supplemental coverage you need because not all insurance providers might offer all you need. Thanks to the internet, comparing car insurance quotes is easier than ever. You can obtain quotations from as many businesses as you'd like using a mouse and then decide which insurance plan and company is best for your particular situation.
2.7 Anti-theft Tools
Anti-theft tools like alarms, locks, trackers, etc., give the vehicle an extra layer of security and can be useful in two ways. One is to lessen the likelihood of auto theft. Two, to lower the cost of insurance. Implementing an anti-theft system decreases the likelihood of theft, lowering insurance costs. But make sure to set up an anti-theft gadget with Automotive Research Association of India certification (ARAI).
2.8 Portability of Policy
The word "portability" is frequently linked to mobile network carriers. Portability, in that sense, refers to the capacity to shift quickly among network operators. Whenever it relates to car insurance companies, the same idea is relevant. If you discover a superior policy or are unhappy with the services, you can change to a different insurer. Therefore, remember that you are not entering into a lifetime commitment when purchasing the coverage. You can simply end your relationship with the insurer when renewing the policy.
2.9 Budgeting
If you have a propensity to overspend, you might want to stick to a strict budget when it comes to the cost of your car insurance. A tight budget will enable you to choose only the most necessary add-ons rather than purchasing a variety of coverages.
2.10 Modifications
If anything about your car has changed, you must inform your insurer. In this case, the insurer could want to inspect your car. If modifications are not disclosed to the insurance before the complaint application, the insurer may deny the complaint if it relates to the modified components.
2.11 Depreciation-Free Coverage
You may already be aware that your automobile loses value over time. Asset depreciation is what led to this possibility. By adding a zero-depreciation add-on cover to your car insurance, you may protect yourself against the losses caused by depreciation. In addition, you can be confident that the full claim price will be paid to you without deducting the depreciation sum if you have zero-depreciation coverage.
In addition to protecting you from potential financial problems, well-planned car insurance will also cover any damage to your dream car. A quality car insurance plan protects your car from risky situations, including accidents on the road, theft, and/or natural catastrophes. Select your coverage and choose the one that finest meets your requirements to get the most out of your car insurance.
Most Indian car owners obtain a car insurance policy since it is mandated. However, individuals generally do not research car insurance plans before purchasing; instead, they focus their choice on affordable premiums. Unfortunately, this frequently results in insufficient coverage.
Both buying a car and car insurance should be considered equally important. However, while making a purchasing decision, everybody who owns an automobile needs to be informed of the various features of car insurance and analyze the various options available on the market. Furthermore, when purchasing car insurance for the first time, being aware of the specifics will enable you to obtain adequate protection and benefit from bigger benefits.
We believe the preceding advice will greatly assist you in comparing insurance and selecting the best option.
Frequently Asked Questions
+
The minimum liability and property damage coverage required by your state must be considered the most crucial insurance. The most important step to keeping your driving privileges is to insure your automobile. Traveling without a license exposes you to fines and license loss.
+
Explained: 3 Types of Auto Coverage
Liability protection. Safeguards you against the harm you may do to people or their property.
Collision protection. Protects your vehicle if you collide with a stationary object, person, or another vehicle (like those darn ornamental rocks cousin Todd has at the end of his driveway).
Comprehensive coverage.
+
You can file an insurance claim in India for automobile dings and scrapes. Therefore, it is advised against doing so since it can result in high future car insurance prices
Liked What You Just Read? Share this Post:
Any Question or Suggestion
Post your Thoughts