Home >> Blog >> What Are Secured Loans- How do They Work, Eligibility, Types, And Features?
What Are Secured Loans- How do They Work, Eligibility, Types, And Features?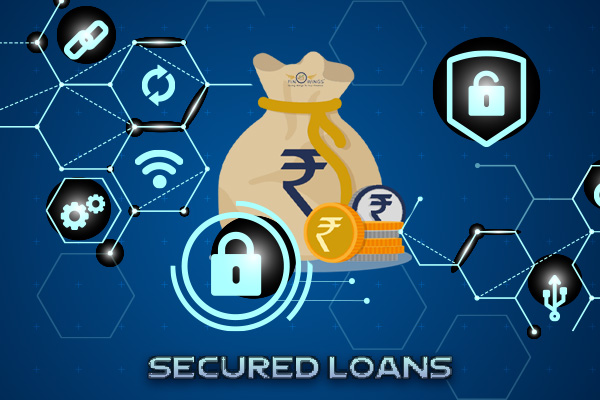 Table of Contents
Loans can provide you with the extra funds you require. It is a good way to meet your immediate personal or professional needs by paying some interest on the amount. There are 2 types of loans: secured loans and unsecured loans. Both have significant differences, as well as Secured loans benefits and drawbacks. The basic difference between the two is that although unsecured loans can be obtained without collateral, secured loans obtained with collateral.
Aside from that, secured loans can be processed more quickly than unsecured loans, even though you must meet few criteria to be eligible for both loans. This article will go over everything there is to know about secured loans. So, without further ado, let's learn more about secured loans.
Secured loans are those in which a lender lends in exchange for assets as collateral for a set period. Loans against gold and loans secured by property are the two most typical types of secured loans. You can use any worthy asset as collateral and encash it for the required amount.
The asset will become a secured debt on the lender, and he or she will have complete ownership of the asset if you fail to repay the amount. Secured loans are considered safe and trustworthy because the lender can recoup the loan amount by selling the asset if you default. With a secured loan, your chances of getting your loan accepted are higher, and you can get a sizable amount of money.

As a borrower, you can borrow money on various assets for various purposes, both personal and professional. However, you need to keep in mind to meet the principal and interest payments deadline. You may lose both your asset and credibility if you do not repay the amount. In addition, if you default, you could have additional repercussions.
Look at the various types of loans you can get using your collateral.
| | |
| --- | --- |
| Mortgage | Mortgage loans are those in which you use your home or property as collateral to purchase another home or property. If you defaulted on your loan completely, the bank has the power to confiscate your house or other property. |
| Vehicle Loan | As the name implies, a vehicle loan can be used to purchase a vehicle. This loan is also secured by the same vehicle, and the bank may repossess your vehicle if you cannot pay more than one monthly installment. |
| Home Equity Line of Credit | Another secured loan type that lets you borrow money against the value of your house is a home equity line of credit. However, with this loan, you can withdraw as little or as much as you want, whenever possible, rather than having all the money in one lump sum. |
| Loan Against Land | This type of loan is for those who want to finance land purchase. You can buy the land with it as collateral. It is almost similar to a home loan. However, the bank has the power to take your property if you default on your debt. |
| Gold Loan | Gold is a valuable investment item. It can be beneficial for various purposes, including taking loans in times of need. You can borrow money from a bank if you have gold jewelry or articles to use as a secured asset. You can borrow up to 80% of the current market value of your gold jewelry. However, keep in mind that the bank will thoroughly inspect your gold before lending you money. |
| Business Loan | A business loan is typically used to purchase equipment, pay wages, invest in various projects, and other business purposes. You can pledge your company's land, equipment, inventory, or anything else worth the loan amount for a business loan. |
| Life Insurance Loan | You can borrow money against your life insurance policy. However, several terms and conditions must be met before applying for a loan against a life insurance policy. You can borrow money against your permanent, whole, or universal life insurance policies. These policies are comprehensive and have a lifetime validity period. If you don't pay back the loan, your death benefit will be reduced by the amount owed. |
To be qualified to apply for secured loans, you must fulfill a number of prerequisites. These requirements may differ depending on the bank.However, the following are typical requirements you must fulfill before applying for a secured loan: You must be at least 18 years old to apply for loans.
To obtain a loan in India, you must be a resident of India.
For loan eligibility, you must earn a certain amount per year. Typically, the amount is at least 3 lakh per year. However, this may vary depending on the different bank requirements.
You must also provide a source of income. It could be from a job, self-employment, or a business.
If you are running a business and applying for a loan, the business must be at least three years old and profitable.
You must own an asset worth more than or equal to the loan amount.

Secured loans have many benefits that set them apart from other types. These features, however, may differ between banks. Let's examine the primary characteristics of a secured loan.
4.1 The interest rate on a secured loan is lower because the bank has verified your ability to repay the amount. In addition, they have your assets.
4.2 Secured loans are approved faster than other types of loans.
4.3 The repayment option for a secured loan is flexible.
4.4 You do not need a guarantor when applying for a secured loan.
4.5 You can borrow large sums with secured loans because the collateral is usually of higher value.
4.6 You may obtain a loan against the same asset being purchased.
4.7 Your CIBIL SCORE can be improved by repaying the loan on time.
To be eligible for secured loans, you must have certain documents. Different banks may request common or additional documents for various types of loans. First, however, we will discuss some common documents required for all types of secured loans.
Identity proof can be an original document with your name and photograph, such as a passport, PAN card, voter's ID, or similar.
Age proof can be a document stating your age, such as a birth certificate, voter's ID, etc.
Income proof is a document that verifies your annual income. It is required so that the bank can ensure that you can repay the loan amount. You can submit the last three months' salary slips, fill out Form 16 and attach your salary certificate.
Residence proof can be certified documents proving your residency in India and your address. It could be an internet bill, a rental agreement, a bank statement, etc.
Original documentation of the asset you wish to borrow against.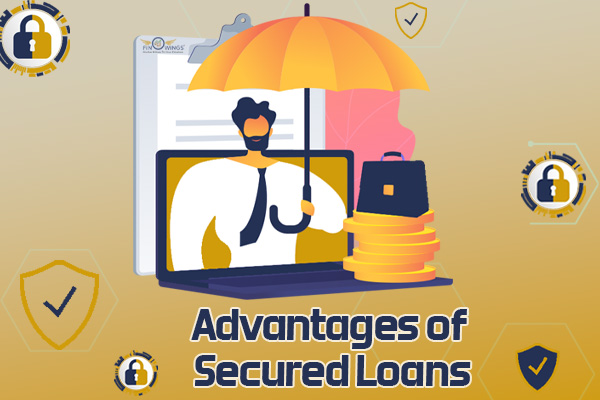 Advantages of secured loans that make them superior to other types of loans, including:
| | |
| --- | --- |
| Lower interest rates | Secured loans feature lower interest rates than unsecured loans because the bank has your asset as security. This asset assures the bank that you will not default because you do not want to lose your asset. In addition, the bank will recoup the money if you cannot repay the loan by selling the asset. |
| Large loan amount | Because the asset value is typically significant, you can borrow a sizable amount of money with a secured loan. Typically, a property, automobile, gold, or other valuable item is collateral, allowing the bank to lend the borrower a sizable amount of money. |
| Flexible terms and conditions | Secured loans have more flexible terms and conditions than other types of loans. In addition, banks do not look further into your credit history for secured loans, so if you have all the necessary paperwork, the loan can be handled more quickly. |
| Better repayment terms and tenure | The repayment on secured loans is flexible. With this type of loan, you can repay the loan at any time. You have the option of paying money in EMIs or lump sums. If you want pre-closer of loan, you can repay the money and release the asset from the secured loan. |
| Lower minimum income requirement | You do not need to earn a large sum of money to be eligible for secured loans. For example, a minimum annual income of 3 lakh can also apply for secured loans. This makes secured loans accessible to all. |
If secured loans have benefits, they must also have drawbacks. A borrower must be aware of both before making any decision. The following are some of the most common disadvantages of secured loans:
Collateral seizure
The bank is making the loan against the collateral, and they will not hesitate to seize it if repayment is not made. This means you should know the possibility of losing your asset before asking for a loan.
Heavy paperwork
While the processing time for secured loans is short, the paperwork that needs to be done is time-consuming. For example, you must provide the bank with numerous documents to prove your identity, age, income, address, and asset ownership.
Repossession
If you take a loan to buy an asset and use that asset as collateral, you should know that the property belongs to the bank until the loan is paid in full.
If you fail to repay a specific monthly installment or the entire amount, the bank can repossess the collateral, and all EMIs paid up to this point will be null and void. In this case, you will lose
both the money and the asset, potentially leaving you broke.
Credit Score
Your credit or cibil score will suffer if you cannot return the loan in full. This means that you will either be unable to obtain a loan or face significant difficulties in doing so in the future. It may also be difficult to recover these points in the future.
The asset value must match or exceed the loan amount.
The secured asset value must match or exceed the loan amount so that the bank can release its principal amount in the event of loan default. If the bank cannot recover the amount with the asset, they have the legal right to pursue you with a legal document known as a deficiency judgment, under which you are obligated to pay the remaining sum.
What Will Happen If You Don't Pay Back a Secured Loan? The bank continuously follows up with you. They usually communicate with you via official email and letters and constantly remind you to pay your monthly installments. The bank may also contact or text you to remind you if you forget to make a payment. The bank will wait for your response and clear the payment for three months.
If this limit is exceeded, the bank will take action against it. The bank may file a lawsuit to hold the defaulter accountable. The bank can also sell your secured asset to recover the loss because they already possess it. To save the secured asset, you can go to the bank and explain why you cannot pay the amount or request to extend the tenure of the loan. Besides, the bank also suggests other ways to tackle the situation.
You can follow the bank's advice and choose the most feasible option based on your preferences. A bank has no right to act unethically toward you; if it does, you have the option of suing the lender.
Loans are riskier, so only take one if you are confident in your ability to repay the loan on time. Failure to make loan payments in a fixed period impacts your credit score and costs you your asset. Thus, make an informed decision and read all of the lender's terms and conditions before agreeing to them.
Frequently Asked Questions
+
A financial product called a secured loan is one that is backed by real estate. Secured loans are also known as homeowner loans because the majority of borrowers use their homes as collateral. Secured loans frequently feature much lower interest rates than unsecured loan products because, from the lender's perspective, the risk involved is far lower. The likelihood of receiving a secured loan is normally relatively high, but if you don't make the payments on time, your property may be in jeopardy.
+
You might pick a secured loan over an unsecured one for a variety of solid reasons. First of all, compared to other loan products, secured homeowner loans have a far better chance of being granted - especially if you are self-employed or have previously been denied credit. Additionally, compared to the vast majority of other loan products, the amount you can borrow when applying for a homeowner loan is significantly higher. Additionally, since you can borrow for a longer period of time, the repayments are much more manageable.
Liked What You Just Read? Share this Post:
Any Question or Suggestion
Post your Thoughts