Home >> Blog >> why India is still largely untapped for NFTs?
why India is still largely untapped for NFTs?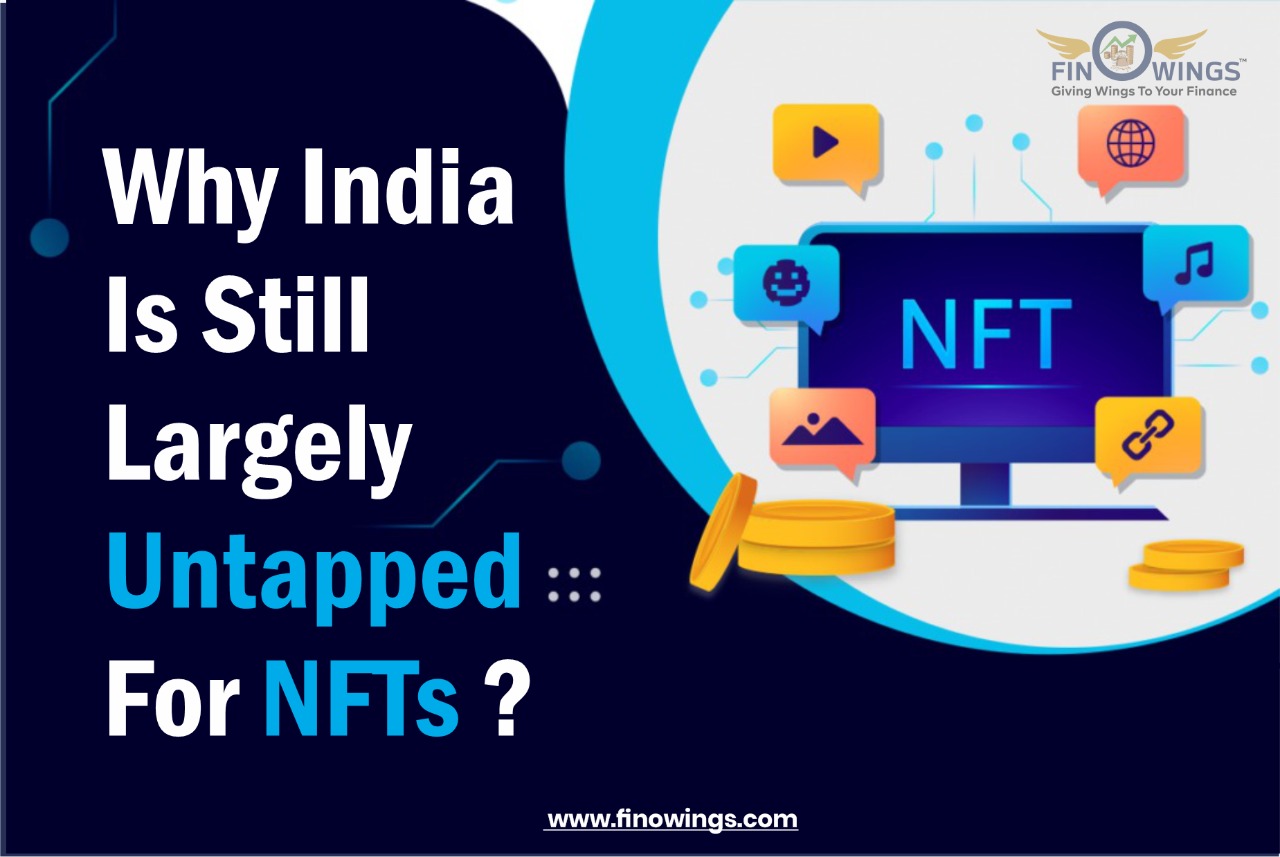 Table of Contents
Blockchain technology, cryptocurrencies, and digital tokens have been the topics of much discussion in recent years, especially in India. As a result, NFTs, or non-fungible tokens, are also gaining much importance. With the considerable rise in popularity of non-fungible tokens (NFTs), September 20 is now celebrated as International NFT Day by the crypto community across the globe. On September 20, 2017, the term "non-fungible token" was coined by Dapper Labs Chief Technology Officer Det Shirley, prompting the industry to celebrate it as International NFT Day. In May 2014, Kevin McCoy and Anil Dash developed Quantum, the first "NFT." This includes a video clip made by McCoy's wife, Jennifer.
NFT stands for "Non-fungible token." A non-fungible token (NFT) is a creative digital asset that can be used to establish ownership and value of an underlying digital asset, such as an original image, GIF, video, or audio.

With recent digital advances, it is difficult to trace and identify the work's original owner on the virtual platform. This reduces the value of the original pieces as they are easily replicated and redistributed. Hence, NFTs attempt decentralization, ownership tracking, and value storage.

It provides verifiable proof of ownership and gives the inventor "digital bragging rights." NFTs are rapidly expanding into the world of digital art and collectibles. But the legality and authenticity of such digital assets are major concerns in India.

NFT is based on Blockchain technology with a unique identification code and metadata that can be distinguished from one another. Blockchain technology is a distributed ledger technology (DLT) that supports crypto functions and allows trading. NFT, being a digital asset, uses this technology for secure transactions and trade with proper encryption messages.

NFTs and cryptocurrencies use the same 'blockchain' technology, and NFTs are acquired using cryptocurrencies. Unlike crypto tokens, where two coins may be identical, NFTs have unique identifiers and proof of ownership, which means that no two NFTs are similar.

Despite ranking as one of the highest adopters of cryptocurrency in emerging markets, most of the Indian market is yet to accept non-fungible tokens (NFTs). Although they've been around since 2014, NFTs are gaining notoriety now because they are becoming an increasingly popular way to buy and sell digital artwork.

NFTs are currently a highly unpredictable market to invest in. It is prone to rapid falls, booms, and cyber security threats. This makes them highly volatile assets to acquire and maintain. Anti-crypto regulations, along with social and cultural constraints, are some of the reasons why NFTs are yet to see widespread adoption in India.
Some of the reasons behind the untapped NFT market in India are mentioned below:
2.1 Lack of awareness
Despite great enthusiasm from tech and art enthusiast groups, NFTs are still confused by many people. Moreover, according to some experts, there is still some confusion regarding the exact purpose of NFTs in India.
In India, there are also concerns about the 30 percent tax on virtual digital assets, including NFTs, and how it will affect consumer sentiment. However, industry players believe that the NFT market is growing in India.
2.2 NFTs and social status
In India, social status matters massively. Surveys have found that most NFTs are bought due to their speculative nature; some collections can be seen as "signals" for wealth and status, and the speculative nature of NFTs has prevented them from reaching the same level of social "signaling" compared to items of higher quality.
2.3 The supply and demand gap
There is a massive gap between demand and supply in the Indian NFT market. Here NFT producers are on the rise while collectors are not present. From a creator's point of view, the opportunities are enormous. The talent landscape for art and digital arts in India is vibrant. From a mass adoption perspective, however, NFT collectibles are not precisely suitable for the product market in India. A limited group of Indian collectors takes advantage of NFTs for speculative use.
2.4 Security challenge
NFTs do not yet provide sufficient security to protect their users and investors. As a result, NFT security can be threatened by cyber attacks and theft of assets. NFT security issues are a real problem as the NFT Marketplace is centralized and hosted on the servers of third-party websites. Larcenies by impersonators are regrettably frequent in the bitcoin and digital realms but can be challenging for authorities to put an end to. As the value of NFTs has increased significantly, there has been an increase in malicious actors impersonating platforms, exchanges, influencers, or wallets to access users' assets and steal their data.
2.5 Money laundering
NFTs, like other blockchain security and in conjunction with traditional art sales, can potentially be used for money laundering. Auction platforms for NFT sales may face regulatory pressure to comply with the anti-money laundering law. Although NFT transactions have unique codes recorded on a public ledger, buyers can remain anonymous for anyone who wants to launder assets carefully. There is also no mechanism to prevent launderers from creating more than one account and transferring assets to cover their tracks further. Some industry commentators believe that the risks of NFT money laundering are high, arguing that NFTs can be used to facilitate tax evasion for the wealthy as they receive less scrutiny from regulators and lawmakers.
2.6 Regulatory Issues
However, cryptocurrency has been present in India for the past ten years. The primary debate about its legality began in June 2018, when the Reserve Bank of India (RBI) issued a circular advising bank not to deal in cryptocurrencies. However, the Supreme Court struck down the order in Internet and Mobile Association of India v Reserve Bank of India that the right to trade is a fundamental right under the Constitution.
Currently, the third-party legal framework under which NFTs operate. Smart contracts presently govern them. At a basic level, smart contracts act as a tool to enforce a sales agreement. So, while there is a lack of clarity about the future status of NFTs, they can still be owned and traded.
Supporters of NFTs in India and the legal implications of NFTs have also raised doubts about the long-term sustainability of the token due to the absence of clear rules or legislation. As a result, they are prohibiting or forbidding Indian residents from buying or selling NFTs. However, the most significant obstacle to NFT trading appears to be the uncertainty surrounding the legal status of cryptocurrencies in India, as the underlying technology has a common denominator in both cases.
A report states, "Despite having one of the largest NFT company headquarters in the world, India is at the bottom of NFT interest, with only 254 searches per 100,000 population." Australia, Canada, and Taiwan are among the countries where people are most interested in NFTs. The number of NFT holders in India is currently low, but NFT has emerged as an essential platform to earn money digitally and will surely evolve with time.
It is expected that with the evolving laws and regulations, NFT, or non-fungible tokens, will indeed have a great future in the country. India should also learn from countries with balanced legal and regulatory environments, such as Switzerland, Canada, Japan, and Singapore. Legalizing cryptocurrencies is essential for the efficient trading of NFTs in India. NFT trading is risky until a definitive decision is made about the legality of cryptocurrencies in India.
Frequently Asked Questions
+
Because of their uniqueness, NFTs, or non-fungible tokens, have unlimited potential. By investing in NFTs, one gets hold of an asset class that tends to increase in value, as well as the more unique the asset they own, the more profit they can make. Since the blockchain is a decentralized network, the market for NFTs is also free from third-party regulations.
+
An NFT is a digital asset based on blockchain technology that represents real-world objects such as art, in-game items, music and videos. Which are usually created using the same type of programming that is used for cryptocurrencies.
+
Non-fungible tokens, which use the same blockchain technology as cryptocurrency, are generally secure. The distributed nature of blockchain makes it difficult to hack NFTs.
Liked What You Just Read? Share this Post:
Any Question or Suggestion
Post your Thoughts