Home >> Blog >> Fly91: The Next Big Thing in Indian Aviation
Fly91: The Next Big Thing in Indian Aviation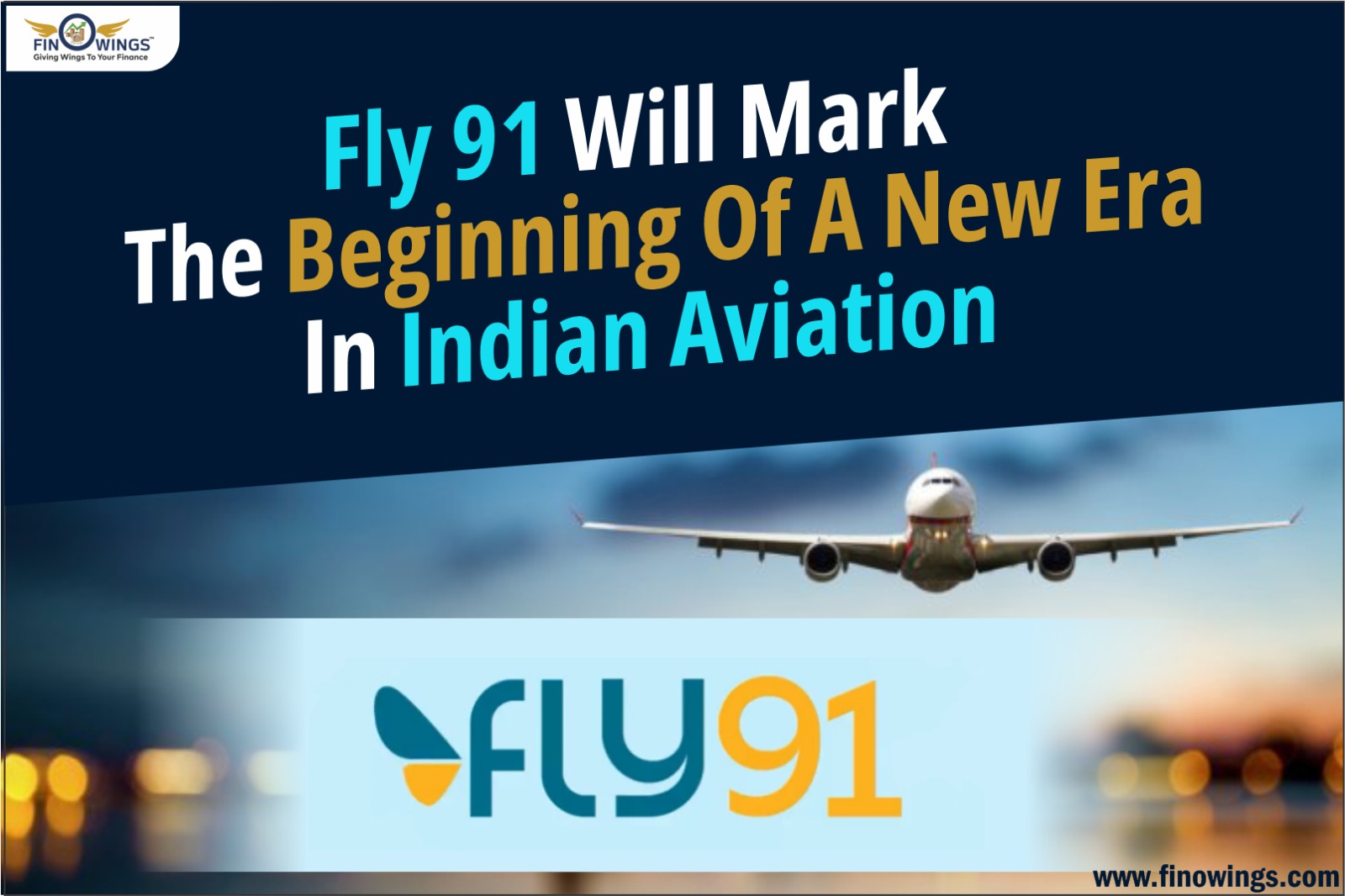 Table of Contents
Ever imagined what it would feel like to float among the fluffy clouds in the vast sky?
It's a dream that we all crave to experience at least once in our lives. However, realizing this dream isn't always feasible for various reasons.
One of the primary obstacles is the combination of affordability and connectivity. Not everyone desires international travel; sometimes, all we seek is a simple flight back to our hometowns at a reasonable price.
Yet, flights aren't readily available in every Indian town, forcing people to navigate complex routes and face unnecessary complications when opting for air travel.
But there is a Good News! A solution is on its way. Fly91, a new airline set to launch its operations soon and address these challenges head-on. Their primary objective is to make air travel accessible to all.
By connecting underserved routes across India, they aim to bridge the gaps where connectivity is lacking. What's more, they are committed to keeping fares reasonable and affordable, ensuring that everyone can embark on their desired journeys.

Manoj Chacko, with 30 years of experience in the aviation sector and a background in reputable companies, will lead Fly91 as its CEO.

The headquarters of Fly91 will be situated in Panjim, Goa.

Fly91 aims to connect underserved towns across the country with air routes, offering affordable fares to passengers.

Initially launching with two aircraft, Fly91 plans to expand its fleet to 32 aeroplanes within five years.

Fly91 will operate using ATR 72-600 aircraft, which have a capacity of accommodating up to 78 passengers per flight.

Fly91 is set to be a participant in the government scheme UDAN (Ude Desh ka Aam Nagrik), which aims to enhance air connectivity and accessibility for the common citizens of India.

Fly91 is expected to commence its operations in October 2023.
Fly91 is an ambitious venture led by Manoj Chacko, a seasoned aviation professional and former Kingfisher executive.
He saw a vision to connect every small town in India through air routes at fair prices, Fly91 is the fruition of his visionary dream.
Drawing from his extensive 30-year experience in the aviation sector, Chacko is determined to provide a memorable flying experience without burdening travelers' wallets.
Having obtained the necessary No Objection Certificate (NOC) from the Indian government on April 25, Fly91 is all set to commence operations, with a tentative start date projected around October 2023.
The airline's headquarters are located in the vibrant city of Panjim, Goa, and it will primarily operate flights to and from the newly inaugurated Manohar International Airport, situated in MoPa, North Goa.
The strategic focus is to capitalize on the dream of many Indians to visit Goa by connecting the state's air routes with various small towns.
Fly91 will initially launch with two ATR 72-600 aircraft, capable of accommodating up to 78 passengers per flight.
Over the course of its first year, the airline plans to expand its fleet by adding six more aircraft. Looking ahead, Fly91 envisions incorporating a total of 32 aircraft over the following five years to extend its reach to additional underserved routes.
With its customer-centric approach and commitment to affordability, Fly91 aims to revolutionize air travel in India.
By connecting small towns with prominent destinations, this airline endeavours to fulfill the aspirations of every Indian, allowing them to embrace the exhilaration of air travel.
In a bid to address the lack of connectivity between small cities in India, Fly91 is set to soar high and become the most sought-after and affordable domestic airline in the country.
With numerous airports lying unused due to the absence of smaller aircraft, Fly91 aims to tap into this opportunity and bridge the connectivity gap that has posed challenges for passengers.
To fuel its expansion plans, Fly91 has successfully raised Rs 200 Crore from PE firms and intends to lease 6 to 8 regional ATR planes yearly.
By utilizing advanced technology and participating in the UDAN (Ude Desh ka Aam Nagrik) regional connectivity scheme, the airline aims to make air travel not only accessible but also affordable for every citizen of India.
Manoj Chacko, a visionary with a dream to connect the small cities of India through air routes, is the mastermind behind Fly91, aiming to address the prevailing connectivity challenge.
In an interview, Chacko expressed his desire to collaborate with existing airways, further emphasizing his commitment to serving the nation.
The airline's name, Fly91, carries a significant meaning. The number 91 represents the country code of India, symbolizing the mission to empower the nation to take flight.
Fly91 also plans to focus on short-haul flights with durations ranging from 45 to 90 minutes, ensuring efficient and convenient travel experiences.
With its robust expansion plans and dedication to improving connectivity, Fly91 is poised to revolutionize domestic air travel in India.
Through the utilization of unexplored routes and the implementation of cutting-edge technology, the airline strives to transform flying into an achievable aspiration for everyone.

Fly91 is poised to revolutionize the aviation industry by offering convenient and pocket-friendly domestic flights to underserved regions of the country. This initiative will greatly enhance connectivity with small towns, opening up new possibilities and redefining the boundaries of air travel. As Fly91 forges ahead, expanding its services and exploring new frontiers, it is certain to leave an indelible mark on the future of aviation, serving as a catalyst for innovation and inspiring further advancements in the industry for years to come.
Frequently Asked Questions
+
You can easily book a flight with Fly91 by visiting our official website, fly91.com.
+
Fly91 operates flights to numerous destinations across the globe. Whether you're planning a domestic trip or an international adventure, they offer a wide range of routes to popular cities and tourist destinations. For a comprehensive list of our current destinations, please visit there website or contact our customer service center.
+
Fly91 aims to provide a comfortable and enjoyable flying experience for all passengers. Their amenities may vary depending on the aircraft and flight duration, but typically include comfortable seating, in-flight entertainment, complimentary meals and beverages, and Wi-Fi access on select flights. Additionally, they offer special services for passengers with disabilities or specific needs.
+
Yes, Fly91 offers an online booking management system that allows you to easily make changes to your booking. Through their website, you can modify your flight dates, upgrade your seat, add extra baggage, and make other necessary adjustments to your reservation. Simply log in to your Fly91 account or retrieve your booking using the provided details to access the management features.
+
Fly91 has specific baggage allowances depending on the cabin class and fare type you have booked. Generally, economy class passengers are allowed to bring one carry-on bag and one checked bag, while business and first-class passengers enjoy additional allowances. The weight and size restrictions for bags may also vary, so we recommend reviewing the baggage policy on their website or contacting our customer service center for precise details.
+
Yes, Fly91 offers a frequent flyer program called FlyRewards. By signing up for FlyRewards, you can earn miles for each flight you take with Fly91, and these miles can be redeemed for future flights, upgrades, or other rewards. For more information and to join FlyRewards, please visit their website or contact customer service center.
Liked What You Just Read? Share this Post:
Any Question or Suggestion
Post your Thoughts