Home >> Blog >> Suzlon Energy Fundamental Analysis: A Complete Investor's Guide
Suzlon Energy Fundamental Analysis: A Complete Investor's Guide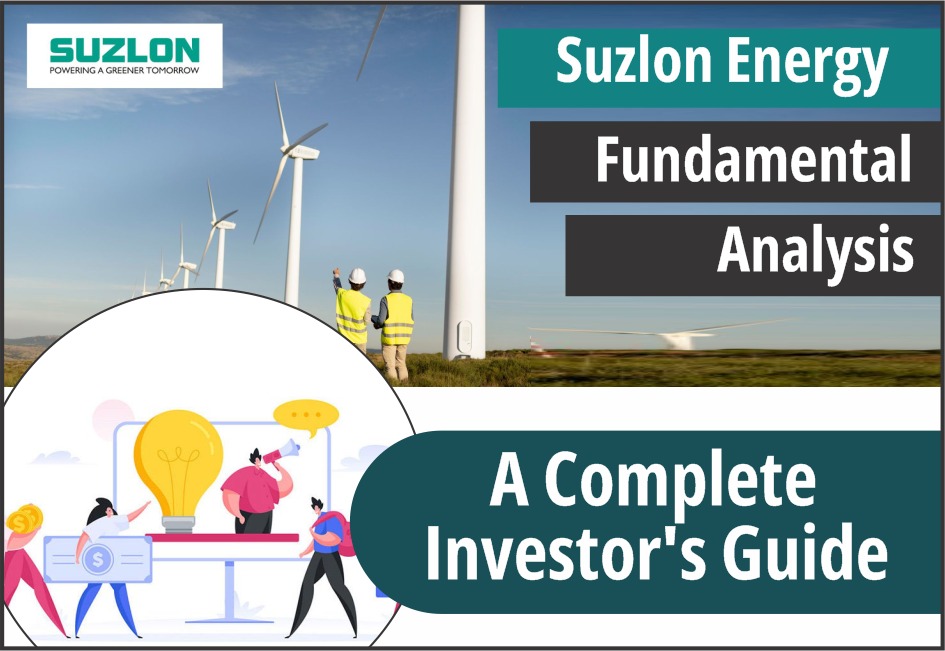 Table of Contents
Have you been keeping an eye on Suzlon Energy, the wind energy company that delivered an astounding 390% return in just seven months? In this detailed analysis, we will dissect Suzlon Energy's most recent quarterly report to provide you with a comprehensive understanding of the company's operational performance, financial health, and the broader implications for your investment portfolio.
Suzlon Energy is a renowned company specializing in the production of wind turbine generators and related components required for harnessing wind energy and generating electricity. Their business operations span four core segments, including transformer manufacturing, generator production, tower fabrication, and rotor blade and panel manufacturing.
Before we delve into the nitty-gritty details, let's first gain insight into the larger renewable energy sector. In India, the shift towards renewable energy sources, such as wind and solar power, is significantly altering the energy landscape. Suzlon Energy, being a prominent player in the wind power domain, is poised to benefit from this transition.
Detailed Video

Suzlon Energy boasts a substantial portfolio with a commanding wind energy capacity of 20.3 GW, representing a noteworthy 32% market share in India. With a global workforce exceeding 6,000 employees, Suzlon is equipped with an in-house research and development team, solidifying its reputation as India's leading original equipment manufacturer in the renewable energy sector. The company holds a track record of 28 years in the industry, a testament to its experience and expertise.
The impressive list of clients associated with Suzlon Energy includes renowned names like ACC, Adani, Aditya Birla, AHL, GAIL, Bajaj, BlackRock, Brookfield, Clearway, ONGC, TATA, Reliance, and many others. This extensive client base is indicative of Suzlon's established standing in the industry.
An essential aspect of evaluating a company's performance is examining its order book. Suzlon Energy has been consistently securing orders, demonstrating a positive trend. Currently, the company maintains an order book with a capacity of 1,613 MW. A substantial portion of this order book is anticipated to be fulfilled in the coming quarters.
An in-depth assessment of a company's financials is crucial for making informed investment decisions. Suzlon Energy's revenue exhibited a consistent upward trajectory until FY22, but it faced a decline of 8.78% in FY23. However, it's noteworthy that the half-yearly revenue for FY23 witnessed a substantial 52.78% decrease. Subsequently, the anticipated revenue for the next six months stands at 2,765 crore. This results in a trailing 12-month total revenue of 5,573 crore, indicating a 6.28% reduction compared to FY23 levels.
Turning our attention to the company's debt, Suzlon Energy has made remarkable progress. Between FY20 and November 2, 2023, the company has significantly reduced its debt from 13,137 crore to 121 crore, marking a nearly 99% reduction. This achievement highlights the company's commitment to debt reduction and financial stability. Furthermore, the company's net worth increased from -3,526 crore in March 2022 to 3,409 crore as of September 2023.
Suzlon Energy's ownership is structured as follows: Promoters hold 13.28%, Foreign Institutional Investors (FIIs) hold 10.88%, Domestic Institutional Investors (DIIs) hold 9.81%, the government holds 0.02%, and the public holds the majority share at 65.99%. Notably, out of the 180 crore shares held by promoters, 146 crore shares (81.11%) were pledged. However, on September 28, 2023, Suzlon successfully unpledged 97.1 crore shares, signifying a positive development for the company.
Assessing the company's valuation is essential to determine whether the stock is overpriced or underpriced. As of the latest available data, Suzlon Energy's Price-to-Earnings (PE) ratio stands at 125, while the industry's PE ratio is 43.90. Additionally, the Price/Earnings to Growth (PEG) ratio is 7.30. These valuation metrics suggest that Suzlon Energy's stock may be currently overpriced compared to industry peers.
In conclusion, our thorough analysis of Suzlon Energy's latest quarterly report reveals several strengths, including an impressive client portfolio and a consistent influx of orders. The company's efforts in reducing debt have positively impacted its financial health. However, revenue decline and the relatively high stock valuation warrant close attention.
As an investor, staying well-informed about the company's performance and industry trends is paramount. Suzlon Energy has embarked on an exciting journey, and keeping an eye on its future developments is essential. Understanding how to interpret quarterly reports empowers you to make informed investment decisions.
Whether you are already a Suzlon Energy shareholder or contemplating an investment, maintaining vigilance and staying updated is the key to investment success. Stay tuned for further updates, and don't hesitate to share your thoughts on Suzlon Energy's current stock price in the comments below.

Liked What You Just Read? Share this Post:
Viewer's Thoughts
Chandrakant Patil | Posted on 08/11/2023
Excellent
Singh | Posted on 08/11/2023
Bahut hi achha Liya tha par bech Diya ab pachhata rha hu .q becha
Ravindra patil | Posted on 08/11/2023
Really unbelievable progress. Holding the shares since last 5 years. But have confidence one day or other good days will come. Now I am in 37℅ profit.
Any Question or Suggestion
Post your Thoughts