Home >> Blog >> How did the Dolo 650 rock the entire medical industry?
How did the Dolo 650 rock the entire medical industry?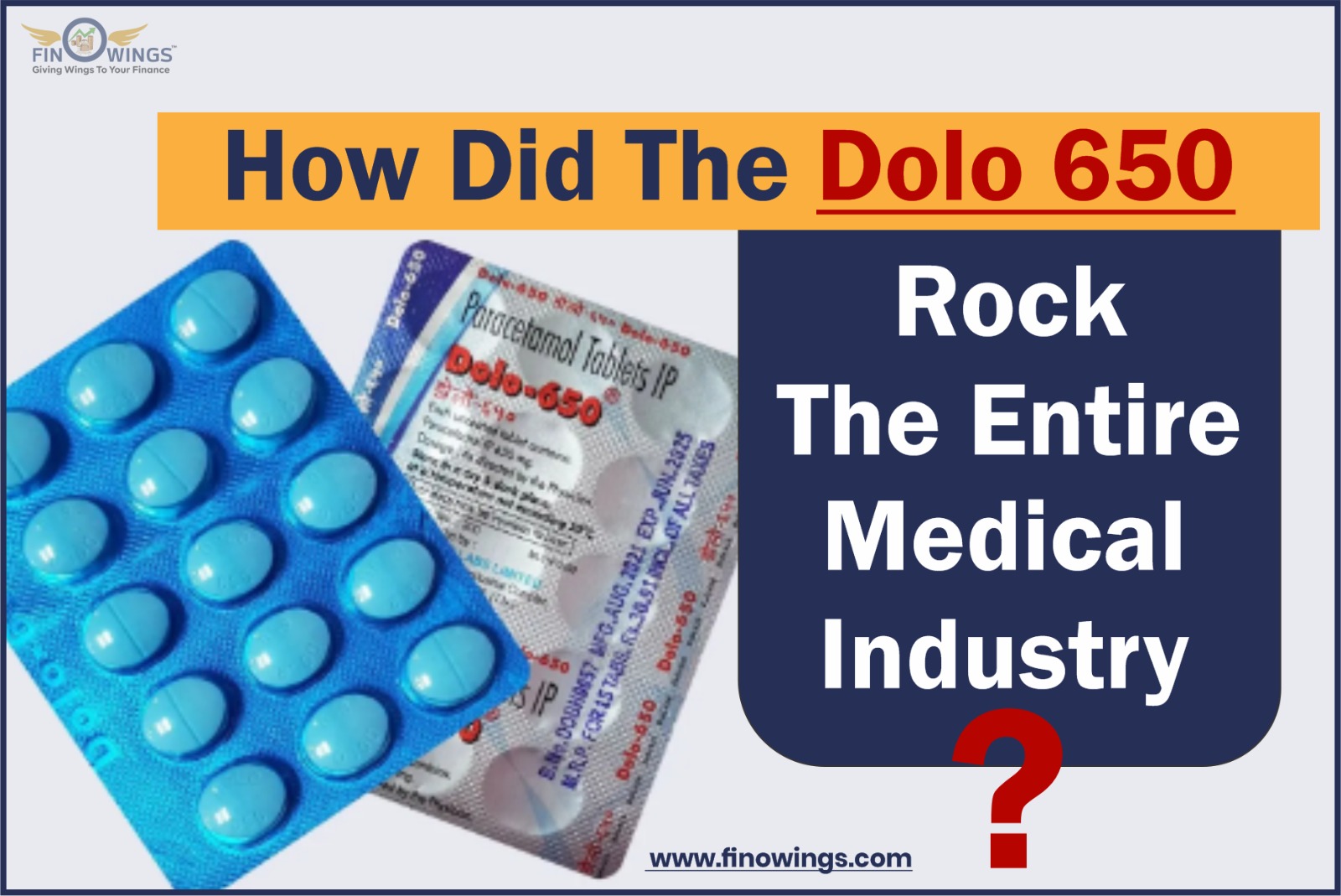 Table of Contents
In India, Dolo-65 tablets are popular for treating fever and colds. As it was prescribed by doctors for any mild symptoms, such as fever and pain, during the Covid-19 pandemic, the medication became even more commonplace in every household. Nowadays, most families have their own Dolo tales. Some people have used it for years; the medication sits patiently on bedside tables and drawers. Some people discovered the medication by chance, while others learned about it online after reading about its prowess in combating the two symptoms of the Omicron variant—the flu and body aches. Consequently, in this blog, we will discuss Dolo 650, the market strategy that brought it so much popularity, its sales record, and why physicians most often prescribe it.
A fixed-dose combination drug with 650 mg of paracetamol is sold under the trade name "Dolo 650 mg" by Bengaluru-based Micro Labs Ltd.
Pain and fever are reduced by taking this non-steroidal anti-inflammatory drug.
It was highly suggested or given by doctors during the COVID-19 pandemic in cases of fever and pain, which led to higher sales of the drug than other common medications used for the same conditions.
The Indian Express reported that between the second quarters of 2020 and 2021, paracetamol sales rose by 138.42%.
During the same time frame, Dolo-650 sales increased by a whopping 289.6%.
More than 350 crore Dolo tablets have been sold in India, making them the second-most popular anti-fever and analgesic tablets there, only behind GSK's Calpol. The annual sales of Dolo medication have decreased, going from 141 crore tablets or 9.4 crore strips in 2019 to 14.5 crore strips or 217 crore tablets by November 2021.

Dolo's increasing notoriety even inspired internet memes that referred to the drug as "India's national tablet or favorite snack." As the Omicron wave continues to spread, the market share of the 650mg tablet is rising quickly, going from 52% in January 2021 to 57% in December 2021.

Despite being a 30-year-old company, Dolo has established itself as a household name with significant utility. The appropriate excipients, or ingredients formulated with the active ingredients, are used in the oval-shaped pill's design to ensure simple swallowability.

Since March 2020, sales of the Micro Labs Ltd.-produced Dolo 650 tablet have brought in INR 567 crore (USD76 million).
~ Innovative Brand Positioning
While paracetamol 500 was widely available, the paracetamol 650 market was untapped until Micro Labs entered it in 1973 with Dolo 650. The company saw a gap between a normal fever and a high fever and began capitalizing on the clinical data showing that 650 mg offers superior relief.
Dolo contains the same generic salt as other anti-fever medications like Crocin or Calpol, but the manufacturer's strategy to make the medication work for "Fever of Unknown Origin (FUO)" as a part of their brand advertisement expanded the drug's credibility among Indians. Dolo's popularity may be attributed to the fact that, in comparison to other cold, flu, and fever medications on the market, its name is relatively straightforward.
~ Most-Googled Topic: Dolo 650 Tablets
Dolo became the most searched-for pill in the country, and not just in terms of sales. Since the COVID outbreak, Dolo 650 has received about 2 lakh searches on Google, making it the most popular keyword. Dolo 650 was superior to even Calpol in this regard. The same salt, paracetamol, is sold by pharmaceutical companies under a variety of brand names protected by copyright, including Crocin, Dolo, and Calpol.
~ Patient-Friendly Product Shape
Dolo 650's scored tablet has a distinctive soft suboval shape, in contrast to other paracetamol tablet brands, which are either circular or capsule shape. Despite having 150 mg more paracetamol than standard tablets, this shape enables patients to swallow the entire tablet. This has also served as a distinctive selling point to persuade physicians to recommend Dolo 650.
~ Adversary Promotion
The social media posts and memes that indirectly promoted Dolo proved to be very helpful for the drug's sales. However, the Drugs and Magical Remedies Act prohibits the promotion and advertising of any prescription drug. Dolo-650, a favorite among medical professionals, has consistently held the top spot as the most frequently prescribed 650 mg paracetamol brand in India for decades.
However, because doctors were unable to personally see patients during the lockdown, Dolo-650 recommendations began to circulate via voice, SMS, and WhatsApp messages, and word-of-mouth spread the drug's enormous fame among families throughout the nation.
~ A Brand Name That Sticks
Dolo's popularity may be attributed to the fact that it has a shorter name than some other cold and flu medicines available today. Additionally, the Hindi word "dolo" means "take twice," making it simple for patients to recall names.
~ Vaccination Campaign
The government launched the largest vaccination campaign to immunize the populace after introducing COVID-19 vaccines like Covaxin and Covishield. However, after receiving the vaccine, people began to experience symptoms like fever and body aches, which accelerated the consumption of Dolo-650 even more. By addressing concerns with posters that addressed the most common questions about vaccines, the brand assisted in raising awareness for vaccines.
These bilingual posters, which were printed in English and the local tongues, contributed to the brand's local-level success. Additionally, the company reached out to medical professionals and gave them samples of Dolo-650, masks, and hand sanitizers in exchange for referring the medication to patients who developed fever and pain after receiving a vaccination.
~ A Meme Celebration
Both offline and online trends are determined and driven by social media. Memes are now a powerful tool for expressing group emotions. If the Omicron variant drives the third wave, in reality, the Dolo 650 miracle is what propels it online.
Starting in the middle of December last year, cases and internet memes both increased. Netizens were forced to share their experiences online due to an increase in Dolo 650 consumption, which produced fleeting moments of lighthearted humor during these trying times.
~A Better Option
The fact that Dolo 650 has been around for a while and is safe for people of all ages is one of the main factors contributing to its widespread use. The drug has few side effects and is even safe for people with diabetes, kidney disease, or cardiovascular disease.
~The Rise of Over-the-Counter(OTC) Medicines
When a doctor recommends the same medication for a condition, patients gain confidence in its usage. To save money or time, they are more likely to purchase over-the-counter medications than to visit a doctor for minor ailments. Additionally, the growth of OTC medications in recent years has been attributed to the expansion of drug sales to online platforms that provide flexibility for consumer convenience, a variety of product options, price comparison, etc.
However, taking over-the-counter medicine without a prescription can be harmful. Because of this, Dolo-650's widespread accessibility and indirect marketing helped drive up medication sales dramatically. For instance, Dolo-650 frequently causes side effects like liver damage, skin rashes, a steadily increasing heartbeat, reduced platelets, etc.
Dolo-650 was created by Bengaluru-based Micro Labs, and it is successfully competing in the same market as major international pharmaceutical companies. As Indian pharmaceutical companies introduce locally produced, safer, and more affordable alternatives for treating a variety of diseases, consumers are becoming less dependent on foreign-produced medications. In 2021, the Indian pharmaceutical industry contributed roughly 1.7% to the GDP of the nation, up from 1% a decade earlier. India is repositioning itself as a global leader in drug development, and as a result, the nation is on its way to becoming the "world's pharmacy." India is being positioned as an innovation hub for the pharmaceutical industry thanks to new policy initiatives like the PLI scheme, stable policies, legislative changes, and strong industry partnerships.
Liked What You Just Read? Share this Post:
Any Question or Suggestion
Post your Thoughts