Home >> Blog >> How is it that Adani has become the second richest person in the World, yet the Adani organization is in debt?
How is it that Adani has become the second richest person in the World, yet the Adani organization is in debt?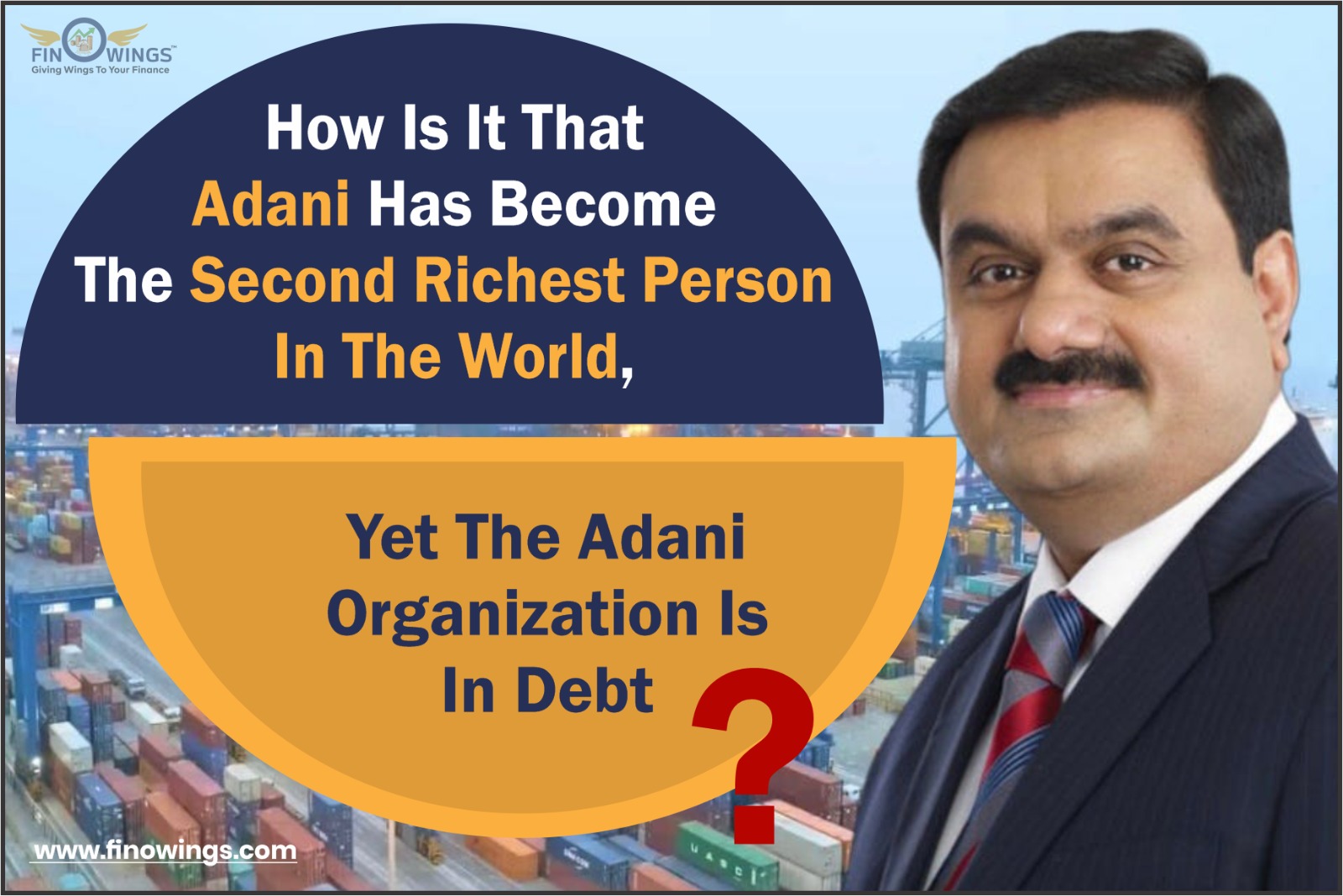 Gautam Adani is the first Asian to place in the top three on Bloomberg's Billionaire Index. He outperformed Bernard Arnault, Chairman and CEO of LVMH ($138 billion). Elon Musk, the CEO of Tesla, has a net worth of 264 billion dollars, compared to Adani's $147 billion. However, how did Gautam Adani manage to pull this off? When India went into pandemic lockdown, Mukesh Ambani was the one to watch, but things changed quickly for Gautam Adani. Adani had $10 billion in wealth before the COVID incident, whereas Mukesh Ambani had $59 billion, or more than six times Adani's wealth.
Gautam Adani left college early in the 1980s to work in Mumbai's diamond industry before moving on to coal and ports. Indian multinational corporation Adani Group is situated in Ahmedabad. Founded by Gautam Adani in 1988, Adani Enterprises is its flagship company. Port management, electric power generation, renewable energy, renewable energy, mining, airport operations, natural gas, food processing, and infrastructure are a few of the group's diverse business ventures. With operations in 70 locations across 50 nations, the group generates annual revenues of over $30 billion US. Since then, his company has expanded into a variety of industries, including media, data centers, cement, ports, airports, city gas distribution, coal mining, and green energy.
Ambuja & ACC Cements : $10.5 billion
Mumbai International Airport Ltd. : $219 million
SB Energy Limited: $3.5 billion
4 Ports : $4.4 billion
Adani, an Indian industrialist, is heavily indebted despite being the second-richest man in the World, which raises questions.
The CreditSights report highlights several credit issues with the Adani Group, including its rapid, excessively leveraged expansion, its forays into new and related industries, and the risks involved in fiercely competing with industry titans like Reliance Industries.
Amid a rise in debt levels, the group's cash flow has also grown steadily as more assets became operational and were brought on stream- Analysts.
Key points-:
Gautam Adani has been on a deal-making binge for the past year despite massive debt traps.

Bank loans, internal accrued expenses, and debt capital markets account for the majority of the group's growth financing.

Loan defaults, or bad loans, have increased tenfold since 2012. 95% of these loans are given out by public sector banks. In contrast, 30% of the issuance is the sole responsibility of SBI.

The second-richest man in the World and the richest man in Asia is Adani, who is also the most indebted person in India and a willful defaulter.

The wealth of Gautam Adani, a billionaire industrialist from India and the head of the Adani Group, significantly increased, making him the second-richest person in the World.
Gautam Adani rose to become the second richest person in the World while ranking as the person with the most debt. Adani and his organization kept growing and acquiring businesses, piling up debt while still not paying back their bank loans.
Bloomberg reports that one of the reasons Adani has been able to surpass some of the World's wealthiest billionaires this year is that some of the wealthiest US individuals have increased their non-profit (donations). While Warren Buffett has previously donated more than $35 billion to the Bill & Melinda Gates Foundation, Bill Gates announced in July that he would be giving the organization $20 billion.
Adani and his group persisted in taking out bank loans and making investments in a range of sectors they had no fundamental knowledge of. At some point, these massive debt storms will eventually collide with him.
Cement, airports, copper refining, green hydrogen, data centers, petrochemical refining, highways, and solar energy manufacturing were just a few of the industries that Adani Holdings invested a lot in over the previous five years.

It also plans to significantly increase its airport operations and expand its green hydrogen business.

India's Adani Group revealed last month that its media division would buy a majority stake in New Delhi Television, one of the most well-known broadcasters in the nation. This is the media industry tycoon Gautam Adani's largest publicly disclosed investment.

Adani Wilmar, the richest man in Asia, is actively pursuing acquisition opportunities both domestically and abroad as he intensifies the expansion of food-related activities within his empire.

Gautam Adani's overly ambitious growth targets, according to CreditSights, could result in a significant debt trap.

A CreditSights research revealed that the Adani Group's plans for debt-financed growth might end up creating a massive debt trap.

Internal accruals, bank loans, and debt capital market borrowing account for the majority of the group's growth funding.

The Adani Group competes with Mukesh Ambani's Reliance Industries in all industries. Credit Sights asserts that while Reliance Industries is heavily leveraged, the latter is on a deleveraging trend.

The report states that Mr. Adani and Mr. Narendra Modi are close friends, which will, at the very least, guarantee that neither party will obstruct the other's growth objectives.

It is anticipated that Adani and his group will borrow more than Rs. 2.6 trillion.
The Gujarat-based company has a debt-to-equity ratio of 2,021%, which is only slightly higher than China's Datang Huayin Electric Power Co., which has a ratio of 2,452%, according to data made public by Bloomberg. According to these standards, Adani Green Energy, which is itself reliant on borrowings and debts to support the company's $70 billion shift toward sustainable energy, is the most leveraged entity in the conglomerate's empire.

Adani and his group have a long history of defaulting on loans. Because they have the means to pay back all of their loans but opt not to, this group is regarded as the most wilful defaulters.

The Adani Group's total debt is $27.5 billion, which is greater than the combined GDP of 80 countries, including Nepal, Iceland, and Cambodia. Adani's net worth increased from $10 billion in 2020 to $137 billion in 2018. Some have compared Gautam Adani's rise and that of his Adani group to a bubble that might burst at any moment.

The overall debt held by the Adani group climbed by 40.5% over the course of the fiscal years 2021–2022, reaching a little over Rs 2.21 lakh crore. In the previous fiscal year, it totaled Rs. 1.57 lakh crore.

Adani borrowed nearly Rs 6,701 crore from SBI in the last month to start a manufacturing business. Adani has contacted SBI once more to request a loan of Rs 14,000 crores to start a new business.

Even the tenfold increase in loan defaults since 2012 was mentioned in an article. 95% of these loans are issued by public sector banks. While 30% of the issuance is the sole responsibility of SBI.

The Adani group owes significant sums of money to banks, and Adani, who is both Asia's and India's richest man, is also India's most indebted person and a willful defaulter.

Willful defaulters are people who have the means to pay back their debts by selling their assets but opt to avoid doing so by exploiting flaws.
Mukesh Ambani's importance placed on telecom, commercial, and green energy; Anil Agarwal's obsessive focus on semiconductors and metals; and Gautam Adani's primary focus on power, port facilities, and infrastructure all contributed significantly to India's onset as a developed economy.
Adani has undoubtedly mastered the art of fusing BIG Future Investments with BIG Government Plans, and thanks to his extensive network and influence, he has the power to sway decisions made at the top. On the other hand, the Indian government agrees that Adani's most recent achievements in every sector are essential to the development of the nation.
Liked What You Just Read? Share this Post:
Any Question or Suggestion
Post your Thoughts