Home >> Blog >> How is TATA Group creating an ecosystem in EV Sector?
How is TATA Group creating an ecosystem in EV Sector?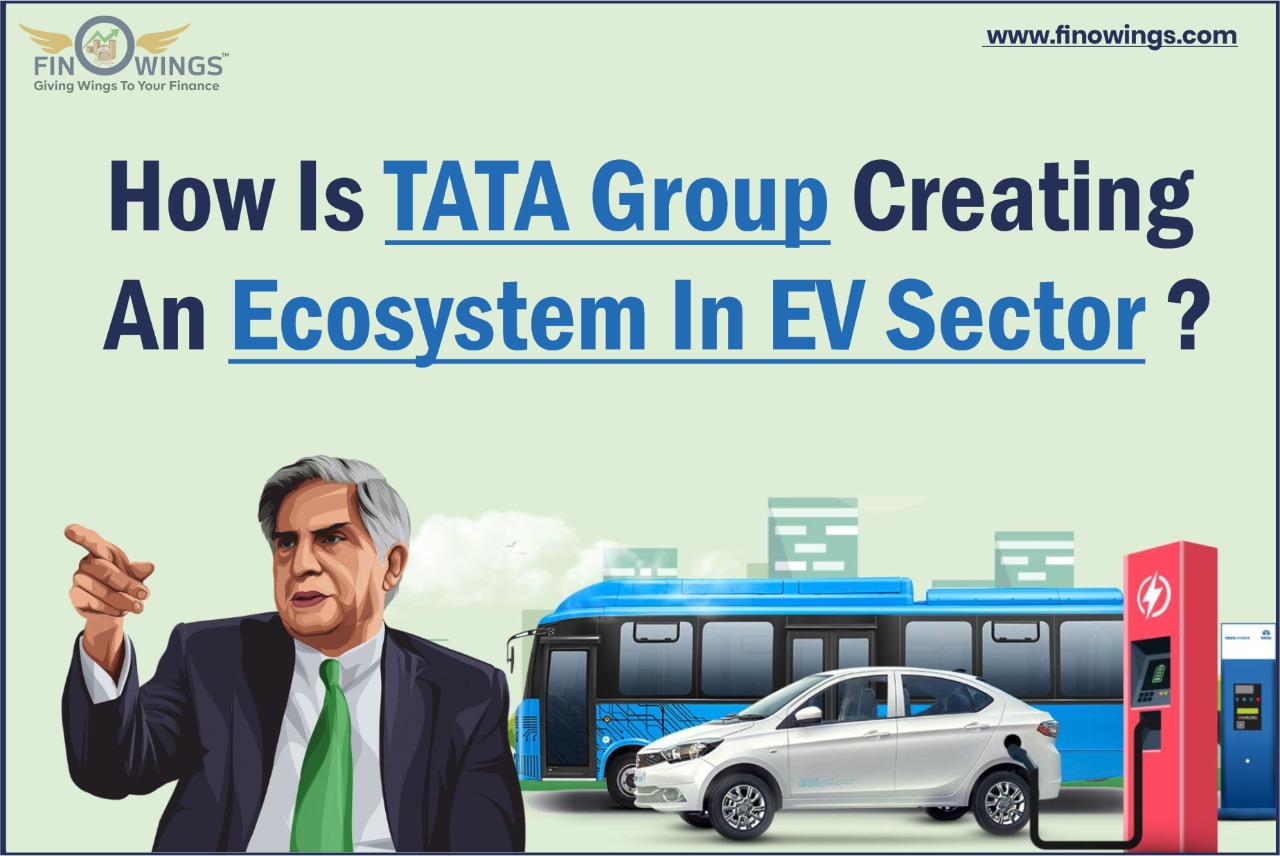 As Tata Motors introduced its electric SUV Nexon at an initial rate beginning at 13.99 lakh, at least six companies from the Tata group banded together to develop an ecosystem for EVs in India.
While Tata Chemicals will produce lithium-ion battery packs and Tata AutoComp system will seek to localize the battery pack construction and engine assembly for the electric car, Tata Power will offer recharging options.
Consumers can use the payment application created by TCS, Croma will offer a digital shopping experience, and Tata Motors Finance will offer cost-effective financing options for both the personal and fleet markets.
This is the first time an integrated initiative will include such close cooperation among Tata Group companies. The proposal, first put forth by Tata Sons Chairman N. Chandrasekaran two years ago, is to use the knowledge of each company to establish an ecosystem for electric cars.
"Under Tata universe, our group firms have integrated their efforts to establish a holistic e-mobility ecosystem to expedite the adoption of electric vehicles in India," Mr. Chandrasekaran said in the introduction. With the introduction of the Tata Nexon EV, I am overjoyed that this ecosystem has come together."
Tata Power has installed more than 100 charging points across India, and it plans to increase that number to 300 by March 2020 and more than 650 by the end of the next fiscal year.
Guenter Butschek, CEO & MD of Tata Motors Ltd., announced the release of Nexon EV and stated that it is "distinctively adapted to satisfy the needs of Indian consumers, and make EVs widespread."
Nexon, which uses Ziptron technology, boasts a 312 km range on a single charge, a reliable high-voltage system, the capacity to charge quickly, and a prolonged battery life.
If you go into the history of electric cars, you'll discover that they are nothing new for us; in fact, Indians had exposure to them in the past, when Chinese businesses offered their electric scooters (scooty) in the Indian marketplace in the years 2012–2013. However, because of the novelty of the product and the fact that no Indian had ever owned an EV, those businesses were able to sell a sizable number of their cars in India. However, over time, the market for those cars suffered severely. Their failure was due to a number of factors, but the primary one was inadequate infrastructure. Because without the right infrastructure, all-electric vehicles (EVs) will fail to deliver the financial advantages they promised, and in the end, they will disappear from the marketplace as they did previously, regardless of how effective battery technology is or how great the car is in all other respects.
The essential EV ecosystem must now be developed, which is no easy task and calls for significant engineering, technology developments, business planning, and investment from outside sources. The goal of creating all of India EV-friendly is currently being slowed down in the Indian EV business since startups are currently outnumbering the major automakers. It's not that startups lack ability; in fact, many companies exceed their capacity in order to reach greater objectives. However, if well-established giants joined this path, it might make it simpler and earlier for India to adopt EVs.
It even seems useless that many of the world's largest automakers are still producing the same conventional gasoline cars, which slows down overall growth in the EV sector. Although the infrastructure will be built regardless, established big businesses like Maruti Suzuki, Toyota, etc. should step forward and help develop an EV-friendly ecosystem in India.
In the midst of all the finger-pointing, Tata stepped up and began making significant investments in EV infrastructure.
Tata Group either used its existing production line or acquired another firm to help with the development of EVs, rather than starting a new company expressly to make electric vehicles. In addition to producing the most popular electric vehicle, the Nexon EV, which was previously recognized for its gasoline and diesel vehicles, Tata Motors is also getting ready to introduce the Tigor EV and Altroz EV. However, the Tata Group is likewise committed to creating a suitable ecosystem for its vehicles. Constructing charging stations, producing low-volume materials, and other activities are all part of establishing an ecosystem.
Tata Motors intended to construct the entire ecosystem for its electric vehicles in the same year that it unveiled its first electric SUV. To do this, they collaborated with other Tata Group companies. Together, Tata Motors, Tata Chemicals, Chroma, and Tata Powers provide a holistic Tata EV ecosystem and inspire consumers to buy EVs.
Tata Motors: Tata Motors produces high-quality electric vehicles. To date, they have produced two EVs—Tigor EVs and a Nixon EV—which shattered all sector sales records for EVs. They will also shortly be introducing two other EVs. It's a difficult effort to demonstrate that electric vehicles are the most technologically and financially efficient, but Tata Motors is doing it with ease.

Tata Chemicals: Tata Chemicals is in charge of producing more and better EV batteries, and the business is also striving to recycle old EV batteries.

Tata Auto. Comp: Providing lower-cost, higher-volume parts utilized in the production of electric vehicles is another crucial responsibility. Similar to solar energy, if this element doesn't perform well, we will have to rely on China for the EV element supply chain. With the help of Tata Auto's efforts, the EV market in India will be free of competitors.

Tata Power: Charging stations are the key component of an EV-friendly ecosystem. The most difficult aspect of the EV sector is establishing charging stations accessible like gas stations; it necessitates large investments with extremely low returns, and technical know-how and technological developments are equally crucial. However, Tata Powers is far ahead of the curve in terms of the infrastructure for charging stations, thanks to a variety of commercial techniques.

Tata Elxi: To control the power-saving algorithms and internal system of an electric car, which might potentially influence its range and efficiency, Tata purchased an IT business and changed its name to Tata Elxi.

Tata Motor Finance: To finance their electrified automobiles, The culprit will be Tata Motor Finance.

Croma: Croma is in charge of running Tata's retail locations.
Tata Group is making a concerted effort to grow in all EV market segments.
The development of the largest floating solar panels in the world in Kashmir and cooperation between Tata Power and HPCL to deploy charging stations in HPCL petrol stations have recently made headlines online. All of these reports reveal Tata's ambitions and demonstrate their level of commitment in the wake of India's EV revolution.
We are aware of the challenges the Indian EV ecosystem is facing and the tremendous effort the Tata Group is making to improve it. We spoke extensively about the businesses and their involvement with and contributions to the Electric Vehicle market.
Should you have any inquiries. If you enjoyed this piece, please tell your friends about it in the comments.
Frequently Asked Questions
+
With the introduction of Idea Curvv, its most recent concept Electric Vehicle SUV, Tata Motors has improved its position in the EV industry. To emphasize its new inside and external design, the Electric Vehicle Curvv is promoted with the tagline "Different by Design."
+
Tata UniEVerse
With the assistance of the One Tata ecosystem, the corporation has created an enabling environment of sustainable mobility technology. In order to create the Tata UniEVerse portfolio of e-mobility services, it worked with Tata enterprises.
+
The logos of Tata Green Batteries and Tata Motors are co-branded on the batteries for commercial vehicle applications, it was said. A 50:50 joint venture between Tata Automotive Company Systems and the Japanese GS Yuasa Company is known as Tata Green Batteries.
+
Industries Exide. Exide Industries Ltd. is an Indian producer of storage batteries and life insurance with headquarters in Kolkata. Among the main EV battery manufacturers in India, Exide Industries is already well-known on this list.
+
The Ziptron's high energy density Li-Ion battery pack gives the car its greatest possible range. The rapid chargers are also compatible with future-proof technology. In a wide range of operating temperatures, the liquid cooling system constantly keeps the battery functioning at its best.
Liked What You Just Read? Share this Post:
Any Question or Suggestion
Post your Thoughts