Home >> Blog >> Demat Account and Its Easy Cautions & Security Issues
Demat Account and Its Easy Cautions & Security Issues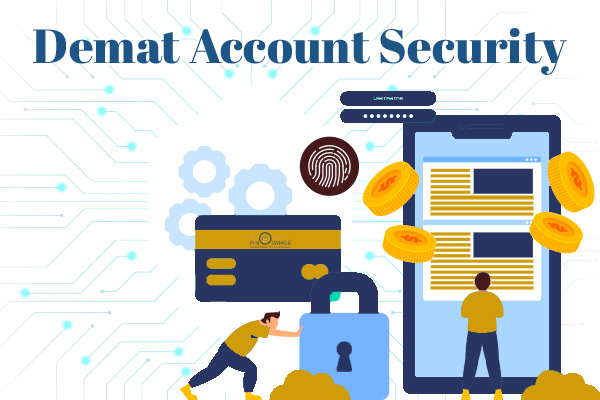 Nothing is safe in today's technological world. As the saying goes, technology has as many advantages as disadvantages. We all know that nothing is secure, be it your social media account, email or your Bank account, data, or current location. Every day we hear about new scams through newspapers and news channels. Online privacy is only possible in today's time if you are wise enough yourself. Data phishing and hacking have become easy games for hackers.
But a short time ago, we heard about a new type of fraud: Demat Account Fraud. Now the eyes of these hackers are on your Demat account. As people's interest in the world of stocks and trading is increasing, these hackers see a new opportunity to make money. Not only India but the whole world is affected by the data breach. Every day governments and institutions take drastic steps to overcome the problem of a data breach, but these hackers do not have any effect on it. They find another way. Today in this blog, we will discuss in-depth 5 tips to secure your Demat account from hackers.
The abbreviation for "Dematerialization" is Demat, which we all know by the name of Demat Account. Dematerialization or Demat mainly converts securities and physical shares into electronic form. So now there is no need to do any paperwork to buy shares of a company; through Demat, you can easily buy shares of any company and keep them electronically.
In the Demat account, your shares are safe, and the risk of forgery-related is negligible. A Demat account makes you feel like you have shares of companies in your pocket through mobile, just like your wallet.
A Demat account is just like your capital and contains information about your savings account. Hackers want to hack a Demat account to access your savings account and tamper with your hard-earned money.
There are three types of Demat accounts:-
Regular Demat Account

Repatriable Demat Account

Non- Repatriable Demat Account
Regular Demat account is basically for those investors who reside in India. For those investors who want to trade in shares alone and need to store securities, a regular demat account is best for them.
Repatriable Demat Account
Non-resident Indian investors can open a repatriable account to transfer their earnings from the Indian market abroad.
Non- Repatriable Demat Account
This account is the same for non-resident Indian investors, but this account doesn't allow money transfers to foreign countries.
CSDL and NSDL provide free Demat account services in India and are the leading securities providers.
When anything containing your online privacy is wrongly unauthorized by cyber criminals or fraudsters, it is called a data breach. For example, money is withdrawn by accessing your bank account or taking OTP from you. In the same way, false and misleading information is spread by hacking social media accounts. The same is being done with the trading account. Their primary purpose is to steal your assets and securities and invalidate the trading account by providing false information.

The term Demat is used for a dematerialization account. Dematerialization means that it is a process of converting physical shares into electronic form. Demat accounts were first introduced in India in 1996. It allows the investor to buy or sell shares online through the certificate.
The need for a Demat account in India arose because the process of physically buying company shares was lengthy. First, look for the company through the broker and then apply to the company physically. Thus this process was very lengthy, and there was always a risk of your physical certificate being stolen or a fake certificate. Since the buying and selling shares through this process were not scalable, a Demat account was conceived.
In this way, in 1996, the Indian markets adopted dematerialization, and the world of the stock market itself changed. Demat account has made trading in the stock market much more scalable than before. Today anyone can start trading by opening an online Demat account.
Your online Demat account allows you to buy and sell securities. All you need to do is transfer money from your savings account to invest or trade through a Demat account. Surely you will like this facility very much, but your slight carelessness can be dangerous.

Trust me; if you are not practicing the security measures for your online Demat account, then, unfortunately, you cannot hide your account from cyber criminals for a long time; you may be their next victim.
For example, just a few days ago, "Zee Business" did a program called Demat Daka. They explained in detail how hackers are tracking your Demat account and how they misuse your data.
Hackers will not only misuse your demat account data but also buy shares from your demat account without your knowledge at high prices and sell shares at low prices, thereby shattering your years of hard work and your dreams instantly. In addition, money can be withdrawn from your bank account without your knowledge, and it will be too late when you find out. So be cautious about your demat account; a little carelessness can destroy your years of hard work.
A few days before, it was reported that the emails of more than 5 million customers and about 2 million customers of Robinhood, a popular online stock trading platform in the U.S., were hacked.
Simultaneously, such a massive data breach has left investors in deep concern in the U.S. and worldwide. With the help of viruses and malware, hackers infiltrated the financial information of millions of people, which should not be ignored.
In today's time, scammers can hack anything. Mainly you can fall victim to this fraud for two reasons. One is due to a technical fault, and the second is your error. Mostly it has been seen that you become a victim of cybercriminals due to personal error.

Hackers often attack weak and vulnerable mobiles or computers of investors, in a way, by hacking the program of the system itself.

Scammers effortlessly take advantage of your psychological flaws. When you are upset and worried, you cannot decide exactly what you should and should not do. In such times scammers call you by taking the name of the broker. If you get slightly careless during that call, then you may have to lose your Demat account. They tell you on call that your Demat account will deactivate in a few days. You will have to update KYC, or else you will be fined. If you agree to their point, they send you a link, and as soon as you click on that link, all your data access goes to them. It has been seen that unaware people are more vulnerable to such scams.

For example, you may receive an email that looks exactly like a genuine email. You might think it's a legitimate link, attachment, or URL. Then you click on it, and without your knowledge, the hacker launches a backend program or virus in your device, whose job is to steal the information secretly from your gadget. That virus or program monitors every activity on your device.

It would be best if you kept in mind that scammers have also updated over time and may try to implicate you differently.

Usually, Demat account scammers tamper with your shares, replacing your valuable shares with liquid penny stocks. It causes you financial loss, and they also have access to information related to your savings account, which they can misuse at any time.

7.1 Know what you're clicking
Always remember one thing one click can harm not only your Demat account but also your data and your bank account. The ideal way to avoid this type of malicious attack is to verify any link, email, website, or ad before clicking on it, and we recommend that you avoid clicking on the link as much as possible. If you get any information, you can directly visit the app or website of that financial firm to confirm it. The security of your Demat account is largely in your hands.
7.2 Use a strong password.
Many people do not understand the value of passwords; they often create a password for anything, which makes it very easy for hackers to hack those accounts. Never save your password on the device. Instead, create a strong password that should be a combination of letters, numbers, and symbols. Do not share your password with anyone. Do not use the same password repeatedly; keep different passwords for different accounts, and, most importantly, change your passwords regularly. If you do not do this, then even though the password is strong, hackers can hack it.
7.3 Always use the Two-Step Verification method.
You can enable the two-step verification process in the online Demat account. Trust me, by opting for two-step verification or multifactor. You almost eliminate the chances of your Demat account becoming a victim of cybercriminals. The two-step verification process is quite simple. You have to enter your password first and then your thumb impression. As soon as you do this, an OTP will be generated from your Demat account on your mobile; by entering your OTP, you can enable two-step verification of your Demat account.
7.4 Keep notifications alerts on for information.
Always keep notifications alert on all your financial transactions and financial activity. Because if someone has tried to tamper with your account, you will get a notification alert immediately so that you can prevent the possibility of further wrong financial transactions.
7.5 Keep your mobile and computer updated.
It is also very crucial. Most viruses are programs in such mobiles and computers which are not updated. So try that your devices are updated with the new version. You can install features like solid and effective antivirus, spyware detection, and antispam on your device. You must have these on your device if you do most of your transactions online. Up-to-date security software does not allow viruses or programs to enter the device. By keeping your device updated from time to time, you can avoid security breaches in your Demat account.
You have to supervise the security of your Demat account. Carefully read all incoming messages related to the Demat account. Identification of erroneous activity taking place in the Demat account includes:-
False funds or Investments by your account without your knowledge.

Unrecognized deposits without your knowledge.

Any suspicious update-related message.

Account-related information message even when the account is closed.

Repeated calls to the name of your broker company from other numbers and asking for KYC or OTP for change in a trading account.

Your trading account is linked with someone else's savings account.

If you see any of the above indications in your Demat account, then your Demat account has been tampered with. Get help from your brokerage company immediately if this happens. They will be able to guide you on exactly what to do next.
With the help of the above given 5 tips to secure your Demat Account From Hackers, you can save your account to a great extent. Never log in to your Demat account from someone else's device, and don't share your PIN or password with anyone. The most important thing is to be active and knowledgeable.
Frequently Asked Questions
+
Brokerage companies employ several security measures to protect their clients' trading accounts from hackers. However, as a conscious person, you must have more security practices to keep your account safe.
+
There are several ways to reduce the security risks of a demat account. Do not share your Demat account login ID and password with anyone. on any unknown link in a message or email
Avoid clicking. Keep updating your device from time to time.
+
When anything containing your online privacy is wrongly unauthorized by cyber criminals or fraudsters, it is called a data breach.
Liked What You Just Read? Share this Post:
Any Question or Suggestion
Post your Thoughts