Home >> Blog >> Corporate Social Responsibility (CSR) - Types And Business Benefits
Corporate Social Responsibility (CSR) - Types And Business Benefits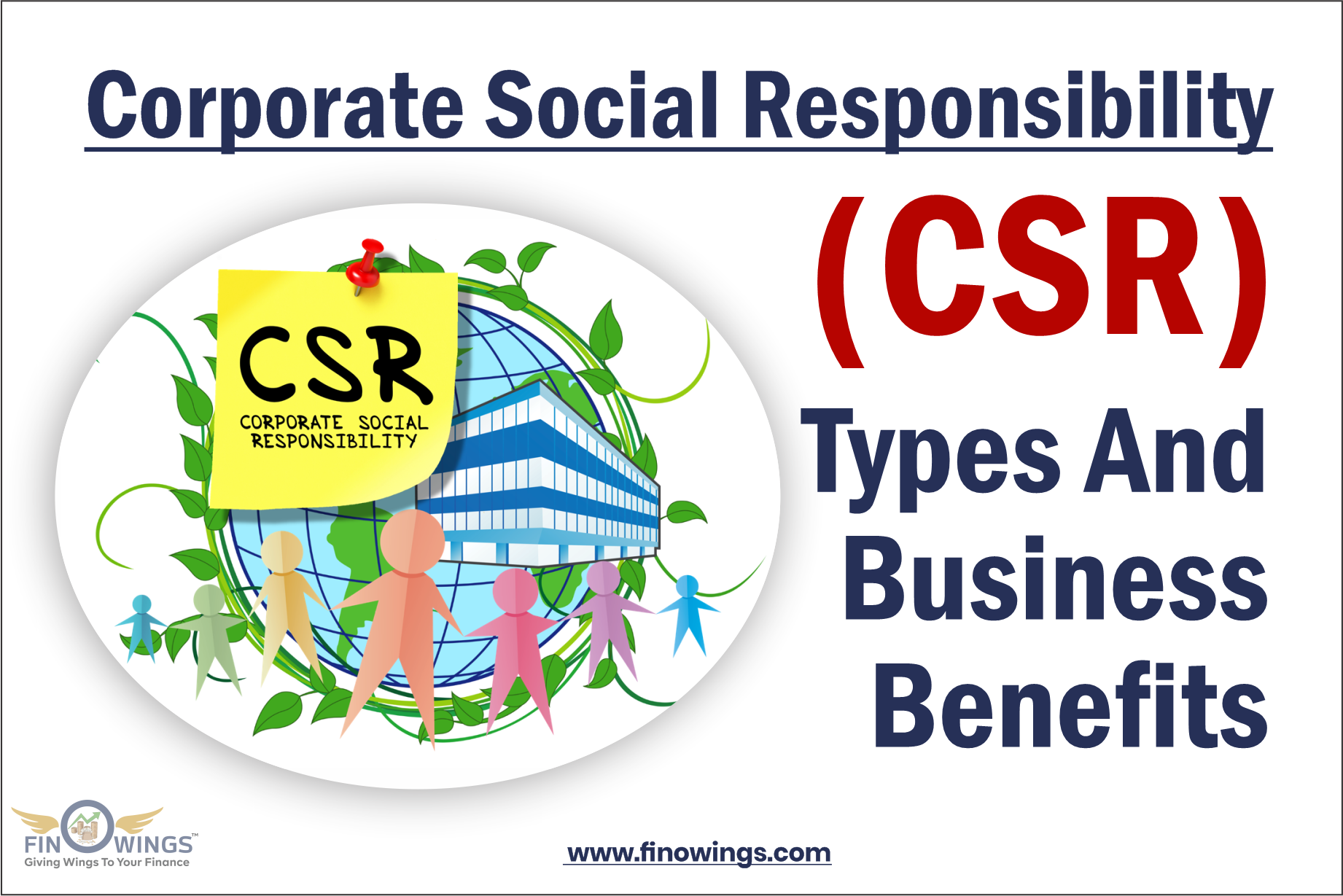 Table of Contents
A form of business self-regulation called corporate social responsibility seeks to hold companies accountable to society and have a good effect on it. A firm can adopt CSR by being ecologically responsible and eco-aware, fostering fairness, diversity, and inclusiveness in the workplace, treating workers with respect, giving back to the community, and ensuring company judgments are moral.
CSR transitioned from voluntary decisions by individual businesses to mandated regional, national, and international rules. Many businesses, meanwhile, opt to go above and beyond the law and incorporate the notion of "doing good" into their operational strategies.
There isn't one way for a firm to embrace CSR, but one thing is certain: for the organization's actions to be seen as legitimate, they must be interwoven into its culture and daily operations. Workers and clients value working for and patronizing companies that promote CSR in today's socially conscious climate.
A corporation should consider its key issues, corporate objectives, and values to identify which CSR projects are the best fit with the organization's culture and aims. The firm has two choices for the assessment: internally or by employing a third party.
Examining the 17 Sustainable Development Objectives of the United Nations is an excellent place to begin. Specific objectives, including Life Below Water or Affordable and Clean Power, may be pertinent to certain industries, including water technology or power suppliers. In contrast, others, including Good Health and Well-Being or Gender Equality, might relate to most enterprises.
There are four different types of corporate responsibility your company can use.
Many businesses concentrate on four main CSR categories because they understand how crucial socially responsible actions are to their stakeholders, workers, and clients.
Environmental efforts- One of the top priorities of CSR is the environment. No matter how big they are, businesses have significant carbon footprints. Businesses and society support whatever steps a company can take to decrease its environmental impact.

Philanthropy - Businesses can fulfil their social responsibility by contributing money, commodities, or services to charitable causes and social issues. Therefore, even as a tiny company, your actions can have an impact. More giant corporations typically have plenty of resources to assist charities and regional community projects. Contact the organization if you are interested in a specific charity or project. Ask about their particular needs and whether donating money, labour, or products from your company would be most helpful.

Ethical labour practices- Companies that treat staff members honestly and ethically are exhibiting CSR. This is specifically true for companies that conduct business abroad in nations where the labour regulations vary from those in the United States.

Volunteering- Volunteering your time (and the time of your workers) to local organizations or participating in community activities speaks volumes regarding your firm's honesty. Your company shows care (and support) for particular and social concerns whenever it performs significant actions without expecting anything in return.
Corporate social responsibility can be compared to public relations work in several ways. But it goes further than that because CSR in business may also increase a company's competitiveness. Corporate social responsibility has the main business advantages:
It enhances how customers view your brand.
It's becoming increasingly crucial for businesses to project an image of social responsibility. Customers, employees, and stakeholders highly value CSR when selecting a brand or business. They also hold businesses accountable for bringing about social change through their values, operations, and profits.
It draws in and keeps workers.
Organizations that give back are appealing to more than just their customers. According to Susan Cooney, head of worldwide diversity and inclusion at Symantec, a strategic plan is a significant consideration in where today's best personnel decide to work.
Investor interest in you is boosted.
Your business will undoubtedly gain credibility with both present and potential investors if you demonstrate a well-developed CSR program and efforts. In addition, investors are playing an increasingly important role as essential stakeholders in corporate social responsibility, according to CECP's authoritative 2021 Giving in Numbers report.
Reduced regulatory burden
A firm's regulatory burden can be decreased with the support of solid ties with regulatory agencies.
There are a few restrictions when turning your company into a socially conscious one.
4.1 Avoid picking unrelated projects.
Avoid getting involved in charitable endeavours that have no connection to your primary area of operation or that, in any manner, go against your company's ethics. Instead, pick a nonprofit your business supports or invest in a local project rather than naively sending money to an unconnected organization.
4.2 Avoid utilizing CSR as a marketing strategy.
Don't just exploit CSR possibilities for marketing. Schmidt said starting a corporate responsibility program as a fast-marketing gimmick could backfire if your company doesn't follow through. Instead, consider implementing socially conscious corporate practices over time rather than as a one-time gimmick. According to Schmidt, customers and workers support businesses that accept long-term ecological responsibility.
4.3 Don't hold off till the market catches up.
Don't wait if you're considering engaging in sustainable practices that aren't yet required by law. Instead, setting the standard for your sector and improving your procedure early on through adopting socially conscious standards.
Here are five CRS examples for businesses that engage in extensive corporate social responsibility if you're searching for CSR ideas for your company.
LEGO: The toy manufacturer has poured millions of dollars into fighting global warming and cutting waste. LEGO makes an effort to be ecologically friendly, using less packaging and sustainable materials and investing in renewable energy sources.
TOMS: To help organizations that promote physical and mental health and educational possibilities, TOMS contributes one-third of its net income. All philanthropic contributions made during the epidemic were routed through the TOMS COVID-19 Global Giving Fund.
Johnson & Johnson: The company is committed to minimizing its environmental impact and has invested in alternative energy sources. Johnson & Johnson aims to offer communities access to safe water worldwide.
Starbucks: It has introduced a socially responsible recruiting procedure to increase the diversity of its employees. Its initiatives are concentrated on employing more refugees, young individuals seeking new jobs, and veterans.
Google: By putting money into sustainable offices and renewable power sources, Google has shown its dedication to the ecology. Sundar Pichai, the CEO, is renowned for taking positions on several social problems.
Corporate social responsibility (CSR) initiatives may be used by businesses aiming to define achievement in terms other than bottom-line financial performance. These tactics may focus on economic, philanthropic, ethical, and ecological responsibilities that go beyond the things they sell; besides only doing business with clients, CSRs attempt to improve the world and may assist the firm in question.
Frequently Asked Questions
+
Companies of all sizes might opt to implement a thorough CSR strategy or specific projects and benefit from them. Investing in ethical conduct and sustainable processes may boost your brand image, foster client loyalty, expand your business, and increase your bottom line regardless of the size or age of your organization.
+
A few essential methods exist for measuring CSR. The first step is classifying CSR objectives, including charitable giving, ethical business practices, and environmental protection.
Find quantifiable key achievement indicators to measure the effectiveness of these efforts. For example, how much has the carbon footprint of your business changed? How many individuals did you assist through a charitable endeavour? Maintain a close eye on fresh advancements and the general public's opinion of the problems related to the social causes supported by your company.
+
Reducing carbon footprint and energy use is one instance of a CSR component. Other examples include participating in wildlife conservation programs, encouraging charitable giving and volunteer work, aiding local communities, improving labour laws, promoting equality and diversity at work, funding nonprofits, and ensuring materials are sourced ethically.
Whatever procedures you use, be sure they are sincere and align with your company's core principles. If not, your company can be charged with greenwashing.
+
The following are some potential CSR advantages for businesses:
Increased brand awareness.
Positive reputation in the business
Improved revenue and support from customers.
Cost savings for operations.
Improved financial results.
Improved capacity to keep employees and recruit talent.
Liked What You Just Read? Share this Post:
Any Question or Suggestion
Post your Thoughts