Home >> Blog >> How to use credit cards wisely: A definitive guide
How to use credit cards wisely: A definitive guide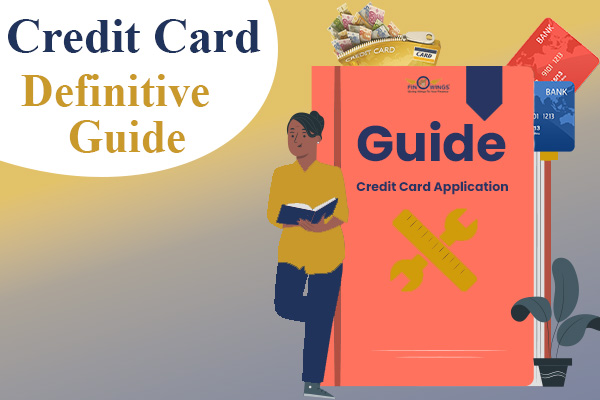 Table of Contents
Selecting a credit card that meets your requirements can be difficult. This is because there are so many credit card firms competing for consumers' interest across one of the world's largest customer marketplaces. Every card provider, from SBI to HDFC, Citibank to HSBC, has a unique set of privileges and value-back deals. However, navigation that is informed is a confusing path.
You can easily get approved for a general-purpose entry-level credit card with your selected bank with a reasonable credit score beginning at more than 650 and a consistent monthly income. There are extra expenses associated with premium aspects. Take a look at how to use a credit card wisely in seven steps.
1.1 Establish Spending Patterns
● You should first recognize that there is no "one size fits all" when it comes to credit card alternatives when looking into them for yourself. The spending habits of your best friend cannot be imitated.
● The first step is to evaluate your expenditures and choose a card that is most compatible with your way of life. As you consider how to use a credit card for the first time, examine the following criteria and respond to every question.
| | |
| --- | --- |
| Ask Yourself | Decide between |
| Is this your first credit card? | Yes/ No |
| Where do you see maximum desired usage- online, offline, or a mix of both? | Mostly online / Mostly offline/ Phygital (mix of both) |
| Are there daily travel expenses? | Own Vehicle Cab Metro/Train |
| What are your regular monthly expenses? | Online Shopping, Booking Cabs, Ordering Food, Grocery, Digital Payments |
| Is there brand loyalty? | Favorite Brands - Gucci, Rolex, M&S, Shoppers Stop, Apple, Nokia, Vistara, Air India, and others |
| Do you need to use this card overseas? | Yes/ No |
| Do you want to pay an annual fee for premium benefits? | Yes/ No |
| Are you a frequent flyer? | Yes/ No |
| Do you need benefits on hotel bookings? | Yes/ No |
1.2 Match Plastic Spending Patterns
● Using credit cards makes it simple to buy now and pay later. Make a list of your top three expenses and find a credit card that covers those expenses. If your main expenses are electronic purchases, such as food or cinema tickets, and shopping online, you might consider a lifestyle and entertainment card. These cards offer benefits such as enhanced points for online shopping, cashback offers on online bookings, etcetera. Some worthwhile options include the SimplyCLICK SBI Card, the HDFC MoneyBack Credit Card, and the RBL Bank Popcorn Card.
● If you want to maximize the incentives offered, choose a co-branded card if you are loyal to a specific brand. For instance, the Citibank Shoppers Stop Card provides quick bonus point redemption for every transaction. Therefore, you can choose a card that offers better value depending on your brand loyalty.
● A variety of premium travel cards are available, and they provide points and discounts for regular travelers. An effective traveling card provides advantages for booking flights, hotels, free personal baggage insurance, taxi bookings, and concierge service among other things. Furthermore, premium perks have an annual fee, so you must only sign up if your usage warrants the cost.
1.3 Assess Affordability
● Annual Fees: Except for cards with no annual fees, all credit cards charge an annual fee that is not refundable. Even while there might be no joining cost for a premium card, there probably will be one starting the second year. When spending reaches certain milestones, fees might be waived.
● Interest Rate: Credit cards must be used to access no-interest credit rather than paying astronomical (24% to 48%) interest fees on rollover dues. Therefore, substantially lower rates should be a key component of your decision-making process.
● Late fee: Payment penalties apply when bills are paid late. Review the MITC paperwork and make an effort to reduce any additional expenses.
● Foreign markup: When you use your card abroad, you will be charged a markup in the local currency, which typically ranges from 2.5% to 4%. The terms and conditions make the markup rate clear. Among the lowest markups is provided the YES Bank First Exclusive Card, at 1.75%.
● Grace Period: Every credit card provides a grace period for payments that extends past the due date without incurring any extra fees. Examine the grace period and keep it in mind.
● Credit Limit: This is the highest amount you are permitted to charge on the card. Therefore, you are not allowed to spend more each month than is authorized. Building a strong credit history will increase your credit score and provide you access to larger credit limits.
1.4 Examine Specific Personal Priority
● Therefore, it is advised to check some issuer-specific perks while making a final decision. These can be special advantages that are provided to consumers by only one provider.
● For example, if you travel by train frequently, you might want to think about getting a card such as the SBI IRCTC Card.
1.5 Appropriate Use
First-time users are susceptible to making costly mistakes when using plastic. Prevention is always better than cure. Here are a few tips: -
● Although if someone pretends to be from the bank, never give out your credit card PIN or other information to them. Ensure the EDC machine—the device where you submit your credit card PIN—is in your line of sight while processing a credit card payment, and constantly cross-check the total before submitting the PIN.
● If a transaction isn't made by the due date, a late fee and interest will be assessed. Additionally, until you pay the bill, your expenditures will no longer be interest-free. Your chances of obtaining credit without difficulty are likewise harmed by a red flag in your credit record.
● Use your credit card only for purchases you can afford to make when the billing period comes to an end. Avoid rolling over the card because the annual interest rate might be harsh (24% to 48%). If you are unable to deposit the whole amount, you could decrease the interest rate to 15%–18% by applying for an EMI option.
1.6 Multiple Credit Cards
The idea that credit cards can trap you in debt is widely held. On the other hand, having several credit cards will help you control your spending better. Let's talk about the advantages of using two to three cards.
● Interest-Free Period - Having several credit cards allows you to increase the time during which card transactions are interest-free.
Let's explain this straightforward trick.
i) Let's suppose that your Card 1's billing cycle begins on September 30 and that the balance payment is due on October 21. For purchases made on September 1st, you get 50 days interest-free. The interest-free period will continue to close as September goes on. However, if you make a transaction on September 30, you will only have access to credit for 21 days without interest.
ii) You can benefit from longer interest-free periods if you have Card 2. Ensure that the billing date for Card 2 falls in the middle of the month. The billing times of the two cards should be separated by 15 days. For managing our accounts, we use Card 1 from the first to the fifteenth of every month, and Card 2 from the sixteenth to the thirtieth.
iii) Extending interest-free durations require future preparation regarding the timing of purchases across several credit cards.
● Find the greatest deals - Every credit card provider has special offers and agreements with particular brands and merchants. You can also get discounts on online shopping, food, taxis, or movie tickets. Some cards might be appropriate for groceries or everyday shopping. Advantages on fuel purchases, bus or train tickets may be available with another pair of cards.
● Fallback payment option - A backup card saves you from discomfort when a POS system fails to scan the card chip and alarms with a server error and you don't have additional cash on you. You can turn things around with a different credit card. It is useful, particularly if you're traveling or out of your hometown.
1.7 Plastic-Based Parenting
Most parents want to provide the most prosperous possible life for their offspring. No matter if they grow up to be successful professionals, singers, or athletes, kids will always need to handle their money wisely. Additionally, one of the most effective resources for teaching future leaders about money management is a credit card.
● Introducing Credit Cards: Begin your child's financial education by providing an Add-On Credit Card with a reasonable spending cap. You can keep an eye on his or her spending and, more importantly, covertly determine their tastes and objectives because the bill for an add-on card is combined with the primary card. Regularly reviewing monthly statements with your youngster is fun and a great way to instill good morals and values.
● Emergency use: If the child cannot reach you, a card will enable her to effectively care for herself. Taking decisions in stressful and tough situations is an essential life skill.
● Credit history: Establishing an admirable credit score requires a credit card with a consistent payment schedule. A solid credit score will be very useful for young adults in the future when more loan options are requested.
Of course, you can consult bank employees as well as acquaintances who are in a similar stage of life while choosing the right credit card. And you can also use a credit card for EMI. The most significant quality, though, is your analysis. A credit card can provide flexibility.
Frequently Asked Questions
+
Use credit responsibly and abide by the 20/10 rule.
Never take on debt that is greater than 20% of your annual after-tax income. Less than 10% of your monthly after-tax income should be used to pay down your debt each month. Maintain a record of your expenditures and refrain from making pricey, unneeded impulsive buys.
+
Most specialists advise keeping your credit usage rate around 30%, and some say that for the highest credit score, you must strive for a single-digit conversion efficiency (under 10%).
+
You may prevent debt and keep good credit by using credit responsibly. Proper debt management enables you to pay off debt quickly and pay as little interest as possible. Learn how to avoid and handle identity theft while protecting your personal information.
+
The most crucial rule for utilizing credit cards is to consistently make complete, on-time payments. You can prevent interest rates, late fees, and bad credit ratings by adhering to this one rule. You'll avoid interest by making a complete payment on your bill and advance toward a good credit score.
+
Your credit score will most probably be higher if you consistently utilize your credit card to make transactions but pay it off in full as opposed to carrying a load from month to month. Another significant element that has an impact on your credit score is your credit usage ratio.
Liked What You Just Read? Share this Post:
Any Question or Suggestion
Post your Thoughts