Home >> Blog >> Looking for life insurance? These 5 frequent mistakes that you should avoid
Looking for life insurance? These 5 frequent mistakes that you should avoid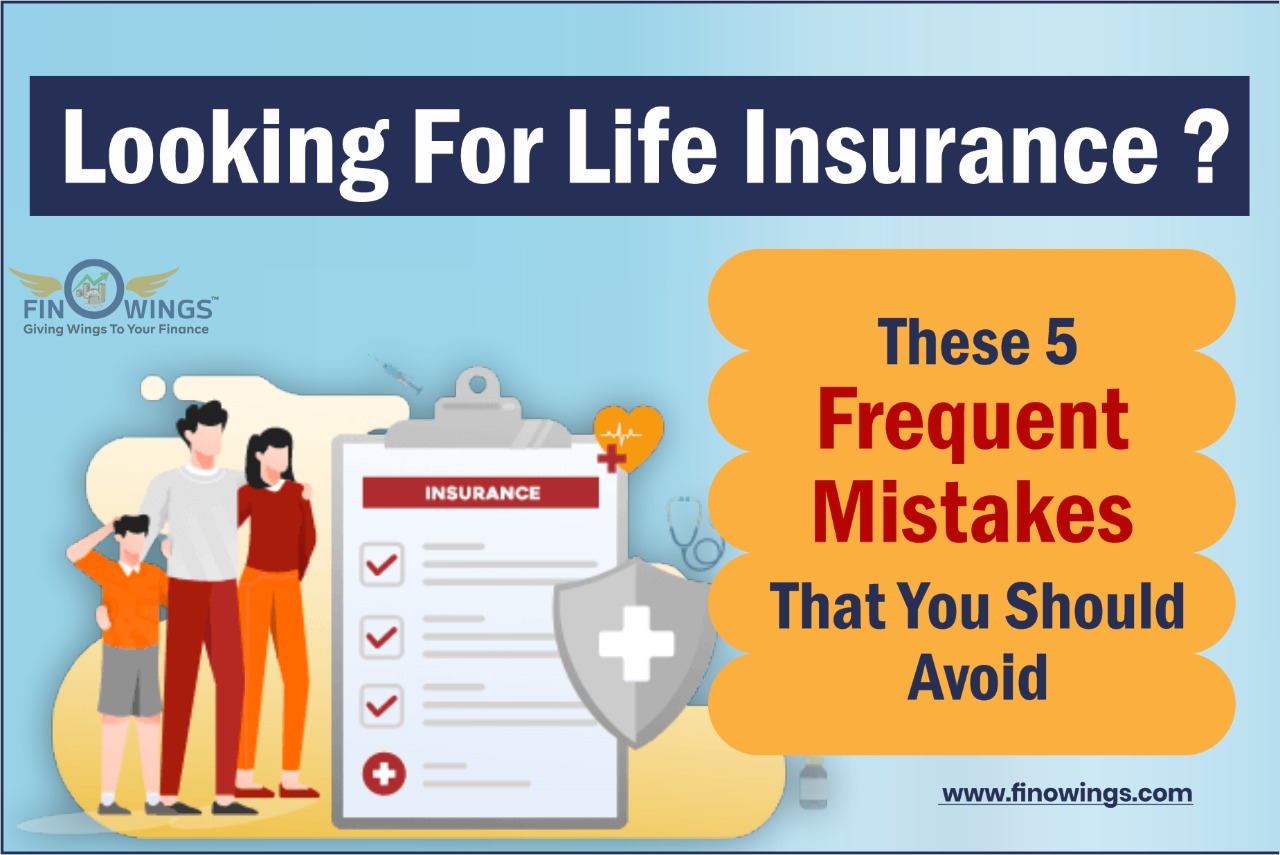 Table of Contents
In today's uncertain times, choosing a life insurance policy has become an important financial decision for most individuals. Life insurance is one of the finest tools to safeguard your family's financial future. It is a long-term commitment that provides financial security to your family in your absence and fulfills their dreams and life goals. Unfortunately, for some people, buying a life insurance policy can be a confusing and intimidating decision that often takes weeks and months.
Investing in insurance is a really good idea. But it is important to compare different life insurance policies as an uninformed decision can lead to a wrong investment. Therefore the decision should be taken after carefully assessing the current lifestyle needs, aspirations, and future goals. Life insurance today exists in a competitive market. Many life insurance companies in India offer a variety of life insurance policies that one can buy at an affordable premium. Term insurance is one of the affordable & simplest life insurance options.
After COVID-19, life insurance has become an important part of life for many. In India, the pandemic has taken the lives of almost 1.6 lakh individuals. In many cases, the wage-earners succumbed to the virus, leaving the family in disarray. But COVID has also created more awareness about the need for adequate protection. A survey reveals that there has been a marked shift towards treating life insurance as a tool for financial security. However, due to a lack of awareness surrounding these, there are some common mistakes that people make while buying life insurance. Here is a list of 5 frequent mistakes everyone should avoid while investing in a life insurance policy.
Waiting to Buy Life Insurance:
When buying life insurance, it is important to consider the cost and the coverage you need. Life insurance premium depends on many factors, including age and medical history. There is a myth among young people about purchasing life insurance, as most think there is no reason to spend money on a policy at such a young age. But if you want to acquire a policy at the most affordable price, purchasing a life insurance policy from a young age can be advantageous. Because people are more susceptible to illness as they get older, life insurance prices typically rise. And, in some cases, illnesses or health problems can make you ineligible for coverage. The longer you postpone the purchase decision, the higher the insurance cost. Hence, it is advisable to cover yourself with life insurance as soon as you start earning.
Choosing an adequate term plan while buying a life insurance policy is also advisable. Instead of being tempted by low premiums for a cover of 10 or 20 years, one should opt for a policy that covers at least till retirement age.
Hiding Information from the Insurance Company:
When someone applies for life insurance, they will be asked various questions about health, family's medical history, driving record, occupation, and even hobbies. Insurers use a step in the underwriting process to determine whether to offer you coverage and how much to charge you. Often in a hurry to buy a life insurance policy or save premiums, some people give false information and even try to mislead or hide important information about their medical information or pre-existing medical conditions. Suppose the insurer detects any misrepresentation in the information you provided when purchasing the policy or filing a claim. In that case, they may reject your claim or even cancel your policy. This can result in financial pressure on the family or dependents. Therefore, it's important to provide accurate and correct information, so the process of filing a claim goes smoother.
Not Paying Premium on Time:
An insurance premium is a set sum of money the insured periodically pays to maintain their insurance coverage. Your insurance risk bracket determines these premiums, which take your age, health, and a variety of other factors into account. Missing premium payments can have dire consequences. For example, a missing premium payment might result in the cancellation of your life insurance policy and the loss of your life insurance coverage rather than a late fee fine. Therefore, you should contact your insurer in advance to find a solution if you believe you won't be able to pay the premium on time for whatever reason.
Life can be unpredictable sometimes, such as the recent COVID-19 crisis, job loss, business failure, or critical illness that can impede your ability to pay your insurance premiums. Hence, balancing the coverage you require with the premium you can reasonably afford is advisable.
Buying the wrong policy without understanding
While finding a reasonable policy is vital, you need also think about the coverage you are getting for your money. Therefore, understanding the characteristics and advantages of life insurance policies is a good idea because they can be somewhat difficult. Additionally, there are different types of insurance, namely term, permanent, and universal life insurance.
Term life insurance coverage only lasts for a predetermined amount of time, like 10, 20, or 30 years, and is inexpensive. On the other hand, a lifetime policy of permanent life insurance, often known as cash value insurance, builds up cash worth you can access while still living. Permanent life options include whole life insurance, which will be more expensive because it offers a fixed rate of return on cash value and a premium that will not rise over time.
Although universal life insurance can be less expensive than whole life, it can also be more complicated due to potential differences in premiums and investment benefits for the cash value component. Be sure to ask lots of questions before purchasing a policy. Insurance companies usually provide online quotes so you can compare costs. Try comparing these quotes from different life insurance policies, then choose the one that suits your needs.
Not informing your family:
This is the biggest mistake in life insurance. There would be no point in securing your family with life insurance if they don't know its existence. While buying the policy, you should not only alert any responsible family member but also disclose its exact whereabouts. Suppose your family is unaware that your policies or policy documents cannot be found in case of an unforeseen event. In such cases, it defeats the purpose of buying a life insurance policy to secure them. You may pay premiums regularly, have purchased adequate coverage and tenure, and have chosen the right life insurance policy. Still, if your family is not aware and cannot file a claim, it may hurt your family. There will be no benefit. Remember that the insurance company will settle the claim only after filing it.
Avoiding these frequent mistakes can help a person make better and more informed financial decisions and build a stronger financial safety net for their family. Before purchasing the greatest coverage, one can speak with a reputable financial counselor or an authorized insurance agent to comprehend the terms and circumstances of the policy. Make sure you do careful research, choose the best life insurance policy by comparing different policies online, and don't make a hasty decision. Read the fine print of the policy paper attentively to make sure you are making an informed decision. Remember to renew your policy to maintain life insurance coverage and fulfill your financial obligation to your loved ones. It is also nice to look into the numerous discounts that insurance firms provide to customers who buy life insurance policies online.
Frequently Asked Questions
+
A life insurance application may be denied if the insured has high-risk medical conditions or the insured has omitted important information from the application. An individual may be ineligible for certain policies because of an older age. It depends on the reason for the refusal and the insurance company.
+
Buying a life insurance policy at an early age can work in your favour if you are hoping to secure the policy at the lowest possible cost. The younger and healthier you are, the lower will be the premium for any life insurance. Therefore, many people recommend buying a policy in your 20s, if possible.
+
One of the biggest disadvantages of life insurance is that it can be quite expensive depending on various factors like age, medical condition etc. Another drawback of life insurance is that premiums have to be paid to keep the policy active and after a certain period, the coverage ceases to exist.
Liked What You Just Read? Share this Post:
Any Question or Suggestion
Post your Thoughts