Home >> Blog >> Know Your Customer - What is KYC?
Know Your Customer - What is KYC?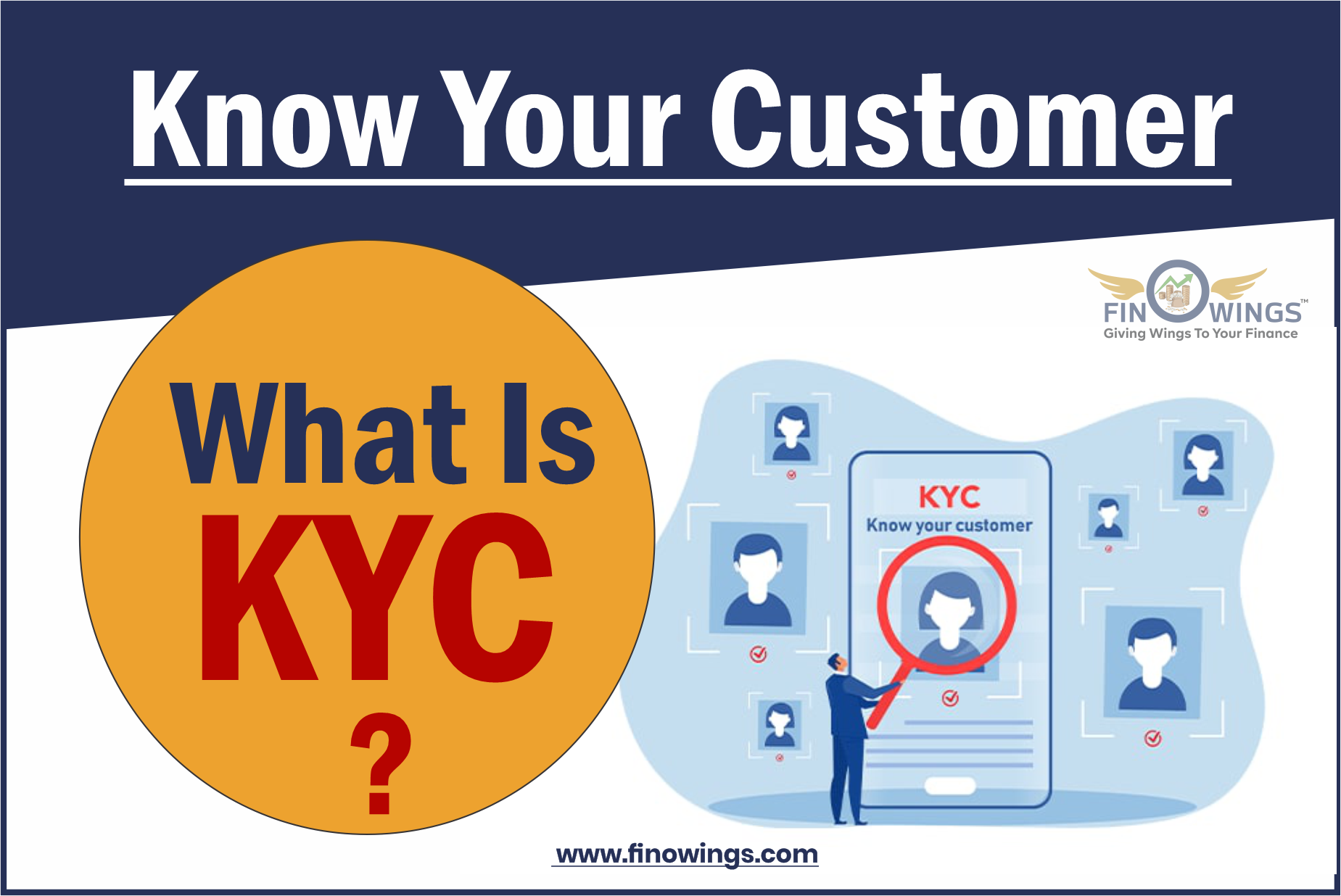 Table of Contents
The term "Know Your Customer" (KYC) relates to the procedure used by banks, insurance firms, and other organizations to confirm the existence and location of every customer and user before or during a transaction. All banks, banking firms, and other online payment organizations conducting banking transactions must have KYC by the Reserve Bank of India (RBI). Let's examine what KYC is and the crucial KYC India paperwork in more detail.
Confirming a customer's identification is "knowing your customer." In addition, the KYC regulations aim to stop criminal activities from using banks for their money-laundering schemes. As a result, banks can comprehend their clients and their financial interactions to satisfy them and responsibly handle their risks.
KYC is crucial since it protects financial institutions and controls unlawful activity. In addition, financial institutions like investing in mutual funds and trading are used by many non-individual clients. With KYC, institutions can confirm an entity's legal status, which involves comparing working locations with clients' addresses and verifying the names of their beneficial owners and approved signatures.
The KYC procedure also asks about the client's line of work and business, which are crucial for confirming an individual or firm's legitimacy.
Procedures for KYC verification fall into two categories. Both are incredibly effective; choosing one over the other depends on personal preference. Here are both of them:
Aadhar KYC: For people with broadband or wifi access, the online nature of this authentication phase makes it incredibly simple. The client must provide a scanned copy of their actual Aadhar card here. With Aadhar-based KYC, the client's ability to invest in mutual funds is limited to up to 50,000 per year.
In-person KYC: The client must do an offline, in-person KYC certification to invest additional money in mutual funds each year. The user has two options for doing this: calling the KYC certification agency to request that an executive be sent to their home or place of business to conduct this confirmation or visiting a KYC kiosk and utilizing Aadhar biometrics to verify their identification.
Knowing whether KYC is necessary is crucial after you grasp the concept and its importance. Although fulfilling the KYC/eKYC procedure is lawfully required, doing so also enables clients to utilize the various premium products that the financial firm offers and speeds up transaction times.
KYC upgrades and fulfilment frequency varies from account to account, depending on the bank's risk assessment. Consequently, KYC becomes essential when carrying out tasks like creating bank accounts, investing in fixed, recurring, and mutual fund accounts, and digital investments.
KYC becomes essential since it enables banks to confirm that the application submitted and all other information are those of an authorized client. As a result, banks can easily detect and stop fraud by verifying a person's identification.
KYC For Life Insurance/Investments
To prevent the use of black money, KYC data is required to ensure that legitimate people perform investments and insurance policy buys. As a result, all life insurance and mutual fund investors must follow the KYC process via a KYC Registration Agency (KRA) under the rules established by SEBI (Securities and Exchange Board of India) and IRDAI (Insurance Regulatory and Development Authority of India).
Opening a Demat and share trading account, a bank account, a fixed deposit account, buying life insurance, using virtual wallets for virtual money transfers, and engaging in any other financial activities with a recognized body require KYC.
Without the KYC renewal, you cannot create a bank account or carry out any financial operations in India.
According to the Government of India's rules, six papers qualify as "Officially Valid Documents" (OVDs) and can be used to verify an individual's identification. Although if you have previously given an organization your KYC papers, they may nevertheless need them again to update their databases routinely. The documents required for the KYC procedure are listed below:
6.1 Evidence of Identity
These consist of the following:
Aadhaar, Passport, Driver's License, and Voter ID Card are examples of unique identification numbers (UIDs).

PAN card

Any Statutory/Regulatory Authorities, Central/State Government, and its divisions that provide an identification card or certificate with your photograph

Identification cards provided by public banking firms, public sector organizations, and regulated commercial banks

Identification cards are provided to members of professional organizations such as the Bar Council, ICAI, ICWAI, and ICSI by colleges linked with universities.
6.2 Evidence of Address
A passport, a voter identification card, a registered sale or lease agreement for a residence, a ration card, a driver's license, a photocopy of an insurance policy, or a flat maintenance bill

Utility bills, including for a landline phone, gas, or electricity (less than three months of age)

entries in a passbook or a bank statement (less than three months of age)

Supreme Court and High Court judges' self-declarations, which include their new addresses

Any of the mentioned organizations may provide proof of residency.
You can complete both online and offline KYC using Aadhaar by following the instructions below:
7.1 How do I perform an online or Aadhaar-based KYC?
Register for an account on the official web page of the authorized KYC registration Agency and enter your information, including your name, birthdate, and address.

Give your Aadhaar card number, authorized mobile phone number, and OTP to validate them.

After agreeing to the conditions of the consent statement for the e-KYC, upload an electronically authenticated copy of the e-Aadhaar.
7.2 How is KYC done offline?
You can fill out the KYC registration form by downloading it from your bank or insurance provider.

The KYC form must be signed and delivered in person to the appropriate institutions.

With the KYC application, provide the attested photocopies of your identification, evidence of residency, and passport-size photo.
The bitcoin market is commended for offering a secret, decentralized mode of exchange. Furthermore, these advantages also pose difficulties in combating money laundering. Because fraudsters use crypto to launder money, regulatory organizations are searching for methods to implement KYC on cryptocurrency marketplaces.
Although it is not necessary, many cryptocurrency networks have developed KYC procedures. In addition, allowing cryptocurrency companies to identify their clients would align with banking firms.
Transactions that convert between fiat money and cryptocurrency enable transactions. Since fiat money serves as a country's official medium of exchange, most of these exchanges use some form of KYC, and financial firms would have screened consumers following KYC guidelines.
FinCEN suggested that bitcoin and electronic asset market players register, retain, and confirm consumers' IDs in the early years of 2021. According to this suggestion, some cryptocurrencies would be designated financial instruments and subject to KYC regulations.
Investment and financial services firms employ a set of guidelines and regulations known as "Know Your Customer" (KYC) to confirm the identification of their clients and any potential dangers in the client-company relationship. Users must complete a personal identification profile as part of KYC, guaranteeing that investment consultants know their customer's financial situation and risk tolerance.
Frequently Asked Questions
+
All the steps required to confirm that their clients are honest, evaluate, and manage risk are included in the KYC protocols that banks define.
These client-onboarding methods aid in the detection and prevention of criminal fraud, terrorist activity, and money laundering.
Identification document certification, face identification, document authentication using electricity bills as evidence of address, and biometric confirmation are all part of the KYC procedure.
To reduce crime, banks should abide by KYC and anti-money laundering requirements. The banks are responsible for KYC adherence.
If you don't comply, you could face severe fines.
AML, KYC, and sanctions fines have resulted in cumulative fines of USD26 billion in the past ten years (2008-2018) across the United States, Europe, the Middle East, and Asia-Pacific, not to mention the reputational harm that has been done but is not quantified.
+
Bankers and consultants must use KYC in the financial industry to verify their clients, firms' beneficial owners, and client connections' nature and goals. In addition, banks are required to monitor and guarantee the correctness of client accounts as well as review client accounts for questionable and unlawful behaviour.
+
The term "Electronic Know Your Customer" (eKYC) refers to a procedure used in India wherever the user's identification and address are digitally confirmed using Aadhaar verification. India's nationwide biometric eID program is called Aadhaar.
eKYC includes data extraction from government-issued intelligent identification (with a chip) with a physical appearance, data collected from IDs using OCR mode, verified virtual labels, and facial recognition for online proof of identity.
Liked What You Just Read? Share this Post:
Any Question or Suggestion
Post your Thoughts