Home >> Blog >> 3 Best Investment Options For Your Next Dream Vacation. Mutual Fund Investment For Travelling
3 Best Investment Options For Your Next Dream Vacation. Mutual Fund Investment For Travelling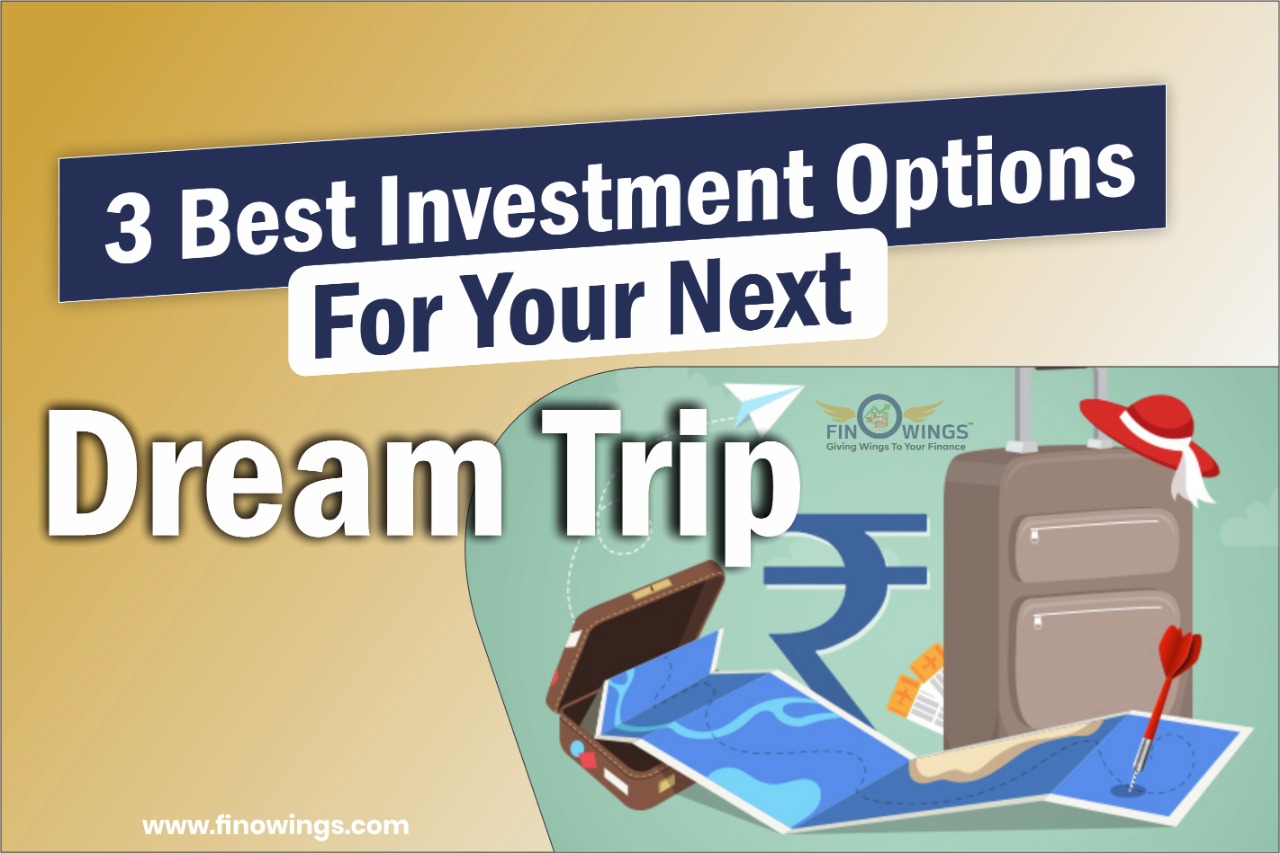 Table of Contents
From the beautiful valleys of Kashmir to the Goa Beach and Northern Lights with your partner or taking your kids to Disneyland in Hong Kong, We all carry dreams in our life. We all have a bucket list of our dream destinations, where we want to go with our loved ones and explore the beauty or nature of the world. You are certainly not the only one to think so.
The tourism industry has been growing for the last several years. But due to covid19 in between, there was some decline in this industry. But again, the tourism industry has picked up its pace. Today for Indians, vacationing and experiencing new environments and cultures have become almost as important as saving for retirement or buying a home.
Everyone has the desire to go abroad for a holiday vacation. For example, going to the beach in California or walking in the streets of Paris, or travelling to any exotic part of the world, the dream holiday destination can be different for everyone.
During holiday vacations, we have a chance to create sweet memories that will be remembered for a long time. You must also agree that travelling to new places is always exciting and enthusiastic. Taking a break from your work life and travelling to your dream holiday destination will rejuvenate your life.
It's essential to keep your budget in mind when planning a vacation. Budgeting is a critical component of planning your finances. Most people need to make a savings plan for their holiday vacation in advance, and due to this have to face many problems in the end. As the cost of travel and exchange rates are increasing day by day, you should start saving much earlier. You can see many travel investment plans.
Another factor to keep in mind when you plan the finances for your vacation is the time frame, i.e. when you want to travel. If you cannot make a proper savings plan for your travel, then by investing, you can reach your set goal. In today's time, you will get a lot of investment options for your dream vacation or SIP for Foreign trips, in which you can choose the long-term (more than five years away), mid-term (2-3 years), or short-term (6 months to 1 year) according to the duration of your trip.
To make your dream trip exciting and enjoyable, you need decent money. Today in this blog, Short Term Investment Option For Vacation. You will also know the 3 best investment options for your next dream vacation or trip.
2. Things To Remember Before Investment For Your Dream Trip
Below are a few things you should remember before making financial plans for travelling and investing.
2.1 Research
It is crucial to do research before going to your dream holiday destination or travelling anywhere. In other words, research the places you can travel within the amount you get from the investment. Thoroughly research travel costs, hotel bookings, food expenses, airfare, travel expenses, and other expenses.
If you are going somewhere for trekking, then also include the cost of the equipment required for that. Travelling abroad is not easy at all in today's time. So be as realistic about your expenses as possible. Do the research and then estimate the total budget amount for the trip accordingly. This will make it easier for you to invest.
2.2 Search Discounts
If you want to travel to your dream destination, a travel agent can significantly help. Today you will find many travel websites, apps, advertisements, and other sources. Explore them all first and find the travel agent or company that offers the best vacation offers and packages. Trust me, by doing this; you can get the best deals at affordable prices.
2.3 Fill The Gaps
Check your budget for a trip and if you find a gap in the travel budget, try to organize it. For example, if you have to go on a trip after two years, and you cannot reach the required funds even after making investments and other savings. Then, there are a few things you can do - reduce travel days, consider group tours, go for off-season travel instead of on-season, and cancel luxury hotel plans.
Apart from this, you should pay attention to unnecessary household expenses daily. For example, you can go to the office by public vehicle instead of a cab or car for some time. Likewise, it would help if you cut Night-out parties and extravagant costs. If your trip budget is vast, which you cannot meet even by investing, then you can consider a part-time job.
2.4 Goal-Based Investing
Leaving your funds idle in a savings account is not beneficial to you. There is such a low return on this that you cannot even meet your daily expenses. There needs to be more than the interest earned on a savings account even to afford a meal in a fancy restaurant, let alone travel abroad. Investing through SIP or SIP For Vacation is very easy. Investing in risky equities is not a good idea if you are looking to invest for a holiday soon.
Below are some options that you can consider investing in.
3.1 Low-Risk Debt Mutual Funds
You will find many travel mutual fund options in the market. However, even if you are already making a long-term investment, remember that saving for a trip abroad should be different from your long-term investment.
Remember, saving for a vacation is a medium-term goal, and you can only take a few risks with that amount. The unique thing is that in today's time, you will find many such mutual funds, which are almost designed for this.
Of course, these funds will provide low returns, as the primary objective of these funds is to protect your capital. But still, they provide 40-50% higher returns than your savings account. Another notable feature of travel mutual funds is that it gives you flexibility, i.e., there is no tenure commitment for withdrawing funds.
Which debt mutual fund should you choose?
Usually, you have two options.
1-First, liquid funds for vacation plans within one year:
If you plan to travel soon, i.e., you want to visit your dream destination within six months, or a year, liquid funds can be a good option. With this, you can start doing SIP. These funds work in such a way that they lend to good companies for a short duration and earn returns on the same, which is their primary source of income. For this reason, liquid funds are less risky and give excellent returns compared to savings bank accounts.
Some liquid funds also allow you to redeem immediately. There is no lock-in period for these.
2.Second, Ultra Low Duration Debt Fund:
If your plan is for the long term, i.e., you are planning a vacation in the coming 3-5 years, then Best Investment Plan For 3 Years you can opt for Ultra Low Duration Fund. Although the returns are decent, these funds carry a little more risk than liquid funds. This fund works in a way that it lends to companies for 3 to 6 months. It helps them to keep the risks under control.
You can opt for short-term funds to earn even better returns with a bit more risk involved. These funds lend to companies for a tenure of 1-3 years and get high returns from them. But there is also more risk involved.
3.2 Bank Fixed Deposit
You can consider bank fixed deposits if your travel plan is in the coming 5 to 7 years. Many want to get good returns without risk, so investing in FD can be a better option. In which the interest rates keep changing accordingly. Interest is higher as compared to savings accounts. You can choose to have the interest credited to the bank account every month or choose to receive cumulative returns all at once.
Currently, most banks offer interest rates of 4 percent to 8 percent on fixed deposits. In addition, senior citizens get an additional 0.5 percent on their deposits.
The most important thing about FD is that it can be liquidated anytime. But it is important to note that the interest percentage can be reduced for premature withdrawal.
3.3 Recurring Deposit
You can opt for a recurring deposit if you have a small amount to invest. You can save money for your dream journey through Recurring deposits. It is also very safe to invest in it. Under Recurring Deposit, a fixed amount is deducted from your bank account at regular intervals. One can invest in an RD for a tenure ranging from 6 months to 10 years. In this also you get the same interest benefits as on FD, but it has some other benefits too.
Banks can impose some penalty for withdrawing the RD before completing the same tenure. Anyone can invest in it with low risk.

Lastly, travelling enriches our lives in many ways. You get to visit new places, obtain further information, and get a chance to learn new things. The best thing about travelling is that at that time you don't have to worry about your work, you spend time with your family and come back more energetic. Therefore, one must travel from time to time. Plan for it in advance and invest in the mentioned 3 Best Investment options For Your Next Dream Vacation with less risk.
Frequently Asked Questions
+
Simply put, mutual funds are a medium of investment. Mutual funds collect money from investors and invest in bonds, equities, gold, government securities, and other assets. Mutual funds collect money from investors and invest in the market under the supervision of experts.
+
If you want to go on your dream destination journey within six months or a year, you can start investing by starting SIP in liquid funds. With SIP For Foreign Trip or liquid funds, you can earn good interest quickly.
+
Avoid unnecessary expenses.
Do part-time or side jobs.
Cut down on your monthly food budget.
Sell ​​non-essential items.
Spend less on your workouts.
Use public vehicles more.
Liked What You Just Read? Share this Post:
Any Question or Suggestion
Post your Thoughts