Home >> Blog >> what are Porter's 5 Forces?
what are Porter's 5 Forces?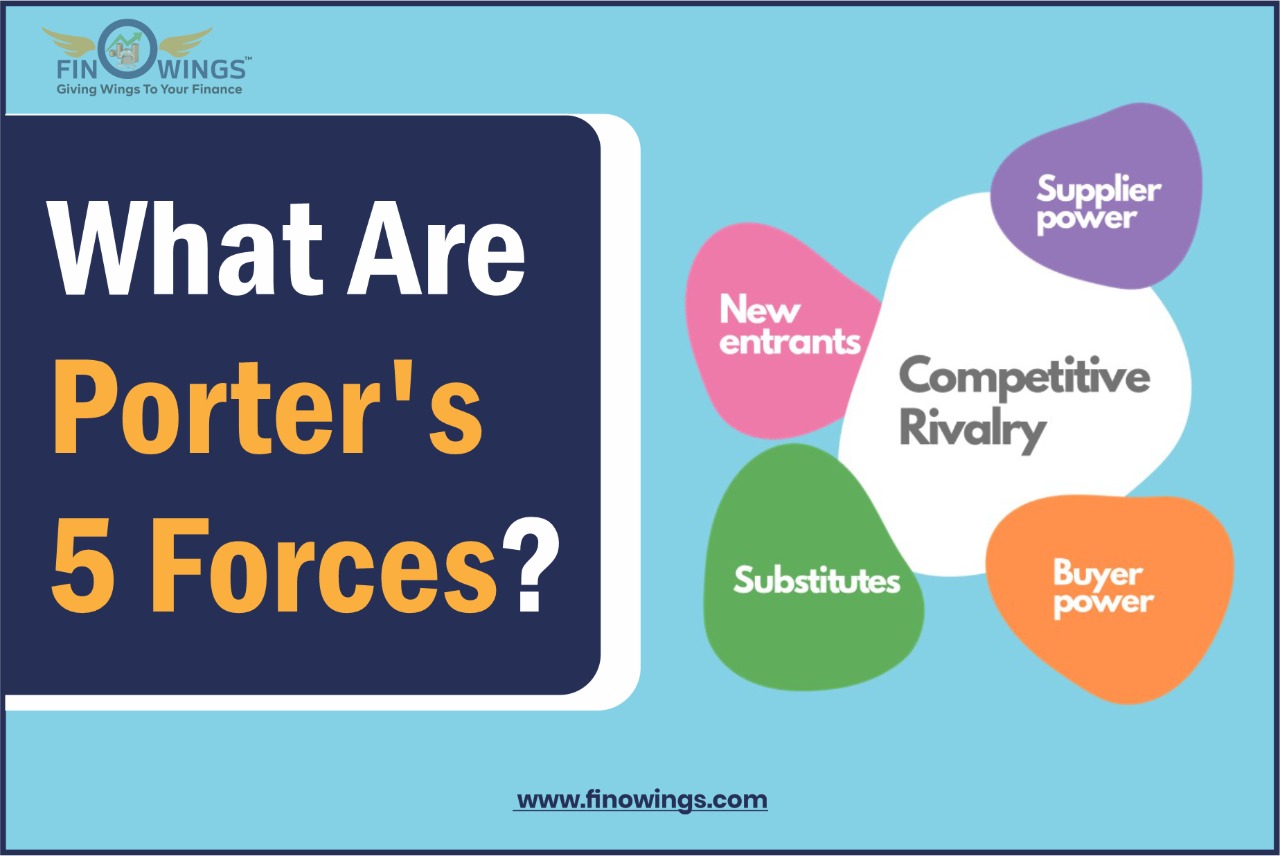 If you want to know about Porter's 5 Forces, you have come to the right page. Porter's 5 Forces is a well-known and age-old business strategy model still used by businesses and companies today. Porter's 5 Forces Analysis is a handy tool for analyzing the competitive intensity of an industry. If you run a business or are associated with any company, it is essential to know its outline.
How do you deal with threats facing your business or company? Could you better understand the risks involved in your business? These 5 Forces models will help you do just that.
Your company will be one of many players in the market, and the market; you will find a lot of competition related to that industry. As the competition in the market is increasing, it is becoming more difficult for a business or company to establish itself in that market. In addition, your company may be exposed to various threats - technologies may change, suppliers may increase their prices to increase profits, and new entrants may pose a threat.
In this way, a successful business or company in the market identifies all these threats and combats them effectively.
So today, through this blog, we will look at Michael E. Porter's 5 Forces model and try to understand it in depth so that it can help you identify the threats to your business.
If you are a new businessman, want to become an entrepreneur or even a student, you must read this blog thoroughly; this post has something for everyone.

Porter's 5 Forces is like any other business management concept or strategy. Whenever we look for the right approach for our business, we come across many traditional concepts, but with the way the market is evolving, the 5F model is the best. The highlight of Porter's 5F model is that it is a time-tested strategy framework considering five competitive forces.
Michael E. Porter's 5F model was published in the Harvard Business Review in 1979. Porter's 5 Force Analysis analyzes the various aspects and attractiveness of the industry and serves as a framework to measure. According to Porter, the external market structure plays an integral role in the success or failure of an industry. Take, for example, the Apple company itself. The biggest secret of this company's success is that it constantly monitored its economic environment and laid more emphasis on brand building.
This Porter business model defines a total of five forces (5Fs) that all companies need to consider when conducting a systematic competitive analysis:-
Competition in the industry
The threat of new competitors or entrants in the market
Bargaining power of suppliers
The threat of substitutes
Bargaining power of buyers
By analyzing the above five forces, you can increase the productivity of your business and protect your business from potential threats. You can also use Porter's 5F model to evaluate investment strategies. So let us now understand Porter's 5F strategic model in detail with examples.
Porter's 5 Forces With Examples

"The number of rivals in a specific industry" is the first of Porter's 5 Forces model. Its primary purpose is to assess the competition related to a particular industry in the market. Michael Porter states this force is vital for accurately evaluating your business. For example, when a company operates in an industry where many other companies also sell similar products or services, it will have less power to grow in the market. It is because when your business has too many competitors in the market, customers have the option to choose from, and customers often go ahead with the trendiest, cheapest, and best option.
On the other hand, if a company functions in an industry that does not have a lot of competition, it is more likely to make profits and dominate the market. The main reason is that customers quickly buy a particular product at a higher price when there are fewer options.
There are mainly two reasons for the high competitive intensity in the market - performance and price competition.
Companies work to increase market competition by reducing their products' prices to earn more profits. The higher the number of competitors, the lower the profit margin.
Example:- Take, for example, the hospitality industry. Whatever country and city you go to, you will find many hotels to stay in. Of course, online booking has made it even more convenient for customers. Customers can decide by evaluating hotel prices, location, ratings, and reviews. But this has created a lot of competition in the market. You will see more than two 5-star hotels in one place, so the company owner has to provide the room at a low price even if he does not want to. If you're going to enter the hotel industry, you must know that the competition is very intense.

New entrants in the market also pose a threat to existing businesses. It naturally attracts people's attention whenever a new company enters the market. A new product or service may be better than other companies, but it poses a serious threat to established companies. If the product price of the new companies falls below the current market price, other companies will also have to reduce their profit margins to stay in the market. This is the biggest threat to the existing brands in the market.
Example:- For example, when you hear the name 'electric vehicle,' what is the first brand that comes to your mind? The answer to most of you would be - Tesla. The dream that Tesla dreamed of 20 years ago is now coming true. Then, Tesla considered the electric vehicle the future; people made fun of it. But this is the reality today. Today Tesla has a different identity in the electric vehicle world, or rather, Tesla is dominating the electric vehicle world. Despite all this, today, countless competitors are emerging in Tesla's market and providing electric vehicles at a lower cost than them. So, of course, they need help to compete with Tesla. Tesla knows all this and constantly tries to improve by changing its technology or design.
The third essential component of Porter's 5 Forces Analysis is the bargaining power of suppliers.
Most of you would be aware that suppliers are the backbone of any value chain. In assessing the bargaining power of a business's suppliers, the main focus is the relationship between the buyer and the supplier. Business can run smoothly only when both parties are satisfied. For example, the supplier may consider raising the minimum order quantity, cost, or purchase price to make a profit. In comparison, the buyer strives to keep these costs to a minimum.
The bargaining power of a supplier can be gauged from the fact that the fewer suppliers in the market, the greater their bargaining power. Therefore, a buyer's reliance on only one supplier can be risky for his business.
Example:- The Unilever brand has a global footprint and is the UK's largest grocery supplier. Supermarket chain Tesco, a major buyer of Unilever, sought to end its partnership in 2016 due to Unilever's growing bargaining power. Tesco said that Unilever is continuously increasing the cost price. There was a lot of controversy over this, and Unilever stopped its supply.
Porter's fourth force states that when a company has a limited number of customers, customers have more power to bargain on prices. Such a business has little choice due to fewer customers, so companies must agree to customers' demands even if they do not want to. On the other hand, if a corporation has a sizable consumer base, it can set the price and availability of its products. Such companies dare to reject the bargaining of customers.
Example:- For example, let's look at Apple. It has come to the fore many times that it costs only 40K-50K to make an iPhone. But why do iPhones still cost twice as much? The biggest reason for this is that Apple's phones have only one competitor: Android smartphones. Due to this, customers have less bargaining power, and the company offers smartphones at a more premium price.
Let's say your business is doing great and generating high profits. But if the substitute of your product is available in the market, then customers can leave your product and go for that substitute. It is also a serious threat to your business. No matter how fast the calculator tool is, customers prefer a smartphone calculator.
For example, you can look at the music industry itself. Technology has brought a new revolution in the world of music. Many substitutes for CDs or radios were available, eliminating the reliance on CDs and radios for listening to music. Moreover, today you get many kinds of music streaming services online on your smartphones – Spotify, Gaana, Hungama, etc.
Michael E. Porter's five force analysis has been the leading benchmark for understanding the competitive landscape of industries over the past several decades and has a similar relevance today. Multinational companies and start-ups can use it to identify and accurately counter current and future threats to the market.
Frequently Asked Questions
+
No, Porter's Five Forces can never be considered out of date. The basic considerations of any business are- buyers, suppliers, new entrants, competitors, and substitute.
Liked What You Just Read? Share this Post:
Any Question or Suggestion
Post your Thoughts