Home >> Blog >> Top 5 Automobile Stocks to Watch in 2023
Top 5 Automobile Stocks to Watch in 2023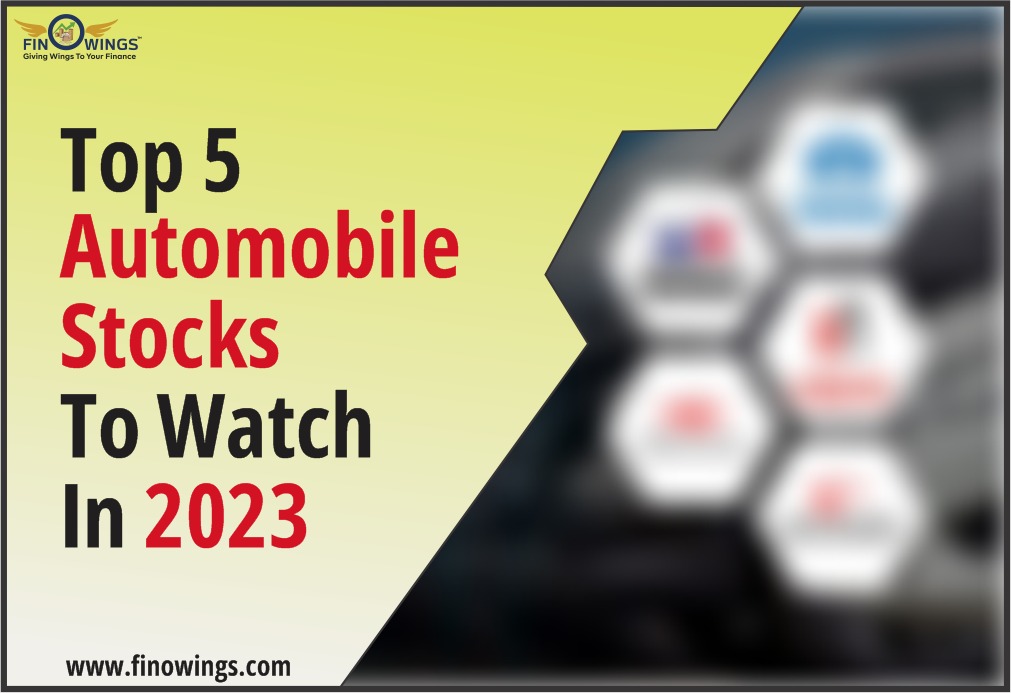 In the world of businesses, automobile companies are more than just about making cars. They play a vital role in our day-to-day lives, resulting in how we travel and the rides we choose play a vital role in our local economies. Understanding why these companies matter goes beyond looking at their profits; it's about recognizing how they fit into our cultures and shape our routines.
India's automobile industry is not just a big shot, it's a rising star, growing taller and stronger each year. Just like a plant reaching for the sun, India's car industry is flourishing, making a mark on the global stage. With its impressive growth rate, India is leaving its mark on the world of cars similar to how automobile companies shape the industry with their innovative products.
The automobile sector in India is a vital component of our nation's economy, playing a pivotal role in manufacturing vehicles, driving economic growth, and showcasing India's capabilities on the global stage. Despite facing challenges such as the departure of major automakers like Ford and Chevrolet and the struggles of companies like Honda the Indian automobile industry has demonstrated remarkable resilience and continues to thrive.
The recent increase in the need for personal vehicles after COVID-19 shows how important the automobile industry is. However, to keep growing it is important to solve problems like not having enough skilled workers and the cost of land going up. Cars are becoming a necessary part of our lives so making sure the automobile industry runs smoothly is key to India's continued progress.

Car companies are changing rapidly and there are many new and exciting opportunities for investors. Electric cars are becoming more popular, and new technologies like self-driving cars are being developed. Governments are also encouraging the use of electric cars and helping companies build them locally. This creates a great environment for investment.
However, investors need to be aware of challenges such as regulatory complexities and economic uncertainties. Diversifying investments across traditional and emerging segments in the automotive sector can be a smart strategy to navigate these changes and benefit from evolving trends.
From 2018 to 2019, the industry faced an 18.71% drop in overall manufacturing and a 31% drop in passenger car manufacturing due to demonetization, price hikes, GST, shared mobility, BS4 to BS6 transition, and hesitancy towards electric vehicles.
Pros:
The industry promotes continuous innovation, driving advancements in technology and engineering.
The sector generates employment opportunities across various skill levels, contributing significantly to the global workforce.
Many countries heavily rely on the industry as a pillar of economic growth, contributing to GDP through manufacturing, sales, and exports.
The industry creates an extensive network of suppliers, fostering growth in related sectors such as logistics and materials.
Cons:
Traditional manufacturing processes and resource-intensive practices can result in negative environmental consequences, including pollution and resource depletion.
The industry is susceptible to economic downturns, impacting sales and profitability, and creating challenges for companies to stay financially resilient.
Many products within the industry rely on non-renewable resources, contributing to resource scarcity and geopolitical tensions.
Rapid technological advancements can lead to disruptions, challenging established business models and requiring significant investments in research and development.

Positive Impacts:
Electric vehicles (EVs) contribute to a reduction in air pollution and greenhouse gas emissions, supporting India's efforts to combat climate change.
A shift to electric vehicles can decrease dependency on imported fossil fuels, enhancing energy security for the country.
The rise of EVs can stimulate the growth of new industries, such as battery manufacturing and renewable energy, creating employment opportunities.
Various government initiatives and incentives promote the adoption of electric vehicles making them more accessible to the general population.
Infrastructure Development: The widespread adoption of electric vehicles requires significant investment in charging infrastructure, which is currently limited in many parts of India.
Electric vehicles tend to have higher upfront costs, making them less affordable for a significant portion of the population. This poses a challenge to widespread adoption.
Range Anxiety: Concerns about the limited range of electric vehicles on a single charge may hinder consumer acceptance and adoption of EVs.
The shift to electric vehicles can be challenging for traditional automotive industries, leading to job displacement and economic adjustments in affected regions.
Based on the current market trends, here is the List of the Top 5 Stocks in India:
Maruti Suzuki, founded in 1981, Maruti Suzuki stands as a cornerstone in the Indian automotive industry, celebrated for its commitment to innovation and quality. With a stock price of Rs. 10,520, the company demonstrated a formidable 78.19% profit increase in the last quarter, selling cars worth Rs. 37,072.8 Cr. Maruti Suzuki's robust Return on Capital Employed (ROCE) at 14.5% underscores its financial strength and market dominance.
A global player since 1945, Tata Motors is recognized for its diverse range of vehicles. Priced at Rs. 680.85, the company witnessed an impressive 463.11% profit surge in the last quarter, selling cars worth Rs. 1,05,128.2 Cr. Despite a slightly lower ROCE of 5.95%, Tata Motors' significant profit increase positions it as a noteworthy contender in the Indian automotive market.
A key player with a legacy dating back to 1945, M&M is synonymous with robust utility vehicles. With a stock price of Rs. 1,583.85, the last quarter showed a 3.14% profit increase, with car sales reaching Rs. 34,435.52 Cr. M&M's respectable ROCE of 12.69% signifies its financial stability and enduring presence in the industry.
Established in 1945, Bajaj Auto is a venerable name in the two-wheeler segment. Priced at Rs. 5,633, the company reported a robust 17.48% profit increase, selling products worth Rs. 10,838.24 Cr. With an impressive ROCE of 26.18%, Bajaj Auto's financial strength and market presence make it a standout choice for investors.

Founded in 1948, Eicher Motors is renowned for its iconic Royal Enfield motorcycles. With a stock price of Rs. 3,863.45, the company experienced a significant 54.71% profit increase, selling products worth Rs. 4,114.53 Cr. Eicher Motors' robust ROCE of 27.35% underscores its financial resilience and success in the Indian automobile market.
The first-ever automobile patent was granted in 1886 to Karl Benz for his Motorwagen, considered the world's first true automobile. This groundbreaking invention laid the foundation for the thriving global automobile industry we know today.
Investing in the dynamic automobile sector offers substantial growth potential. However, it's crucial to approach it with caution and conduct thorough research. This list serves as a starting point, but market conditions may change, and diversification is key to building a resilient and rewarding investment portfolio. Always stay informed and make decisions aligned with your financial goals.
Disclaimer:
Please note that this blog is not a tip for buying or selling stock. We always encourage the reader to conduct thorough research and seek professional advice before making investment decisions.
Frequently Asked Questions
+
Automobile companies play a vital role in shaping our daily lives, influencing how we travel and impacting local economies. Understanding their significance goes beyond financial gains, recognizing their cultural integration and influence on routines.
+
India's automobile industry is not just a major player but a rising star, showcasing impressive growth rates and making a mark on the global stage. Similar to innovative products, Indian automobile companies contribute significantly to the industry's evolution.
+
The industry faces challenges such as the departure of major automakers, struggles of specific companies, and recent obstacles like the impact of COVID-19. Despite these, the industry displays remarkable resilience and continues to thrive.
+
The industry is evolving rapidly with the rise of electric cars and self-driving technologies. Investors can explore opportunities in this dynamic environment. However, awareness of regulatory complexities and economic uncertainties is crucial.
Liked What You Just Read? Share this Post:
Any Question or Suggestion
Post your Thoughts