Home >> Blog >> The success story of Sankarsh Chanda: Who Has a Net worth of ₹100 Crore!
The success story of Sankarsh Chanda: Who Has a Net worth of ₹100 Crore!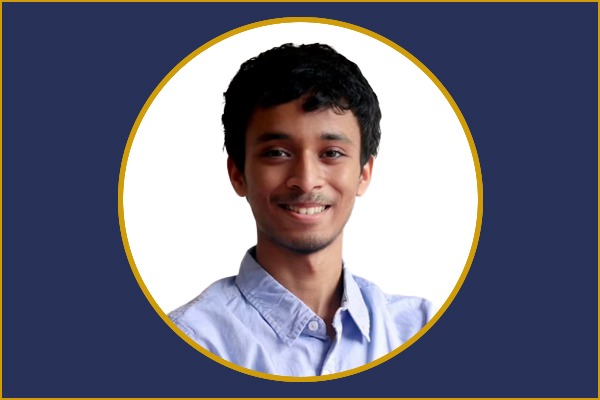 Table of Contents
Sankarsh Chanda is a name that requires no introduction. You have probably heard about this young and passionate man who has amassed a fortune of 100 crores from just INR 2,000. Sankarsh, who is still in his early twenties, has made a name for himself in the stock market and has been compared to the big guns like Rakesh Jhunjhunwala, Warren Buffett, and others as well by experts.
But the question is, how did Sankarsh Chanda achieve this feat? What prompted him to embark on his enthralling journey in the stock market? These questions are probably on your mind as well. As a result, we have compiled everything about Sankarsh Chanda in this article to feed your curiosity. Continue reading to learn about this inspiring entrepreneur's journey.
Sankarsh Chanda is a 23-year-old Hyderabad resident. Sankarsh enjoys reading, and it is this hobby that has helped him become a billionaire. It was one of these reads that changed Sankarsh's life. He was 14 years old when he first read Benjamin Graham's article on "value investing." Benjamin Graham, the father of value investing, talked about picking stocks that are worth less than their intrinsic value in order to make a better profit in the article.
This advice struck Sankarsh, and he decided to put it to the test in the stock market. But he was only 14 at the time and didn't have any money or a Demat account to invest in the stock market. Thus, Sankarsh persuaded his elder sister to allow him to use her Demat account. Sankarsh then began investing with the scholarship money he received as a monthly payout.
He made his first investment with just INR 2,000. He put his entire monthly payout into the stock. Sankarsh used to select the cheapest stocks in order to obtain a large quantity. Apart from that, Sankarsh continued to read in order to satisfy his curiosity and learn more about the stock market. He spent time learning about different companies' balance sheets and market trends. Sankarsh's research paid off, and he began to make a profit.
Gradually, with the assistance of his brother-in-law, he began investing in Chinese and American companies as well. By the age of 16, Sankarsh had gained a good understanding of the stock market and had even begun freelancing and earning some clients. He used to create their investment plans. Sankarsh's investment strategies have made the clients very happy and profitable.
Sankarsh was succeeding in his career. He was making good money from his investments and freelancing. In addition, at the age of 17, he also published his first book, 'Financial Nirvana.' The book compiles the best investment strategies for the general public. Those who are beginning their journey in investment can learn how to invest independently, and those who are already investing can reconsider their investment strategies.
There is something for everyone in this book. Sankarsh successfully combined traditional and modern investment strategies and the understanding of investment he developed from his own experience in this book. Sankarsh was advancing in his career, but that wasn't enough for him; he wanted to leave his mark in the industry while also giving back to society.
As a result, he devised the concept of creating a platform through which he could assist people in managing their wealth and investments. However, this was the point in his career when he decided to move to the United States for further studies. Sankarsh had to choose between moving to the United States and staying in India at a critical juncture in his career. Bennett University, a Times Group educational institute in Greater Noida, piqued Sankarsh's interest.
This university is well-known for its emphasis on entrepreneurship, which drew him to enrol in the B.tech programme. Sankarsh's life was about to change because of this decision. He met Ajay Batra, Director of the University's Centre for Innovation and Entrepreneurship. Ajay liked Sankarsh's idea and gave him the.
There is a lot going on in Sankarsh's life, and at the age of 18, he decided to start his startup journey with his fintech start-up called Savart. He sold his share to start his company and dropped out of college to focus entirely on his new venture. Savart is a platform that allows people to invest in the market based on their needs.
Savart is easily accessible from the Android and IOS platforms and charges investors one to two per cent commissions. The startup is affiliated with the Bombay Stock Exchange and has applied for an RIA licence from SEBI as well. Sankarsh is collaborating with other platforms to make this a better platform for investors to sell and buy stocks directly. Currently, it is the value of Savart and his own investment which let her touch the milestone of 100 crores.
We hope that Sankarsh and Savart will achieve more milestones in the future. We wish him the best of luck in all his future endeavours.
Liked What You Just Read? Share this Post:
Viewer's Thoughts
Ajay Kumar | Posted on 23/11/2023
Ye jankari acchi lagi aur hamare liye bahut upyogi sabit hogi, apko bahut bahut dhanyavad aise motivation jankari Dene ke liye
Any Question or Suggestion
Post your Thoughts