Home >> Blog >> Exploring the Controversy of Subrata Roy - Hero or Villain?
Exploring the Controversy of Subrata Roy - Hero or Villain?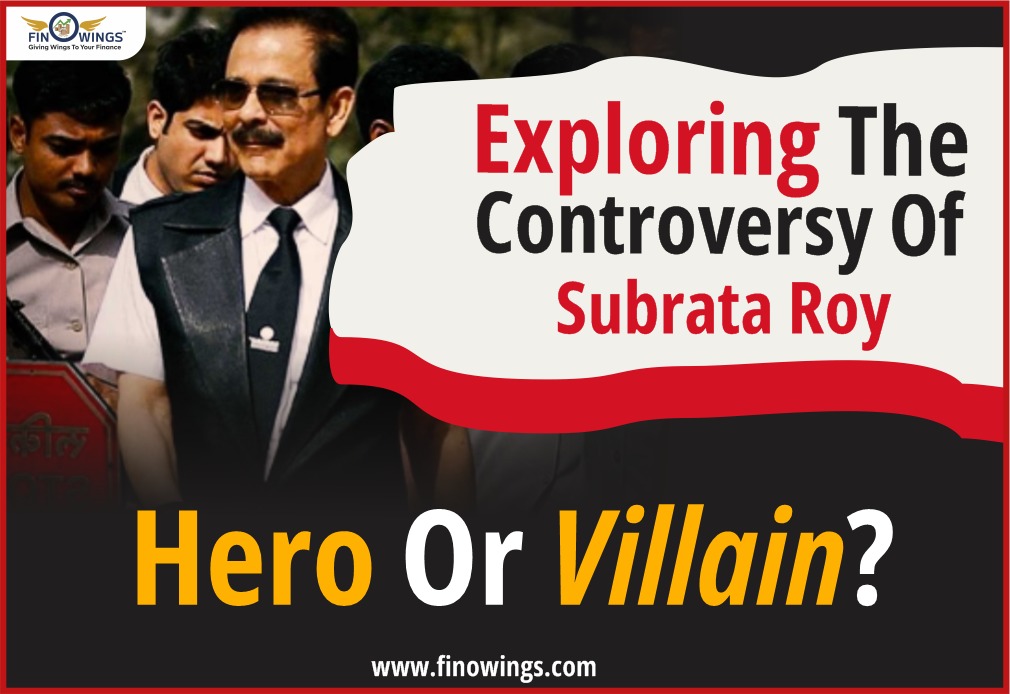 Table of Contents
On November 14, around 10:30 pm, Sahara Group chairman Subrata Roy Sahara passed away because his heart and lungs stopped working. He had been fighting against serious health issues like cancer that spread in his body, high blood pressure, and diabetes. He passed away at Mumbai's Kokilaben Hospital.
Subrata Roy thoroughly enjoyed life in the city of Nawabs. He was famous for his flamboyant lifestyle. Organizing amazing parties with famous people like Amitabh Bachchan and Salman Khan. He hosted big names from politics to sports. But, you know, life can be pretty unpredictable. Subrata's story is like a crazy ride – starting with not much, getting super rich, and then taking a U-turn to become a bit of a villain from being a hero.
Let's dig into the story of his wild journey.
From nothing to something great
In 1978, Subrata Roy started by selling biscuits on his Lambretta scooter, and from there he led to the creation of a huge business worth two lakh crores.
He expanded Sahara into different areas, introducing new financial services in 1990 and launching the ambitious Sahara City project in Lucknow with 217 townships.
Sahara grew in finance, healthcare, and hospitality under Subrata Roy's leadership.
Subrata Roy introduced innovative schemes, promising quick and good returns, tempting people to invest, and turning Sahara into a financial empire.
Sahara City Became part of Subrata Roy's legacy with luxurious features like a helipad and cricket stadium. Besides sponsoring the Indian cricket team, he also owned hotels in New York and London.
Detailed Video

Creating History
Under Subrata Roy's leadership, an incredible milestone unfolded in Lucknow on May 6th, 2013.
In which India shattered Pakistan's Guinness World Record for the largest group singing the National Anthem.
Over 1,21,653 Sahara India Pariwar staff at Ramabai Ambedkar Rally Sthal surpassed the previous record held by Pakistan.
An additional 10 lakh staff from 4,512 Sahara offices joined in the celebration.
The event occurred just three days before Rabindranath Tagore's 152nd birthday, marking a joyous occasion.
The anthem, 'Jana Gana Mana,' written in a special form of Bengali, was adopted as India's National Anthem on January 24, 1950.
An airborne camera captured this historic milestone, facilitating the counting and verification process conducted by third-party auditors.
Riches to Rags
In 2004, Time magazine acknowledged the Sahara Group as the second-largest employer in India, with a workforce of 1.2 million. The top spot was held by the Indian Railways
In 2012, Subrata Roy was recognized as one of India's most influential businessmen by India Today magazine due to his growing popularity.
Sahara, who was previously lauded for job creation, encountered an unforeseen setback In 2009, when Sahara Group submitted an application to SEBI for an IPO, leading all their documents to reach SEBI. This triggered an investigation because Sahara Group was collecting funds against regulations.
Subrata Roy built a massive business empire covering retail, real estate, and financial services. However, legal troubles arose in 2011 when the market regulator, SEBI, ordered his companies to refund money obtained through illegal bonds.
After months of legal battles, the Supreme Court in 2012 upheld SEBI's ruling, instructing Subrata Roy's firms to refund the money collected from investors along with 15% interest, totaling Rs. 24,000 crore.
In 2014, the Supreme Court ordered the detention of Subrata Roy for not appearing in connection with the SEBI battle. Although He was later granted bail.
Versatile Business model
Air Sahara's Takeoff: Launched in 1991, Air Sahara took flight, spreading its wings in the aviation scene. By 1993, their flights were soaring high, only to be acquired by Jet Airways in 2007. Jet Airways gave it a makeover, rebranding it as Jet Lite.
Media Ventures Take Center Stage: In 2003, Sahara ventured into the media landscape with the launch of its first news channel. Following this success, they expanded into regional and entertainment channels in the years that followed. Sahara also stepped into the world of cinema with Sahara One Motion Pictures.
Aamby Valley: The Jewel in Sahara's Crown: Aamby Valley, once the pinnacle of Sahara's opulence, emerged as a planned hill city. Sprawling across 10,600 acres in Lonavala amidst the Western Ghats, it was India's first meticulously planned hill city.
Sahara's Sporting Odyssey: Sahara Group sponsored the Indian cricket team from 2001 to 2013, leaving an indelible mark on the cricketing arena. In a bold move, Sahara acquired the Pune Warriors in IPL 2011, but financial struggles led to its termination in 2013.
The Sahara Scam
In 2011, Sahara got into trouble for collecting money without approval, and Subrata Roy was arrested in 2014.
The Sahara Scam happened because people noticed issues with how Sahara handled bonds, breaking rules, and hiding information.
Sources said that they collected lots of money from the public but didn't tell the authorities.
After that, SEBI got involved in this and told Sahara to stop selling the disputed bonds and pay back investors.
In the Sahara scam, they did a weird thing by sending many boxes with documents and money to SEBI's office. People thought it was a trick to look good, but SEBI said the papers didn't matter.
Click Here to Explore More About The Sahara Scam

Sahara Refund Portal
Recently there was an introduction of the Sahara Refund Portal by CRCS to help investors facing fund blockages in the Sahara Group.
It was demanded due to losses exceeding 5000 Crores for affected investors.
In this scheme qualifying beneficiaries were to get a direct refund of Rs 10,000 in their bank accounts within 45 days.
To avail of the opportunity, applicants can undergo a hassle-free CRCS Sahara Refund Portal Registration.
The registration process is simple and free for obtaining a refund.
For a more in-depth look about the Sahara Refund Portal, Click Here
Hero or Villain?
Had Subrata Roy not applied for Sahara's IPO, their downfall wouldn't have happened so fast. Reflecting on his life events, it's clear how things went wrong. In March 2014, during a Supreme Court appearance, a man from Gwalior threw ink on Subrata Roy, showing a transformation from hero to villain.
The question of whether Subrata Roy was a hero or a villain remains open to debate. His supporters see him as a visionary entrepreneur who provided employment opportunities for thousands and contributed to India's economic growth. His critics, however, view him as a corporate fraud who exploited investors and left a trail of financial ruin. What is your opinion on this?
Liked What You Just Read? Share this Post:
Any Question or Suggestion
Post your Thoughts