Home >> Blog >> 7 Mistakes That You Should Avoid while investing in gold
7 Mistakes That You Should Avoid while investing in gold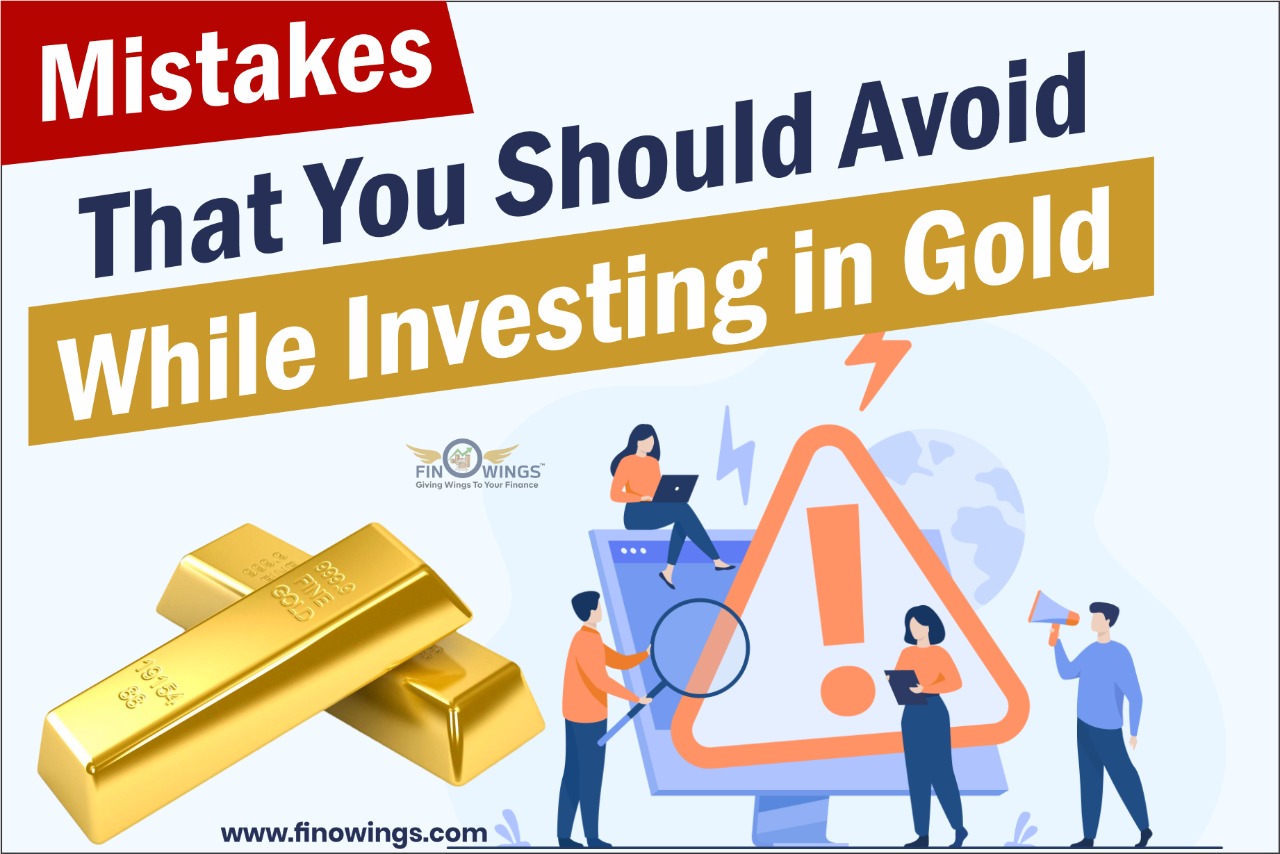 Table of Contents
The investment trend is picking up speed these days, and more people are focusing on investing their money in various places. People want to diversify their portfolios by making a wise investment.
Shares, bonds, mutual funds, and other forms of investments are attracting the attention of many investors nowadays, but gold is the traditional form of investment. You must have seen your ancestors invest in gold jewellery and other gold-related items.
It was once considered a status symbol, but it is now considered a good investment option. Because of the massive increase in gold prices in recent years, it has become one of the investor's preferred investments.
However, people frequently have many misconceptions about investing in gold, which leads them to make costly mistakes. To avoid common mistakes and earn better returns when investing in gold, it is necessary to be cautious and plan things properly.
You're probably wondering what kinds of mistakes you should avoid.
To find out the answer to this question, continue reading the article. So, let's dive into the 7 most common gold investment mistakes that every investor should be aware o
Here are the seven most common mistakes beginners make before investing in gold.
2.1.1 Lack of Research
Gold is a valuable investment, and you cannot invest it in the air. While investing in gold, you must be cautious with your money. Because even minor errors can be costly.
Scammers abound in the market, ready to deceive you. When it comes to investing in gold, it is easier to be duped because most people are unaware of how to determine whether the gold is genuine or not.
There are numerous platforms claiming to sell high-quality gold. Some even offer it at a lower cost than others. In fact, some online platforms may require you to pay in advance. To safeguard your fund, avoid using such a platform.
It is necessary to conduct research about reputable gold sellers and platforms before investing in gold. It may appear to be exhausting, but it is extremely beneficial. Talk to several dealers, learn about their rates, read their reviews, and choose the one that provides the most value at the best price.
2.1.2 Investing Without a Goal
If you believe that investing in gold will always be a safe and profitable investment, you may be mistaken. Perhaps you considered gold as an inflation hedge investment, or perhaps you are only investing in it because of the hype surrounding it.
Before investing in gold, you should burst your fantasy bubble about it and understand your realistic goal. It is critical to understand that gold does not always make you money and may not provide you with better protection against inflation in the future.
No, I'm not trying to scare you; I'm just saying that gold investment carries some risk, and you should invest in gold with a specific goal in mind to avoid potential risks.
Check your strategy, investment purpose, time frame, and other factors to ensure that your goal is clear to both you and the seller. A clear goal will also assist your seller in selecting the best gold investment for you.
2.1.3 Short-Term Investing
If you are looking for a short-term investment, you should consider stocks or other options. You should avoid gold as a short-term investment.
Gold prices used to fluctuate like any other commodity, but don't expect a massive price increase in the next few weeks or months. To make a good profit from your gold investment, you must keep it for a long time.
There is a good chance that you will lose money or make less money in the short term. Keep in mind that the overall price of the gold includes other costs such as taxes, dealer fees, and so on.
As a result, if you cannot wait for a long time, you should not invest in gold. However, if you are willing to take a risk, gold investment can be a safe haven for you because the fluctuation in gold prices is not massive or in line with the market price.
2.1.4 Investing at the Wrong Time
Time is money; this adage applies to all situations, including investment. If you can make the right investment at the right time, you will be ten times ahead of other investors in this investment race.
Watch the market, study the latest trends, keep an eye out for the financial crisis and market crashes, and determine when the price of gold will fall. Buying on the dip is always a good way to maximize your return on investment.
Do not rely solely on official gold investments; also invest in physical gold. It is beneficial to provide more security in the event of an economic downturn. When gold prices are high, try to avoid investing in them.
Aside from that, don't be alarmed if you notice a drop in prices after purchasing gold. Gold prices are volatile and will continue to fluctuate. Prices are likely to recover in the long run, so keep your patience.
2.1.5 Avoid Investing in Small Bars
Small bras, coins, and jewellery are not considered good gold investments due to the high manufacturing costs and cost reduction when selling. Small gold articles typically have high production costs.
As a result, you should avoid investing in small gold bars and articles. Rather, buy large quantities of gold bars. The production costs are lower, besides you can make a good profit when you sell it.
To earn a high return on your gold investment, keep an eye on market trends and make a profit when the right time comes.
2.1.6 Purchasing Too Much or Too Little
To balance out your gold investment, you must devise an appropriate strategy. You must be cautious not to invest too much or too little. Investing in too many gold shares can be detrimental to your investment.
Likewise, investing in too few gold shares may not yield the desired results. To generate a significant return on your investment, you must maintain a balance in your gold investment.
If you are unsure about the balance of investment and other issues, you can seek professional assistance. With their experience, they will assist you in investing the appropriate amount in the appropriate stocks.
Apart from that, you can also set aside a set amount of money each month to invest in gold regardless of the market price. This is a good risk-reduction strategy. Many financial planners recommend allocating 5% to 20% of one's portfolio to gold.
2.1.7 Right Place to Store Gold
Frequently, investors spend a significant amount of money on the storage of their physical gold. This can impose additional costs on the investor. To avoid this, conduct thorough research into the best place to store your gold.
There are numerous companies that offer secure storage vaults at reasonable prices. You can learn more about them and keep your gold there until you're ready to sell it.
Since gold is a valuable and costly investment, you should conduct thorough research on the company before entrusting them with your gold. It is beneficial to increase security and avoid potential fraud. Because there are many fraudsters waiting for an opportunity.
You've read about the mistakes you should avoid when investing in gold. But, do you know different ways to invest in gold? Don't be concerned if your answer is no. Because we will discuss the most basic ways of investing in gold in this section
3.1.1 Physical Gold
This is the most popular and satisfying method of investing in gold. You can invest in gold in the form of jewellery, gold bars, coins, and so on. You can also touch and see your gold, which may provide you with additional satisfaction. The disadvantage is that you must spend additional money to safeguard it. Besides, you must also bear the cost of making charges.
3.1.2 Sovereign Gold Bonds
The government issues sovereign gold bonds, which are supervised by the Reserve Bank of India. The government has launched this investment option to provide an alternative way to invest in gold. These bonds have an 8-year term with a 5-year lock-in period. Sovereign Gold Bonds are tax-free and can be purchased through a variety of platforms.
3.1.3 Digital Gold
Another way to invest in gold is through digital gold. There are numerous trustworthy platforms where you can buy gold digitally. You can begin investing in digital gold for as little as INR 100. It works similarly to stocks in that you invest your money and receive a unit of gold in your digital account. You can keep it for as long as you want and sell it when you think the time is right. While selling the gold, the company will take a percentage of the transaction.
3.1.4 Gold ETFs
Gold ETFs are gold-investing mutual funds. Investing in Gold ETFs allows you to buy a portion of it in your Demat account, just like stocks. These shares were traded in the market in accordance with gold prices. Except for some brokerage fees, there are no charges to buy or sell Gold ETFs.
3.1.5 Mining stocks
You can also invest in companies involved in the production of gold. This could be an excellent way to invest in gold. Because you are directly investing in the manufacture of this valuable commodity. You can obviously benefit when the price of gold rises, apart from this the company has the capacity to double its production, which can help the rising company's profit and yours as well.
Gold is an expensive investment, and any mistake can cost you a loss of funds. Aside from that, the chances of being duped are high when investing in gold. As a result, before investing in gold, you should do thorough research. You can also hire a professional to assist you in better understanding the gold investment.
Have you invested or intend to invest in gold? Please share your thoughts, questions, and doubts in the comments section below.
Frequently Asked Questions
+
The easiest methods for investing in gold are considered to be mutual funds and ETFs. Through mutual funds and exchange-traded funds, you can simply acquire and sell shares. Each share of these securities carries a fixed amount of gold.
+
Yes, in the majority of situations, gold is a secure investment. Even in times of national unrest, this precious metal maintains its worth, and under normal circumstances also you get decent returns on your gold investment.
+
You can invest in gold at any time, but mostly it follows the reverse trend. Gold prices usually increase when the stock market crash or falls.
+
Of course, gold is a wise long-term investment option. The precious metal is regarded as a reliable hedge against inflation and any turmoil in the nation. Additionally, gold's value grows with time, making it the best long-term investment.
+
Digital gold is completely risk-free, but physical gold is subject to some risks including storage, theft, making charges, and so on.
Liked What You Just Read? Share this Post:
Any Question or Suggestion
Post your Thoughts