Home >> Blog >> Low cost marketing strategies for startup
Low cost marketing strategies for startup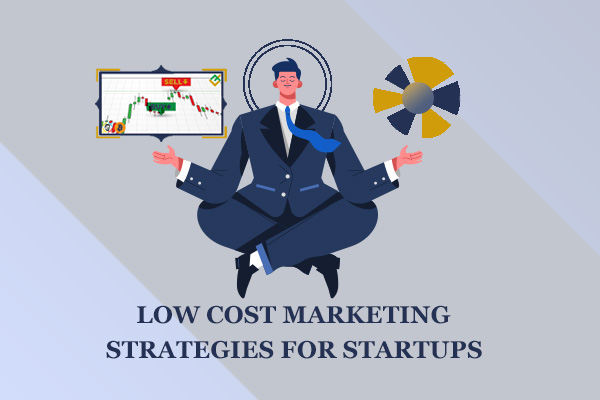 Do you know that the value of startups in the global economy has grown to around $3.5 trillion? There has been a lot of competition in recent years, as startups are booming. In such a situation, to make a different identity for your startup, you should have things like a marketing plan, new ideas, and new technology.
According to Startup Genome, 90% of startups fail in their first year. Although there can be many reasons for this, the biggest reason is their weak marketing strategy. Most startups face tough challenges in their marketing. A study revealed that more than 45% of startup owners market their products on their own because they do not have a substantial budget for marketing.
It's just a misconception that startups have to incur huge marketing costs to kickstart their business.
In the beginning, the startup owner needs to be more creative than the big companies so that they can get maximum profit by doing effective marketing on a low budget. If you want to know low-budget marketing strategies for startups, today this blog will help you in that, which will help you to attract prospects.
Yes, in today's digital world startups have a lot of low-cost marketing strategies that they can take advantage of to market themselves and generate leads. Keep reading.
Always remember that no startup succeeds overnight. There is a lot of hard work behind it, which is not visible. That's why we think it became an overnight success. Most startups get launched without any marketing strategy or plan.
No matter how good your product is, unless you market your product properly, your startup cannot succeed.
The sooner you start marketing your product at the beginning of the startup, the more you can do the brand building of your company. If you market your product after its launch, then trust me, it is too late. To be a successful startup company, you must have ready-made customers who will buy your product or service.
Remember one thing marketing is like an ocean, which has no end.
Strategy #1: Referral Marketing
Referral marketing is one of the best marketing methods for new startup companies. Instead of adopting different marketing methods, why not create a system that allows your customers to do the marketing for you? It is very effective. You also understand that when you come to know about a product from your friends or acquaintances, then your confidence in that product increases, and you are also more likely to buy that product. Because somewhere we are very much influenced by the recommendations made by the people.
According to a study, customers acquired through referrals spend twice as much as others and themselves make referrals to more than 2x people.
Also, leads that are received through referrals have a lifetime value of 16% more than leads obtained through other sources. That is, their conversion rate is very good.
People who come through referrals are 5 times more likely to make a purchase.
However, setting up a referral program does not cost a lot. It is also completely free. It also depends on how you make it. If you want good growth, you can offer your existing customers some cash reward in return for referring other people or give good discounts on your products and subscriptions. This is what most startup companies are doing these days. You can take the example of companies like Upstox, Meesho, etc.
Strategy #2: Guest blog post
You can go ahead with the strategy of guest blogging for good marketing at a low cost. It is an excellent way in which you write good content for that website, and in return they allow you to reach new customers.
For excellent results, you should reach out to bloggers related to your niche. Then ask them if they would be interested in publishing a guest post about a relevant topic. If that blogger is interested in it, then you can write and submit the article to be published on their website.
In return, you can ask them for traffic to your startup. The traffic you will get through this is known as backlinks. Simply put, backlinks are links found on external websites that go back to the page of your website.
Strategy #3: Social Media Marketing
As we all know that today's era is of social media. Without it, it is hardly possible to imagine life. Social media not only allows you to reach a large number of people, but through this, you can also build the name and brand of your startup. In today's time, if your business is not online, then your business does not exist. You can use social sites like Facebook, Twitter, Instagram, and LinkedIn to increase the presence of your product business online.
However, one thing to keep in mind is that you shouldn't see social media as just a place to tweet or post about your startup's brand. If you do this, then you will not be able to use social media properly. It is only when you use these platforms strategically that you can make the most of it for your startup.
Let us understand it with an example. You can also create contests on Instagram and Facebook where audiences will have the opportunity to win something related to your product or service by submitting their photo or giving the correct answer in return for a question.
By doing this type of competition, not only will your engagement with people increase, but the engagement of your social media page will also increase significantly. Trust me, this type of strategy creates buzz for your brand.
Here is a list of social media networks on which you can work according to your business.
LinkedIn – Professional application Good for B2B business.
Instagram – If you produce visuals and for product branding.
Facebook – Best for B2C Business. If your product is directly customer-centric.
Twitter – Good for B2B businesses.
Meetup.com – This is the best option for local marketing.
Quora – Great for Generating B2B Leads.
Pinterest – It's another best option for your personal and product branding.
Strategy #4: Email Marketing
Most people are not able to take advantage of it even though they are aware of email marketing. Email marketing is the cheapest form of marketing. Through this, you can reach your product and brand to countless people. Email marketing is permission-based, which means the customer has chosen to sign up for your newsletters on their own.
Email marketing is the most effective form of marketing with ROI.
But keep in mind that you should avoid sending only promotional information about your product or services, as it can sometimes be irritating to those people, and that's why most people choose the spam option on that email. As a result, they will unsubscribe from your newsletter.
Instead of sending your product promotion information directly, you should focus on providing useful information to your future audience that they may find useful. Most startup companies do not do this, and due to this, they do not get profit from it.
For example, you can send a list of things to do before going on vacation or interesting facts about the best vacation in less money through email marketing to your future customers.
Trust me, people will appreciate your effort, and they will take an interest to open your email and see it because you are adding some value and information to their lives by not promoting the product.
Strategy #5: Influencer Marketing
Influencer marketing is very much in trend these days. In a recent study, more than 45% of consumers mentioned that they came to know about a product or service through influencers. In today's time, it has also become a way of earning for influencers.
Influencer marketing is when you work with people with a lot of influence to bring your products or services to potential customers.
Influencer marketing is a very effective way to target new audiences, as most people trust the opinions of influencers. That is why it is the most preferred method for startup companies who have just started marketing.
For example, if you have a shoe startup, then for influencer marketing, you will look for influencers who have a large number of followers on Instagram. Also, one who regularly posts pictures of their feet wearing fashionable shoes.
These are some of the best low-cost effective marketing strategies. By which you can give more exposure to your startup. Using all these strategies, you generate a lot of interest from your audience and ultimately it leads to more sales of your products and happy customers.
For your information, there is no specific marketing technique, whether low cost or high cost. Of course, marketing is a vital factor in any business, but the success of your business does not depend only on marketing.
Simply put, the essence of this blog is that it's not necessary to spend money to get effective marketing. That too when you have started a new business. You can reach your target customer and markets by incorporating the above marketing strategies.
Frequently Asked Questions
+
The cheapest way of marketing in India is email marketing or social media marketing. You can reach your target audience in large numbers at once.
+
Marketing strategy is very critical for any business or company. Using a marketing strategy helps you to increase the sales of your business so that you can earn more profit. In addition, by setting up your business digitally, you can attract your target audience.
+
Given below are some low-cost marketing strategies:-
Youtube channel.
Build your app.
search engine optimization
Google My Business Account etc.
Liked What You Just Read? Share this Post:
Any Question or Suggestion
Post your Thoughts