Home >> Blog >> Top 15 Stock Picks for Diwali Muhurat Trading Strategy 2023
Top 15 Stock Picks for Diwali Muhurat Trading Strategy 2023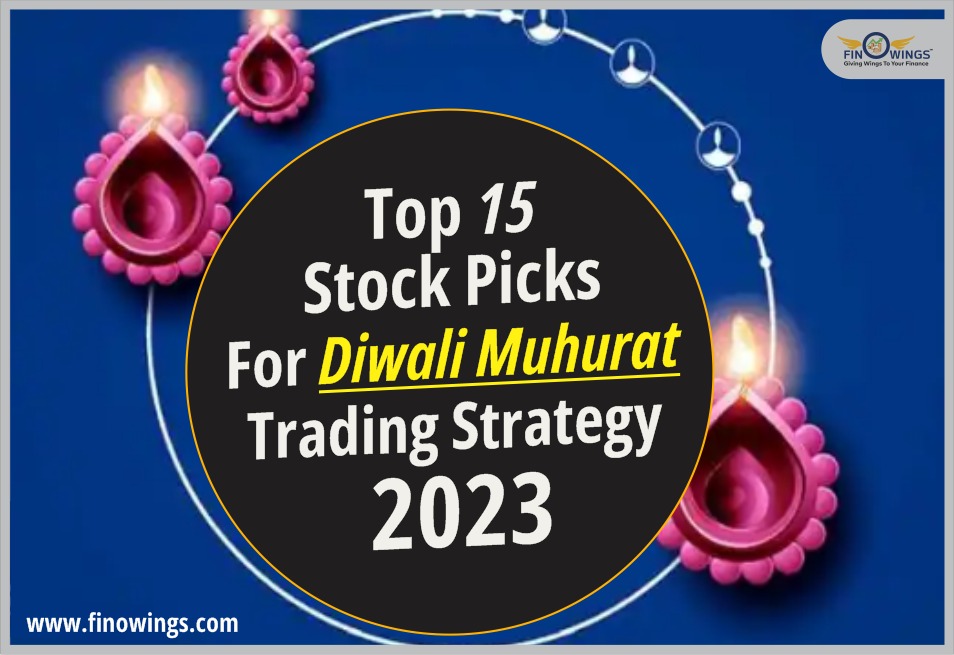 As Diwali approaches, it's time to light up not just your diyas but also your investment portfolio. In the spirit of the festival of lights, we bring you a carefully selected list of 15 stocks that could make your financial future shine even brighter by the next Diwali.
As a leader in private banking, HDFC Bank has a history of dominance. Despite recent fluctuations, signs suggest a potential resurgence. With key ratios such as a Gross NPA of 1.6% and an underpriced PEG ratio, HDFC Bank could be on its way back to the top.
SBI Life, a joint venture between BNP Paribas and SBI, holds a significant market share in life insurance. With robust ratios like ROCE at 30.2% and a PEG ratio of 8.69, SBI Life is a beacon of financial security.
Specializing in automobile software, KPIT Technologies caters to a global clientele. With solid ROCE and ROE figures and a tempting PEG ratio of 0.22, this tech powerhouse is a potential Diwali winner.
Astral Ltd, a major player in plumbing and drainage systems, holds its ground as a top industry player. With impressive key ratios and a PEG ratio of 4.40, Astral Ltd is ready to pipe success straight to your portfolio.
As a leading steel product manufacturer, APL Apollo Tubes Ltd boasts a robust portfolio with key ratios and a PEG ratio of 1.80. With 10 manufacturing plants, this company is forging a path to Diwali prosperity.
Detailed Video

Known for its premium alcohol brands, United Spirits commands a significant market share. With a PEG ratio of 5.51, this industry leader is set to keep spirits high in your portfolio.
A part of the Birla Group, Grasim Industries excels in chemicals and textiles. With key ratios indicating strength and a PEG ratio of 1.02, Grasim is weaving a story of success in your financial tapestry.
Reliance Industries needs no introduction. As a leader in refineries, it boasts a PEG ratio of 1.77. Consider adding this powerhouse to your Diwali stockpile.
Home to brands like Manyavar and Twamev, Vedant Fashion dominates the clothing market. Dress up your portfolio with this fashion-forward choice.
As Asia's first stock exchange, BSE has stood the test of time. With steady key ratios, BSE is a flame in your financial Diwali celebration.
BikaJi Foods, known for its iconic bhujia, ranks among India's largest FMCG brands. With a PEG ratio of 3.98, this company is ready to serve up success in the snacking industry.
A part of the Tata Group, Indian Hotels leads the way with a ROCE of 12.6%. With a PEG ratio of 0.90, this hotel giant is ready to check you into a portfolio of prosperity.
With 809 branches across India, IDFC First Bank stands strong with a Net Interest Margin of 6.36%. Invest in the bank that's banking on your financial growth, with a PEG ratio of 0.88.
For those looking to invest in the IT sector collectively, IT Bees, an ETF, provides a strategic approach. As global tensions impact India's IT sector, this ETF could be your passport to potential gains.
As part of the Tata Group, Trent Ltd shines as a retailer with a PEG ratio of 5.76. Let your portfolio shop for success with Trent.
Disclaimer: The information provided in this blog is for informational purposes only and should not be considered as financial or investment advice. It is crucial to conduct thorough research or consult with a qualified financial advisor before making any investment decisions. The author and the platform do not guarantee the accuracy, completeness, or timeliness of the information presented. Investing in stocks involves inherent risks, and past performance is not indicative of future results. The reader is solely responsible for any investment decisions made based on the information provided in this blog.
Frequently Asked Questions
+
Diwali Muhurat Trading is a special one-hour session on Diwali, conducted by Indian stock exchanges like NSE and BSE, signifying the start of the Hindu New Year.
+
Yes, both NSE and BSE participate in this unified event.
+
Yes, with access to Indian markets, international investors can participate, following guidelines for foreign investors.
+
Approach it like any other trading session, set realistic goals, diversify, stay updated on market trends, and use risk management strategies to protect investments.
Liked What You Just Read? Share this Post:
Viewer's Thoughts
Sachin Gupta | Posted on 11/11/2023
Hi, (Mukul Aggarwal) you are best in your industry. Wish you a very happy deepawli to you & your team with family. May god bless you for life time. Thanks a lot making people educate.
S vijai | Posted on 12/11/2023
Good information
Any Question or Suggestion
Post your Thoughts