Home >> Blog >> Blinkit Case Study
Blinkit Case Study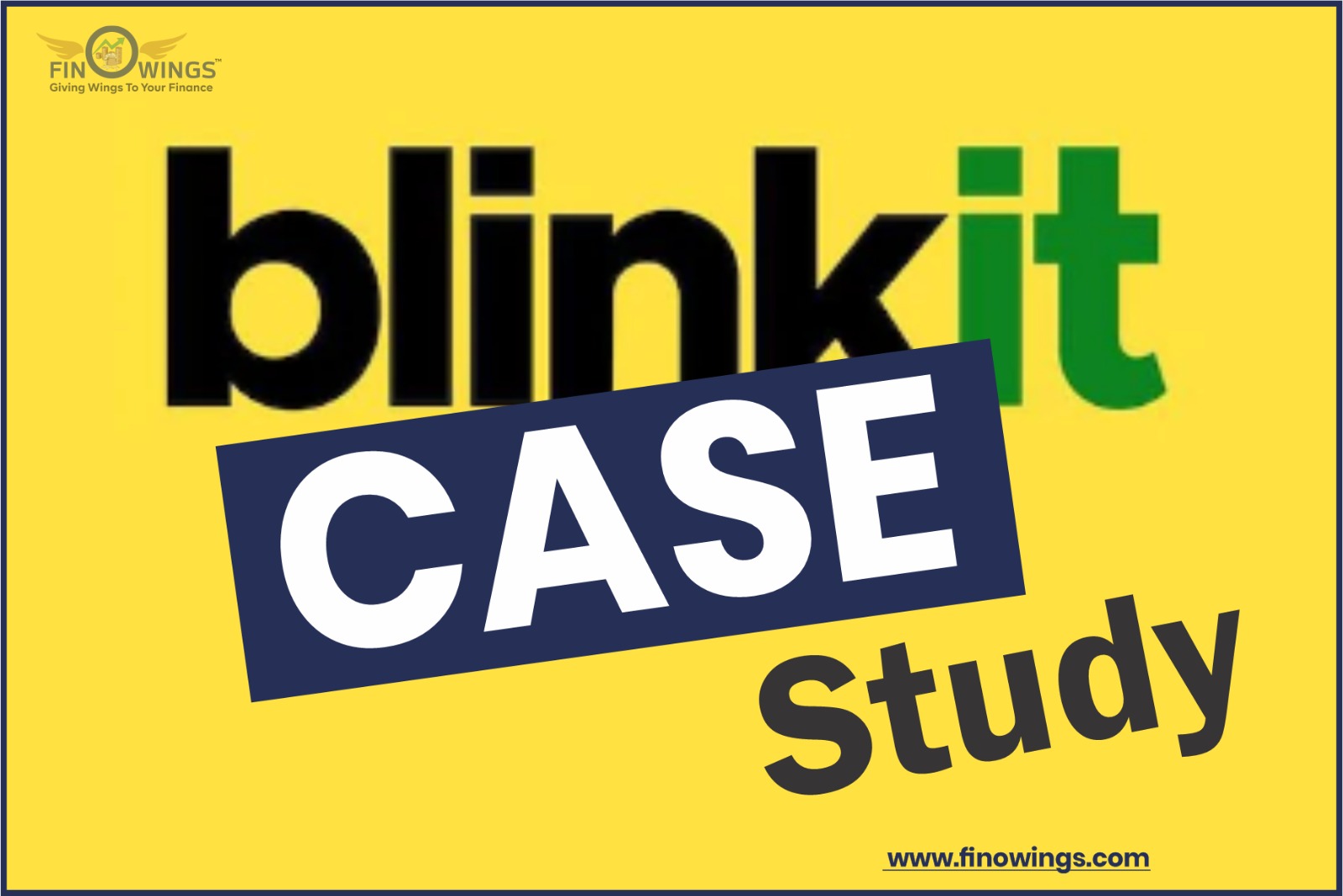 One of the most popular platforms for grocery delivery in India is Blinkit, formerly known as Grofers. To date, it has received nearly $1 billion in capital from a variety of investors. Albinder Dhindsa and Saurabh Kumar founded the business in 2013. One of the few Unicron companies in India with a $1.01 billion valuation is Blinkit. The company delivered 1.25 lakh orders daily by November 2021. Blinkit is already present in more than 38 Indian cities. The company had raised roughly 630 million US dollars from investors as of 2021.
Albinder Dhindsa and Saurabh Kumar established Blinkit as Grofers in December 2013. After getting to know each other at Cambridge Systematics in the late 2000s, they teamed up to enter the supermarket delivery market. A major focus of their efforts was finding solutions to industry issues caused by a lack of organization (both at the consumer and vendor ends). Before expanding to other Indian cities, the business conducted a test run in Delhi NCR.
After operating as an online grocery delivery service for seven years, Blinkit opened dark stores across India to provide quick grocery delivery. The business claimed to have delivered over 7,000 goods in Gurgaon in 15 minutes in July 2021. Within a month of completing over 20,000 deliveries under 15 minutes a day across 10 cities, it added 10-minute delivery to the top 12 cities.
Blinkit became Grofers' brand name on December 13, 2021, as part of its commitment to facilitating quick commerce.
The third-largest grocery delivery service provider in India right now is Blinkit. It barely gains a little over 14% of the overall market share, behind BigBasket and Amazon. The business currently serves customers in more than 28 Indian cities and delivers orders in under ten minutes.
A quick look - Blinkit
Company Name – Blinkit

Founded – Dec 2013

Founders – Saurabh Kumar, Albinder Dhindsa

Valuation – $1.01 Billion

Revenue - $302 Million

Industry – E-commerce, Online Shopping, Grocery Delivery

Area Served – India

Parent Organisation – Grofers International Pvt. Ltd.

The number of employees – 2000 (approx.).

Website – blinkit.in / grofers.com
Blinkit Founders and Team
Albinder Dhindsa
The company's CEO and co-founder is Albinder. He graduated with a B.Tech from the Indian Institute of Technology in Delhi and an MBA from Columbia Business School.
Saurabh Kumar
Blinkit's co-founder is Saurabh. He graduated from IIT Bombay with a B.Tech in Civil Engineering and from The University of Texas at Austin with an MS in Transportation Engineering.
Blinkit is built on the marketplace business model. It does not possess any independent markets or warehouses. Instead, the company works in tandem with several local shops and grocery stores in the area, sending delivery personnel to pick up the needed goods from them. The delivery boys then make the necessary deliveries of the orders to the customers.
Items can be placed via Blinkit's app or website, and the tie-up mechanism enables them to reach nearby supermarkets and deliver orders to customers quickly. Because Blinkit charges a commission on these orders, these orders generate revenue for the company.
Regional suppliers, regional clients, and delivery staff comprise the three main components of Blinkit's business model.
Regional Suppliers:
Partnering with nearby retailers is part of Blinkit's offering. In particular, mall businesses without a workforce for doorstep delivery and a marketing budget to reach a wider audience.
Regional Clients:
One of the main inspirations for the idea for the company was the group of people who struggle to find time to physically go to the market for daily shopping. It includes working people, seniors, students, and even sick people.
Delivery Staff:
A team of delivery workers from Blinkit is assigned to a specific location. They collaborate with retailers to deliver daily necessities quickly to customers' doors.
Blinkit operates under a commission-based business model. It has collaborated with a variety of retailers and small business owners to deliver groceries in the neighbourhood. Blinkit receives a fixed percentage of commission from the retailers for these orders. Orders between 8% and 15% and 12% and 15%, respectively, for amounts up to ₹700, and ₹ 1000. It also charges a delivery fee for orders that customers place that have a value of less than ₹ 250.
Growth -:
In India, Blinkit delivers more than 1.25 lakh orders each day. In the last week, it reported receiving more than 1 million orders across 12 to 13 cities.

Its platform contains more than 5000 different products prepared for delivery in 10 minutes.

From FY 2020, the company's revenue increased by a net 26.2%.

It is India's third-largest platform for grocery delivery.

Every year, Blinkit serves millions of customers.
| | | |
| --- | --- | --- |
| Transaction Name | Number of Investors | Fund Raised |
| Series A | 1 | US$500K |
| Series B | 2 | US$10M |
| Series C | 2 | US$36.5M |
| Series D | 5 | US$120M |
| Series E | 3 | US$58.6M |
| Series F | 7 | US$264M |
Brand Name - The company's name is very fitting for the type of business they conduct. The company is called Blinkit since they deliver groceries to customers in an instant. It is a very fantastic name that fits the company perfectly.
Company Logo - The company's logo is incredibly organized and tasteful. It is orange in color, which is a representation of achievement, change, joy, and equilibrium.
Tagline - The company's tagline is "Let's Blink it."
Although Blinkit has long been the favorite of all investors, there are still plenty of rivals in the market. A lot of large companies and supermarkets are gradually concentrating on internet sales. This makes e-commerce platforms more competitive with one another. The following are a few of the company's main rivals:
Zopnow

JioMart

Dunzo

Nature's Basket

Amazon

BigBasket

Zepto

Pepper Tap

Swiggy
The following are a few of the company's main obstacles:
Service and product quality problems - Blinkit has come under fire for both its slow service and quality problems. Giving excellent customer service is one of the toughest obstacles a business faces.
Massive discount offers -
The business's strategy of giving its customers steep discounts has fallen flat. More than 600 Cr. INR has already been invested by them. The expansion of their business has been slow in the last three to four months, and they are now looking to cut costs to lower their cash outflow.
Rival companies – Despite dominating the market, Blinkit is not immune to rivalry. Some of them are rapidly expanding and have a large customer base.
Retaliation - In recent months, Blinkit had to deal with a variety of criticisms. Many critics disagreed with their 10-minute grocery delivery service because they felt that it exploited the workers. Additionally, Blinkit let go of about 5% of its workforce in significant cities like Mumbai, Kolkata, and Hyderabad. They have also been linked to numerous vendors' reported delays in payment.
Blinkit is working on a ton of exciting plans for the future. Several of the plans include the following:
After Amazon and Bigbasket, Blinkit claimed to have 13% of the market, developing it as the third online platform for grocery delivery.

They'll soon grow their company and begin offering services in several new locations.

The main objective of Blinkit is to dominate the Indian market for grocery delivery services.

The company will also offer a wider variety of products, such as those for babies, fruits, baked goods, pets, flowers, etc.

Over the next five years, Blinkit wants to multiply by 100 its current size.
A Grand View Research estimates that the Indian online grocery sector would be worth $2.9 billion in 2020. It's interesting to note that during the next five years, it is predicted to increase at a compound annual growth rate of 37.1%. The market for grocery e-delivery services is therefore such that you're more likely to have a positive return on investment.
To succeed in this profitable prospect, however, you must provide superior services to those of well-established market competitors, such as Amazon, Big Basket, and others. You must first conduct in-depth market research for it. Try to identify any weaknesses in the way that online grocery delivery services are now provided so the organization develops a creative replacement.
Liked What You Just Read? Share this Post:
Any Question or Suggestion
Post your Thoughts