Home >> Blog >> Will E-Commerce Kill Retail Business in the Future?
Will E-Commerce Kill Retail Business in the Future?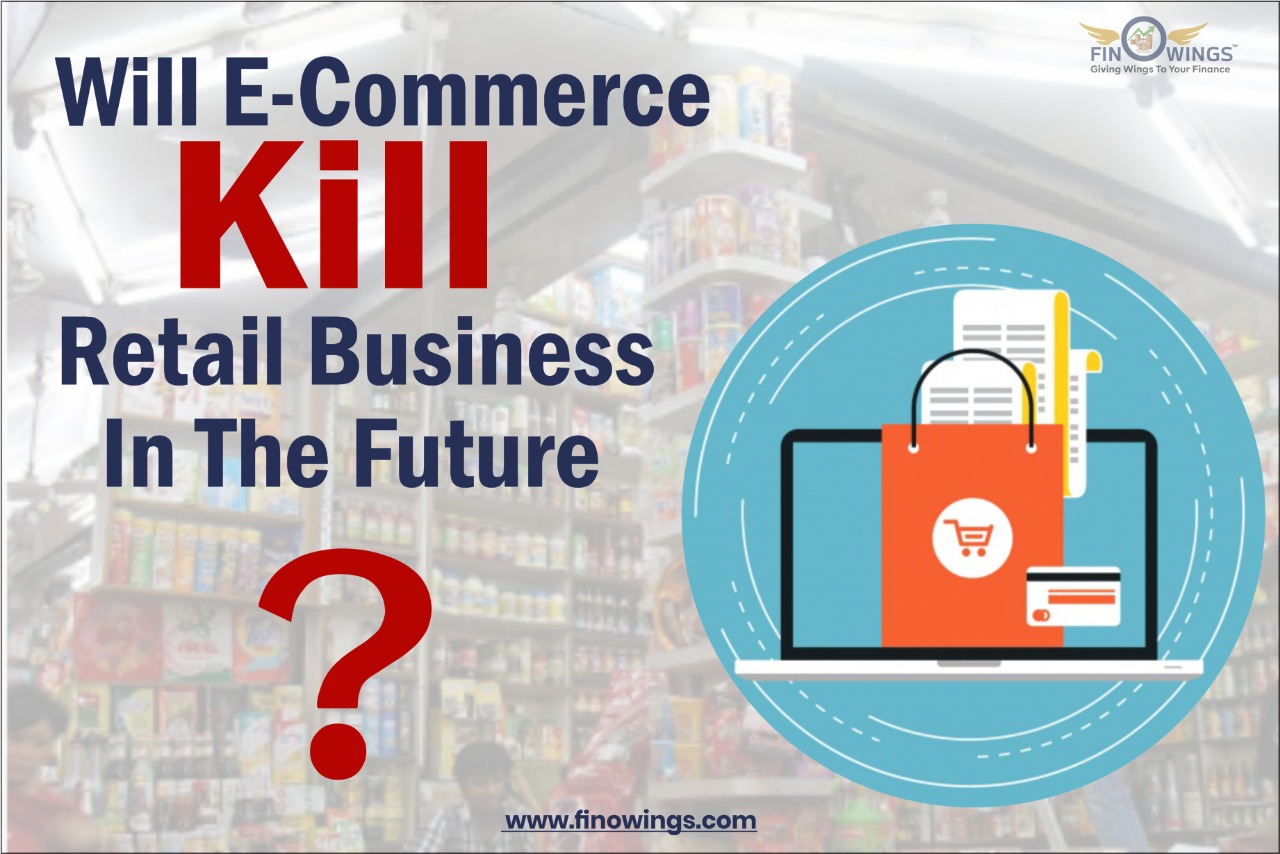 Table of Contents
E-Commerce business proved to be the boon or the Bane for people depending on their perspective. While some people happily shift toward e-commerce platforms, others still prefer to visit physical retail stores. The E-commerce platform has also opened ample opportunities for businesses. Today, it has also proved to be one of the major threats to offline retail stores. A question that arises here is whether e-commerce will replace the retail business in the future or not.
The statistics of the last few decades have surely depicted that technology has taken over a huge place in our lives. As a result, it has given tremendous rise to online platforms that are known as e-commerce. This has a negative impact on retail stores since people tend to shift toward e-commerce platforms. Since e-commerce seized control of the market, there has been a significant increase in sales volume. Many people have predicted the closure of retail stores since online platforms have taken a large portion of the market's total sales. Undoubtedly, e-commerce is tough competition for retail stores in the market.
Every person wishes to be treated like a king, irrespective of whether he is lazy or active, rich or poor. Indeed, e-commerce has given every person an opportunity to be treated as a king. It has provided numerous advantages to people because of which their shopping trends have changed over the period of time. The major reasons for the shift in preferences of the people are –
• Worldwide- E-commerce has provided flexibility to customers. The concept of 2-day product delivery ensures the delivery of desired products within just 2 days at your doorstep. Yes, you read that right. This enables customers to buy anything from any part of the world just with a click of a mouse sitting in their place.
• Availability – Since the services are available 24*7, e-commerce has allowed customers to shop anytime as per their comfort. Customers don't need to adjust their schedules just to buy something at the market. They don't need to stick to the opening and closing times of the retail stores.
• Time-Saving – Since the entire process of buying products from an e-commerce website is online, people don't need to visit the stores and waste their time standing and waiting in long queues. This helps the customers to save time.
• Multiple Options – There is a large number of e-commerce platforms available to customers. They can easily compare the prices of the product they want to buy on different websites. They can also compare the exciting deals and offers at various websites and finally place an order to maximize their savings.
The shopping patterns of customers keep on changing. Businesses must keep track of customers' shopping trends and patterns to create dominance in the market. Businesses keep trying new ways to satisfy the needs of their customers and provide value to them. The major benefits of e-commerce for businesses are as follows –
• Amazing Opportunities – Today, businesses are not confined just to a single place. They don't have any restrictions on geographic borders. Therefore, the opportunities for the growth of the business have risen.
• Immediate Eye Catcher – There was a time when any new business had to spend a large amount of money advertising its products or services. They had to wait for the right time when their business caught the eyes of the customers. But today, due to the help of technology, it has become much easier to advertise the business. Businesses are using the concept of Pay-per-click (PPC) to advertise their products and a newly opened store. Businesses also use online platforms to inform customers about the latest discounts and deals that catch customers' eyes.
• Communication – E-commerce has given wings to the customer-business relationship. Businesses can easily conduct surveys and FAQs and take customer ratings for their service. This helps the business to know more about its customers. As a result, they can address the issues of their customers and perform even better in the future.
Despite the fact that shopping patterns and trends of people have shifted enormously, a portion of the population still gives priority to offline stores whenever they want to buy something. The major reasons people stick to offline retail stores are –
• Tangibility – Still, some people like to visit offline stores to get the option to touch and feel the product. They can easily know the quality of the product they intend to buy and make an appropriate decision.
• Assistance – People prefer one-to-one assistance from the sellers of the product. They prefer to enquire about the product details from the sellers and enhance the product's reliability.
• Trust – People's trust in physical stores is still higher than in e-commerce platforms. The physical stores symbolize the trust of the customers.
• Safety- Unlike online shopping, buying products from offline stores is safer. There is a negligible chance of cyber fraud and online scams. Therefore it is more comfortable for customers who stay away from digital payments. Also, some people are uncomfortable sharing their details on the internet; therefore, their preference is always offline retail stores.
• The most important value the physical stores give their customers is the essence of physical touch. Your business can't survive as an e-commerce business if you cannot bridge the gap between customer needs and the supply system.
• Due to the advancement of technology, it is observed that 68% of people prefer to shop online rather than visit offline stores. As a result, E-commerce has made various improvements such as a live chat support system, online tracking of orders, 360-degree product view, customer ratings, and many more. This has proved to improve customer interactions with the business.
• There has been a revolutionary change in the number of smartphones people use. There has been an inclination to use mobile phones, increasing customers' shopping patterns. Therefore, e-commerce has successfully changed to m-commerce. Online shoppers are becoming more numerous every year. Like scrolling social media websites, people also have the habit of scrolling e-commerce websites. Indians have also contributed largely to the list of online buyers.
• The concept of modern advertising and the PPC model has taken e-commerce platforms to the next level. The online advertising technique has a great impact on the goodwill of the business. Businesses can target the right customers through online advertising.
• E-commerce businesses use online social media platforms to improve customer interaction. As a result, they can build their credibility in the eyes of the customers.
E-commerce platforms have truly changed customers' shopping patterns by introducing features like a return and exchange policy, cash-on-delivery concept, 2-day delivery promise, refund of money, discounts, and so on.
4.1 The Impact of Covid-19 on E-Commerce
Covid-19 has seriously pushed e-commerce websites due to the introduction of contactless shopping. It allowed the customers to have contactless delivery where the goods were delivered to their doorstep.
The categories of groceries and food shopping had risen during the COVID pandemic. Online shopping has grown by over 500% during the COVID pandemic. The growth in the other categories was as follows –
| | |
| --- | --- |
| Product Category | Growth Rate |
| Food and Groceries | 605% |
| Home and Garden | 330% |
| Pet care | 327% |
| Games and leisure | 312% |
| Clothing and apparel | 226% |
| Flowers and Plants | 198% |
| Health and Beauty | 166% |
| Books | 151% |
| Art and craft | 133% |
| Music | 107% |
The online stores that took the help of practice and reactive strategies were the ones that succeeded in the pandemic. The online stores that couldn't meet the expectations and demands of the customers couldn't succeed and eventually failed. The coronavirus has proved that e-commerce is going to stay here forever.
Considering all the facts, it is correct to say that e-commerce has overpowered physical retail stores. People are joyfully embracing technology as they begin to understand its significance. But, it is also evident to say that the retail stores won't lose their entire importance in a go. If you own a physical store, your success odds depend on how hard you work to run it and what kind of business you are in.
Recent studies suggest that the future trends of buyer shopping are on the side of hybrid mode. An entity that works as a single business with offline and online modes will be more successful. By the end of the year 2023, it is predicted that the total online sales will go up from 14% to 22%. This shows that e-commerce is yet to reach its potential stage. You can consult Agrawal Corporate to get more business guidance and improve your reach in the market.
Frequently Asked Questions
+
E-commerce is buying and selling of goods and services through online platforms. It also includes transfer of money and data.
+
Following are the benefits of E-Commerce -
• 24*7 availability
• Smooth customer-seller relationship
• Amazing discounts and cashbacks
• Various options of products
+
Different forms of E-Commerce are - Business to business (B2B), Business to Customer (B2C), Business to Government (B2G), and so on.
+
• Lack of personal touch
• Threat to security
• Need for internet connection
• Complexity in taxation
Liked What You Just Read? Share this Post:
Any Question or Suggestion
Post your Thoughts