Home >> Blog >> Top 5 proven ways to raise funds for startups with a real example
Top 5 proven ways to raise funds for startups with a real example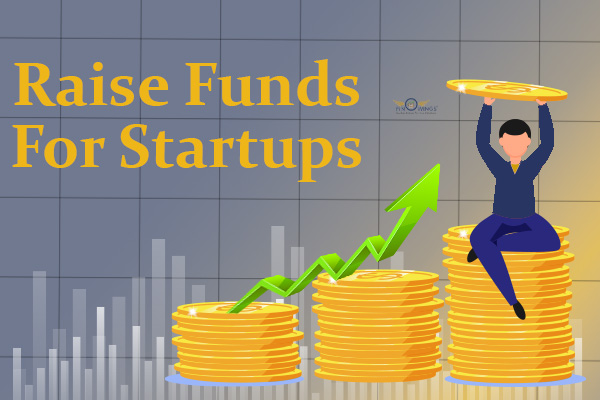 Table of Contents
You become confident when you have a compelling concept and are determined to succeed. However, have you ever considered the money or finance needed to fulfill your dream? Whether the startup is a huge corporation or an MSME, it needs financial investment. Funding gives your business projects a solid foundation and aids their expansion and further growth. Unfortunately, finding money for a startup can be difficult and time-consuming. Therefore, to make things easier for you, we have developed a list of the types of funding for startups that will aid you in obtaining funding.
1.1 Crowdfunding for Startups
● Among the most recent methods of best funding for startups that are rapidly gaining favor is crowdfunding. It resembles accepting a loan, advance payment, gift, or investment from multiple people at once.
● The way crowdsourcing operates is as follows: An entrepreneur will post an in-depth overview of his company on a crowdfunding site. He will outline his company's objectives, strategies for turning a profit, the amount of capital he requires and why, etc.
● Customers can view the project and provide money if they agree with its concept. People who donate funds will create promises to perform one of two things: pre-purchase the item or contribute to the cause. Anyone who wants to support a company they believe in can donate money.
● The best part of crowdfunding is that it can also spark enthusiasm, which aids in financing and promoting the product. Additionally, it is helpful if you are unsure whether there would be a market for the goods you are developing. The use of this process, which places investment in the hands of regular individuals, may eliminate the need for brokers and expert investors. If a business runs a particularly effective campaign, it may also be eligible for venture capital investment in the future.
● Furthermore, crowdfunding is a cutthroat market for raising money, so unless your company is incredibly well-established and can capture the interest of the average customer with just a summary and a few online pictures, you might not discover that crowdfunding benefits you in the long run.
As An Example;
Ever Coolest Cooler
A water cooler could also function as a mixer, music stereo, battery pack, cutlery holder, etcetera. It was the subject of one advertising campaign. It was funded on Kickstarter with over $13 million last year and is currently on the marketplace.
Why did it succeed?
It became popular because it included items individuals thought necessary for outdoor excursions, such as battery packs, juicers, ice chests, and other things, into a single entity. The advertising effort, which features a captivating video ad, is the icing on the cake. However, the most significant aspect is that it urged customers to donate $165 to receive the entire cooler with all benefits.
1.2 Angel Investors
● Angel investors are people with extra money who are passionate about funding its strategies for raising startup capital in small markets in India and around the globe. Relative to loans provided by commercial banks, the risk associated with these investments by angel investors is higher. This is because the rewards of their investments are expected to be more significant.
● Mumbai Angels, Indian Angel Network, and Hyderabad Angels are a few of India's well-known angel investors. Startup entrepreneurs seeking funding can reach out directly to these investors.
As An Example;
Jonathan's new technology business appeals to Alexander, who runs an investment banking organization. Investing $500,000 upfront will give him a 25% stake in the business. Alexander is an angel investor who believes in the concept of startup businesses. He spends his own money, unlike venture capitalists who invest and manage funds collected for a variety of reasons.
Additionally, he participates in an angel investor network, uniting like-minded businesspeople with shared interests and exchanging investment concepts and pertinent information.
Jonathan is happy to give up 25% of the shares because it will allow Alexander to be a shareholder. Alexander is a skilled businessperson who understands how to change things around, particularly in trying financial circumstances. He also has a strong network from which he can gather prospective clients.
Jonathan had attempted to borrow money from a nearby bank before getting in touch with Alexander. Still, the interest rates were exorbitant, and the bank's credit line policy was relatively rigid. He, therefore, believes that applying for angel funding will allow his company to grow and make money.
1.3 Venture Capital for Your Business
● You place your biggest wagers here. Professionally managed funds, known as venture capital, make investments in businesses with immense potential. They usually buy stocks in companies and sell them when they become public or are acquired.
● VCs offer knowledge and guidance and serve as a barometer for an organization's direction by assessing its viability and scalability.
● A venture capital investment can help small businesses that are beyond the start-up phase. Fast-growing businesses like Flipkart, Uber, and others can make tens of millions of dollars with an exit strategy they can utilize for networking, investments, and further business expansion.
● Furthermore, there are several drawbacks to using venture capitalists as a source of investment. VCs frequently want to recoup their investment within a three- to five-year time frame since they have a short leash in terms of corporate devotion. Venture capitalists might not be particularly interested in you if your product takes longer than expected to reach the marketplace.
As An Example;
Flipkart
Flipkart, widely recognized as the leading e-commerce company in India, is undoubtedly well-capitalized, with a valuation of about $15 billion. The business has chosen to focus on its mobile approach because it sees great promise.
Its Big Billion Day sale alone resulted in the sale of more than 8 million products. Three of this year's special purchases are FX Mart, Appiterate, and AdIQuity. This company has received investments from many people, including Morgan Stanley, Accel Partners, and others.
1.4 Raise Money Through Bank Loans
● When looking for capital, entrepreneurs typically turn to banks first. There are two types of funding available for companies from the bank. The two options are operating capital loans and finance loans. The loan amount needed for one complete cycle of revenue-generating activities is known as working capital, and the value of debtors and stock often determine it.
● When receiving money from a financial institution, the customary procedure of disclosing the business strategy, valuation information, and research proposal upon which the loan is approved would be followed.
● In India, almost all banks provide SME financing via different schemes. In India, prominent banks like the Bank of Baroda, HDFC, ICICI, and Axis Banks offer more than 7-8 options for collateral-free business loans.
As An Example;
Paisa Bazaar
You may quickly and easily obtain customized rate quotations on working capital loans at Paisabazaar. It may provide you with a wide range of options from which to choose based on your preferences. It is the first impartial online marketplace for rapid credit card and loan quotes. You should visit this website for detailed information on working capital financing.
1.5 Bootstrapping
● Bootstrapping, sometimes referred to as self-funding, is a successful method of startup financing, especially when your company is just getting off the ground. However, first-time businesses frequently struggle to secure finance without demonstrating some traction and a strategy for possible growth.
● Instead, you can put money from your savings or contributions from relatives and friends toward an investment. Because of fewer requirements and procedures, as well as lower generating expenses, this will be simple to generate. Furthermore, friends and relatives tend to be lenient with interest rates.
● Because of its benefits, self-financing or bootstrapping should be considered a first funding alternative. You are bound to do business when you have your own money. Investors will likely view this as a positive point in the future.
● However, this is only appropriate if the initial need is modest. Some firms require funding from day one, so bootstrapping may not be the right course of action.
As An Example;
GoPro
The company's founder, Nick Woodman, was surfing in Australia and Indonesia when he noticed a void in the sports camera market. He observed that the surfers had cameras wrapped around their wrists, recording their exploits. However, most cameras ultimately broke free and plummeted into the ocean.
Therefore, Nick had to spend his own money and borrow $35,000 from his mother to start GoPro, formerly called Woodman Labs. He ran the company independently until 2012, when Foxconn, a tech company, invested $200 million. The company was worth over $2 billion two years later.
You likely need outside funding if you wish to grow. You might not be able to seize market opportunities if you bootstrap too long without receiving outside investment. While the abundance of loan choices may make starting a business simpler, sensible business owners must consider how much financial support they require. Hopefully, these how to raise funds for startups business in India help you well.
Frequently Asked Questions
+
Communicate with a representative from Tata Trust who is in charge of handling inquiries for investments if you want to get in touch with Ratan Tata the quickest. The procedure is arduous and it may take a while to receive a response in this manner. 2. The second option is to utilize a formal, edited email that clearly states its objective.
+
You look for a seed investment from angel investors, then move on to venture capitalists, and finally make an initial public offering, based on the phase your company is in and it's capacity to generate returns. The three sources of startup finance include grants from the government, debt financing, and equity financing.
+
As they first begin, most firms are funded through savings or home equity—bootstrapping. Few high-growth startups are able to secure outside funding. Deals using venture money are rather uncommon. Borrowing will never be contingent on ideas or business plans, but rather on collateral and assurances.
+
Bank loans the most popular form of financing for small and medium-sized companies are bank loans. Take into consideration the reality that every bank offers a distinct package of benefits, whether it's individualized service or tailored repayment.
+
Investment Capital
Venture funding is a brilliant choice for entrepreneurs aiming to scale up speedily and significantly. Your startup needs to be ready to accept and employ huge investments in order to expand.
Liked What You Just Read? Share this Post:
Any Question or Suggestion
Post your Thoughts